In this article:
We help you understand the differences between DIY installation and professional installation
Who each type is best for
How much each option costs in terms of time and money
Security systems are a powerful deterrent for burglars and other criminals. According to a UNC Charlotte study on burglary, 60 percent of burglars surveyed stated that seeing a security system would make them seek a different target. 
Simply having a security system can protect your home. But deciding to install a home security system is only the beginning. You have to figure out what works best for you, your home, and your budget. One of the first decisions you must make is whether you want to install it yourself or bring in a profession. Pros and cons exist for both routes and depend on a variety of different factors such as tools, time, cost, and scheduling. 
Is DIY Security System Installation Best for Me?
Security systems are more accessible than ever thanks to you being able to install them yourself. DIY home. Many companies make it easy to do the setup and management of your system.  With DIY security system installation, you manage setting up your new security cameras on your own. Installing your own security cameras gives you full control over the placement and capabilities of each camera.
Who is DIY Security Camera Installation Best For?
DIY installation is perfect for:
Tech-savvy individuals who want to make executive decisions throughout the process 

You want to keep your security system set up on a budget 

Anyone who considers themselves handy around the house and isn't afraid to use a screwdriver

You have a free weekend to install 

You can employ a friend to help
DIY installation makes a lot of sense when you feel confident about your ability to do your own setup, those looking for a less expensive alternative, and if you're tech-savvy enough to walk through the app to follow the setup and connection.
What are the Easiest DIY Security Systems to Install?
Many companies sell cameras that are specifically designed for a DIY installation. When choosing a DIY installation, look for the support the company provides for set-up and how easy installation is expected to be.   
Frontpoint
Frontpoint's Safepoint System is dead simple to install. Remove the adhesive backing, place it where you want, and call it a day.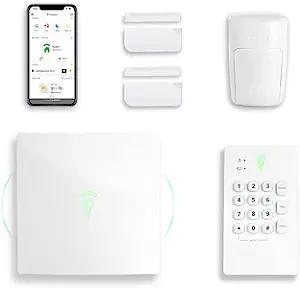 Frontpoint: The Safehouse System
What made the Frontpoint installation so easy: 
Didn't need power tools 

Easy app to set up 

Step-by-step installations instructions on the Frontpoint app

Plenty of resources to help you 
Ease of installation rating: 4.9/5
Cost: 30 minutes – 1 hour of your time
Abode
Abode's iota security system is easy to set up and install yourself. Through the app, you'll get step-by-step instructions to set it up and connect it to your network and home devices.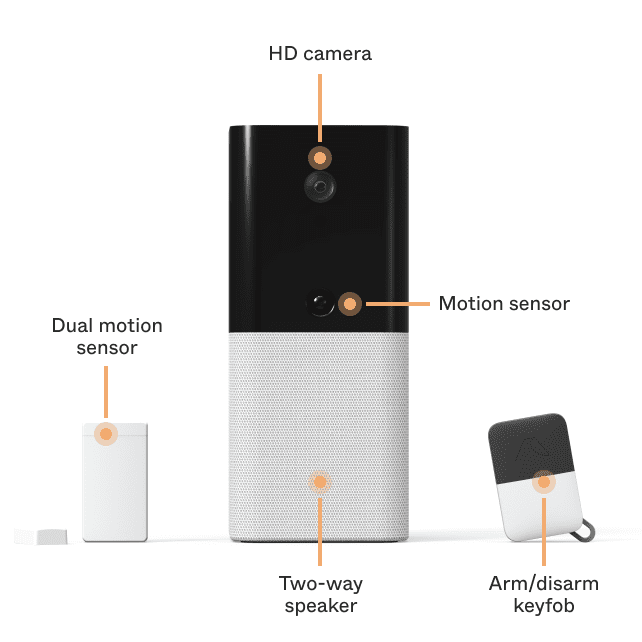 Abode: Iota DIY Security System
Why we like the Abode security system: 
Flexible base that is easy to attach and plugs into traditional wall outlets

Tool-free installation takes no more than 30 minutes

Comprehensive installation support section on Abode's website and ability to connect with an expert via email or phone call
Ease of installation rating: 4.8/5
Cost: 30 minutes – 1 hour of your time
Abode also offers professional installation if you'd prefer to have a pro come out and get you up and running.
Prepare today for peace of mind tomorrow.
Get occasional tips about keeping your family and home safe — delivered to your inbox.
What are the Benefits of Professional Security System Installation? 
DIY installation is typically much cheaper than bringing in a professional. To calculate the cost of your DIY installation consider how many tools you will need and whether or not you will need to purchase them, and the time it will take you to do the installation. 
Let the experts handle the drilling, the placement, and the setup with a professional security camera installation. Professional security camera installation means your security system is set up by a professional, usually a technician from the company that provided your system.  
Who is the Professional Security Camera Installation Best For?
If you don't want to worry about the details of installing your system

You don't mind paying someone to install your system

You want to install your security system, fast 

You don't have free time to install your system

You don't have the tools or consider yourself particularly handy

You're worried about damaging your home or the security system during the installation 

You live alone and need an extra set of hands 
Professional installation makes sense if you don't feel confident in your abilities to install your system, don't mind spending the money, or don't have a weekend to dedicate to setting up your system. Plus, if you have a hard time navigating the apps on your phone or Wi-Fi network, you might benefit from bringing in a professional.
What Systems Offer the Best Professional Installation?
Some companies are targeted towards DIY solutions, while others offer technician installation. Even if some are set up to be DIY systems, they might allow you to schedule a house call with a company representative. Then there are other companies that require a professional security camera installation.  
Brinks
Where the other systems on our list allow an a la carte solution where you can mix and match, Brinks offers comprehensive security systems you can install yourself or you can schedule a technician to do it for you.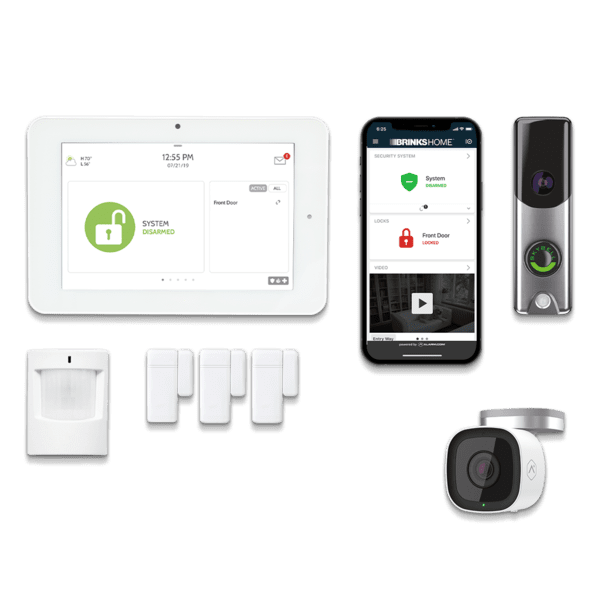 Brinks: Smart Security System Ultimate
Why we like Brinks:
Your system comes to you pre-programmed, customized to your specific needs

Offers a self-install option or a professional option

Highly-rated customer service according to users
Ease of installation: 5/5
Cost: Depends on the complexity of the system you choose
Home Security Installation Made Easy

 
DIY home security installation is easier than ever with many companies providing comprehensive instructions and easy-to-use hardware. Professional security installation removes the headache and guesswork. Whether you choose DIY or professional installation, you can benefit from having a security system in your home.  
Explore home security systems like Frontpoint, Brinks, and Abode on the Batten Marketplace.