The holidays are almost here! Giving perfect, thoughtful, and memorable gifts to every friend, every family member is hard. In between helping you secure your information online, and protecting your home from disaster Batten has got your 2021 holiday gifts covered. 
That said, our home security gift guide for 2021 is here! You'll find gifts to cover the home security newbies and the experts, as well as easy links to purchase. Your holiday shopping has never been this easy, and the gifts you give have never been so useful.
Holiday Gift Guide 2021: The Best Home Security Products
Home security can protect a home from damage, lower home insurance premiums, and provide peace of mind to the occupants. Our 2021 tech gift guide has all the best home security products for gifting, from alarm systems and video doorbells to fire safety and hardware. 
Fight Intruders with an Alarm System
It's well documented that alarm systems deter crime and facilitate the apprehension of intruders by police. So the question isn't should I get an alarm system, it's which alarm system should I choose? Everyone's needs are different, and it can be even trickier to identify those for a friend or family member. But we've got you covered. In our 2021 tech gift guide below, we've carefully chosen a couple of the best alarm systems for gifting. 
Frontpoint Safehouse System
For starters, let's keep it simple. Frontpoint's Safehouse System is affordable, highly customizable, and comes with a video doorbell, a motion sensor, two door/window sensors, and 24/7 monitoring. This is a great introductory system that keeps it simple for beginners. The Frontpoint system is a DIY system that packs a punch and can be managed through an app on your phone.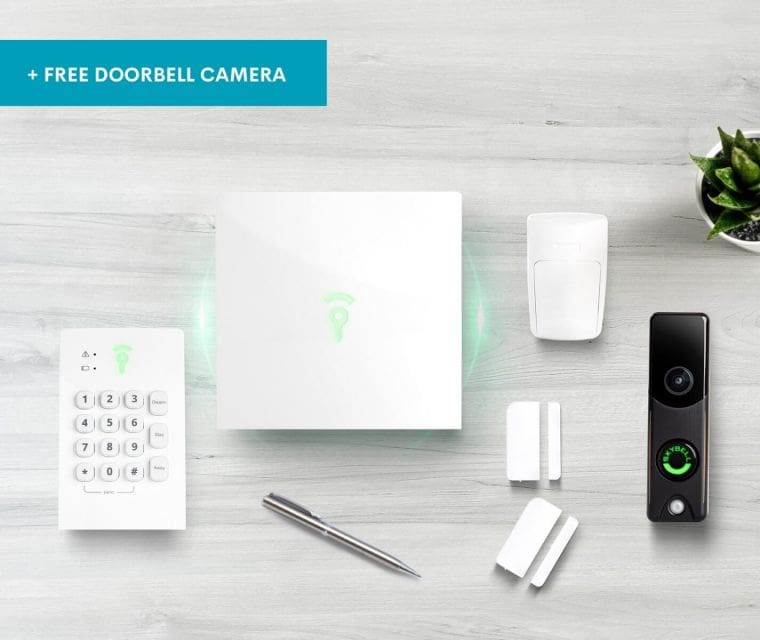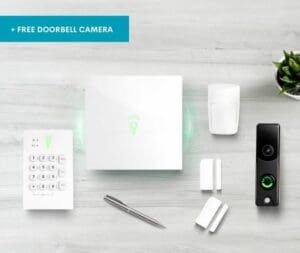 Who this is best for: This security system is perfect for anyone new to the home security scene. It's best for homeowners who are looking for an affordable yet customizable system to meet their needs and desires. What's more, you can easily add motion and door sensors to your heart's content. Affordable, easy to install (with the option for professional installation), and complete with an app, it's the perfect Christmas gift for home security beginners. 
Scout Elements Pack Alarm System
Not everyone wants to put together their own security system, and let's face it. Some people just need to go big or go home. That's why we recommend the Elements Pack by Scout for your loved ones next Christmas. This comprehensive security system does not mess around. The installation is done by professionals and your loved one will appreciate the indoor and outdoor cameras included.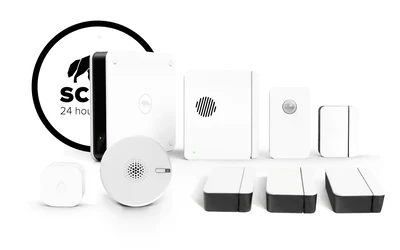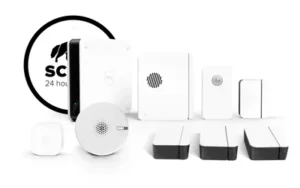 Who this is best for:  A Scout system is a great gift for your friend or family member who is serious about their home security. It's the best system for anyone looking to have the system professionally installed with hands-off experience or DIY. This is a system that checks all the boxes and covers all the bases.  
Prevent Package Theft with a Video Doorbell
While a full alarm system can cover all your bases, not everyone wants or needs such a comprehensive system. Keep things simple for the receiver by gifting them a video doorbell. Video doorbells have exploded in popularity in recent years, due to the fact that it gives many the level of security most people crave without the need for a full system. Plus, you can control it from wherever you are with your smartphone. Ring is a popular choice, selling more than 1.4 million video doorbells just in 2020 alone. Bonus? Video doorbells are small enough to wrap. 
Kangaroo Doorbell Camera Kit
The most affordable doorbell camera in the whole industry—Kangaroo's Doorbell Camera + Chime— makes a great present. The mystery of who is at your door in the middle of the day is solved with Kangaroo's smartphone app, which connects to the camera and shows you what is going on. The Kangaroo is super easy for anyone to install, and it makes a great introduction to home security products.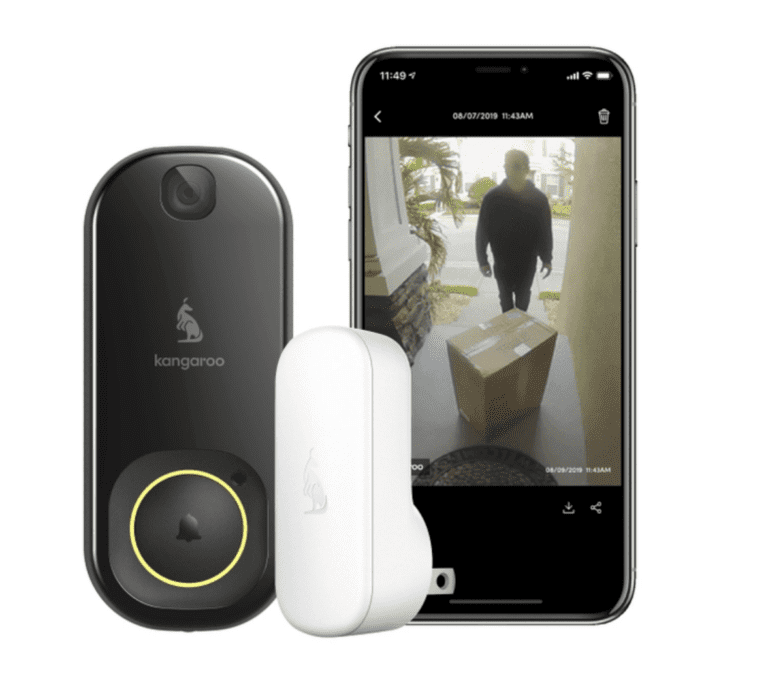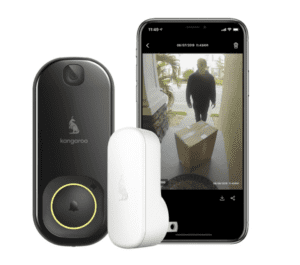 Who this is best for: Renters or anyone who has suffered from package theft will love the Kangaroo Doorbell Camera Kit for its easy no-tool installation. This product is simple, but it gets the job done at a great low price. 
Eufy Video Doorbell 2K
Deliver crystal clear video, enhanced AI human protection, a six-month battery life, and video capture all on a video doorbell that does not require hardwiring? Everyone will want you to be their Secret Santa next year! The Eufy Video Doorbell 2K is widely considered to be one of the best video doorbell options on the market. No 2021 tech gift guide would be complete without it!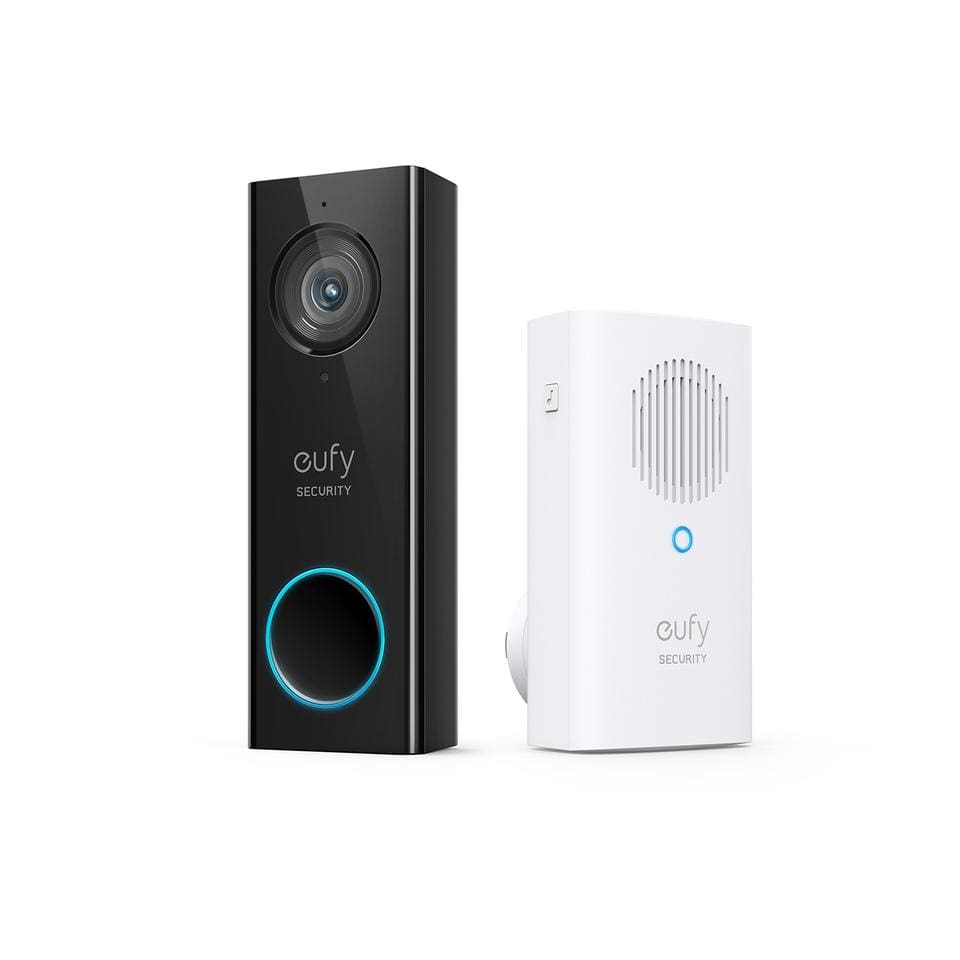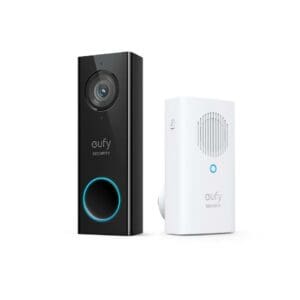 Who this is best for:  Give this gift to introduce your friends or family to a whole amazing world of high-quality home security products. The Eufy Video Doorbell 2K can stand alone, but it's truly at its best when combined with more of Eufy's home security line. The doorbell alone is great for homeowners, pet owners, or parents who want to keep an eye on their loved ones. 
Keep These Around In Case of a Fire
According to a report by the NFPA, "U.S. fire departments responded to an estimated average of 346,800 home structure fires per year" between 2015 and 2019. Unfortunately, fires happen a lot. But you and your loved ones do not have to be caught unawares. By keeping a few of the fire safety products from our home security gift guide around, everyone will be much safer. 
BLOKKD Fireproof Document Bag
In an emergency, one of the first things you want to grab is all of your important documents. Having passports, birth certificates and marriage licenses makes the aftermath of any disaster easier, but in the chaos, they may be left behind. That's where a fireproof document bag, like this one from BLOKKD comes in. It's fireproof, it's water-resistant, it's not the most fun gift your loved one will receive but it's one they'll be grateful for in an emergency.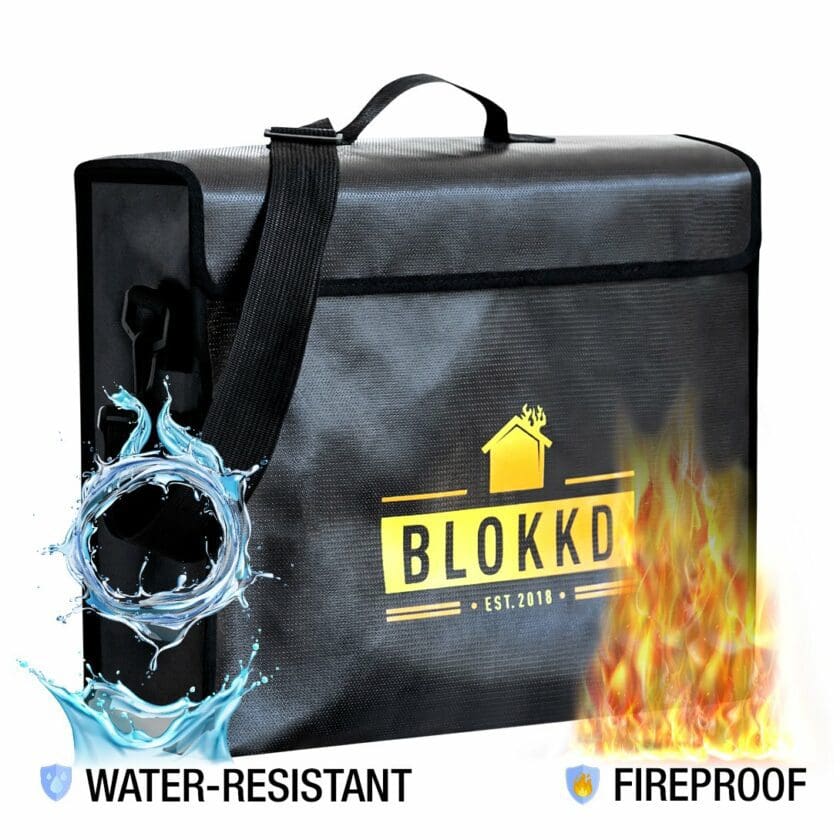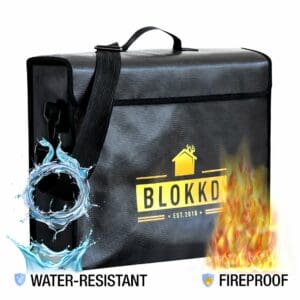 Who this is best for: Your mom or your 'mom' friend will sleep better at night with this fireproof document bag under their bed! Whoever keeps track of the passports on the trip can definitely be trusted to organize documents in case of an emergency. Plus, it's great for parents who need to keep track of important documents (such as passports and birth certificates) for their children.
First Alert Two-Story Fire Escape Ladder
During a structural fire, you want to get everyone out of the building and to a safe location in three minutes. That doesn't leave a lot of time for getting downstairs that may not be safe anyway. Protect your loved ones on the second floor with the First Alert: 2-Story Fire Escape Ladder. This ladder is ready to go straight out of the bag, easy to store, and brings a length of fourteen feet to the party.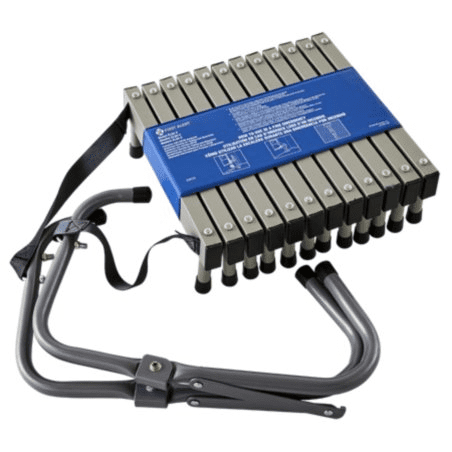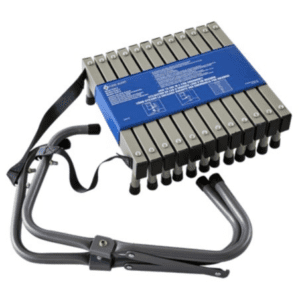 Who this is best for: Think about your friends. Where do they live? Protect your friends on the second floor of their home or apartment building with this 2-story fire escape ladder. If you know someone who lives in a walkup, this would be a great gift to consider. 
Home is Where the Hardware Is
A favorite topic here at Batten is how to improve your online security which is always a valuable skill. But sometimes that protection needs to take shape in the real world, like with an emergency generator or a carbon monoxide detector. Your loved ones' homes can be made safer with just a few hardware additions. 
Kwikset SmartCode Electronic Doorbolt
Home defense starts with just locking your doors. But keys can be cumbersome, or easy to lose, especially for children. That's why we added Kwikset's SmartCode Electronic Doorbolt to our 2021 tech gift guide. It can deadbolt your door from the outside, and the code is custom. Worried about style? Don't be. This new more advanced lock comes in lots of colors to match the receiver's home hardware.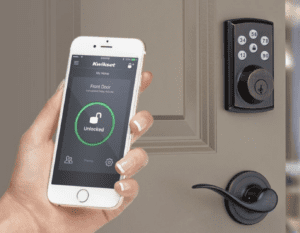 Who this is best for: Your loved ones with kids at home will know just how to appreciate a keyless door lock. Simplify their life for them by giving them the Kwikset: SmartCode Electronic Doorbolt. 
SentrySafe Safe
Protect your loved ones' more important documents and possessions by gifting them a SentrySafe Security Safe. It can keep valuables safe from theft, fire, and water damage, and is small enough to be discreet. The SentrySafe Safe comes in three sizes from 0.82 cubic feet to 2.05 cubic feet, so there's room to grow but none of the options are flashy. There's an extra layer of security due to the key and digital combination lock system.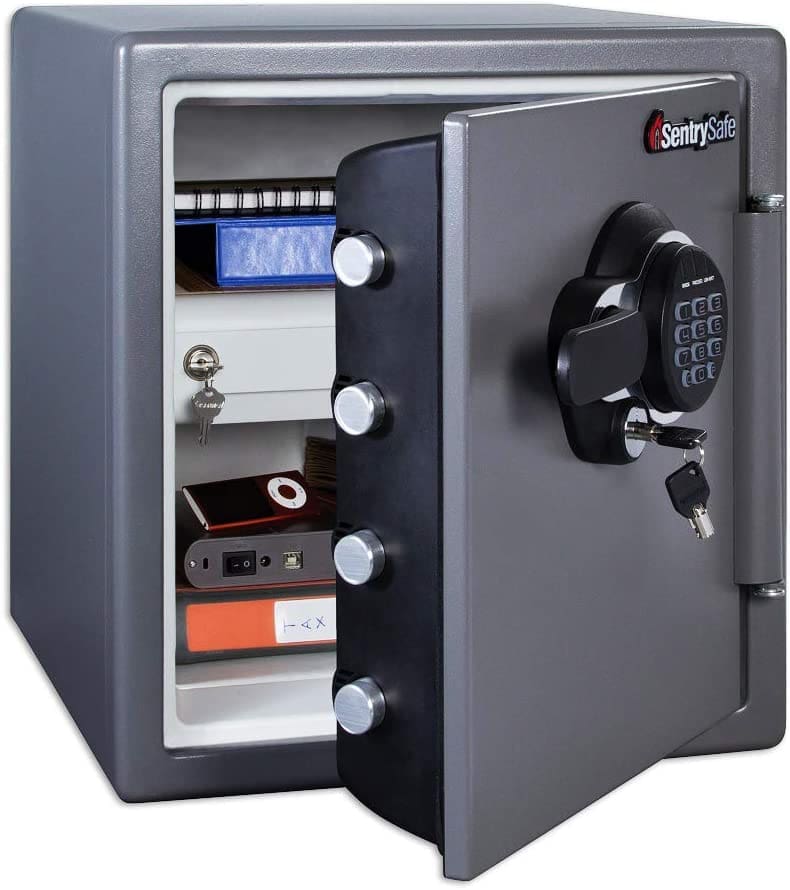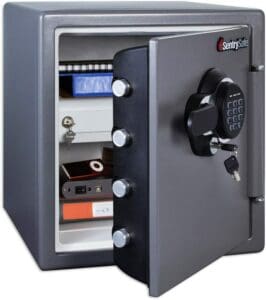 Who this is best for: Friends with large families need a larger place to keep their valuables such as jewelry, especially while traveling. Like this SentrySafe Safe! You can choose from multiple sizes to meet the needs of your loved ones.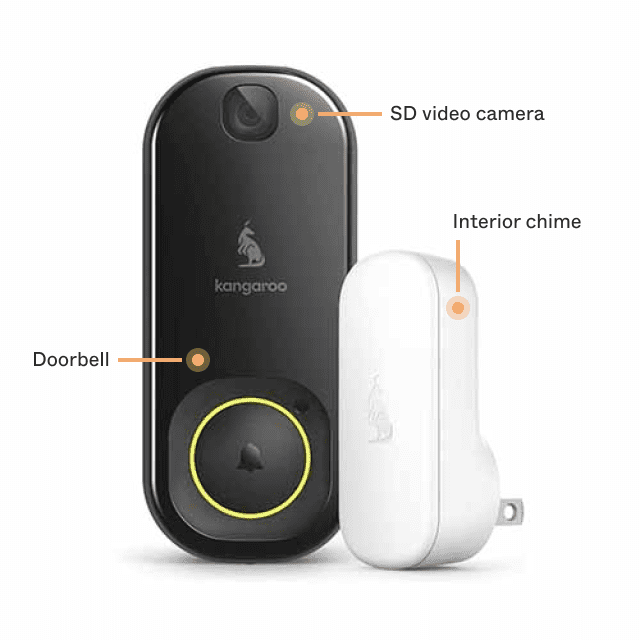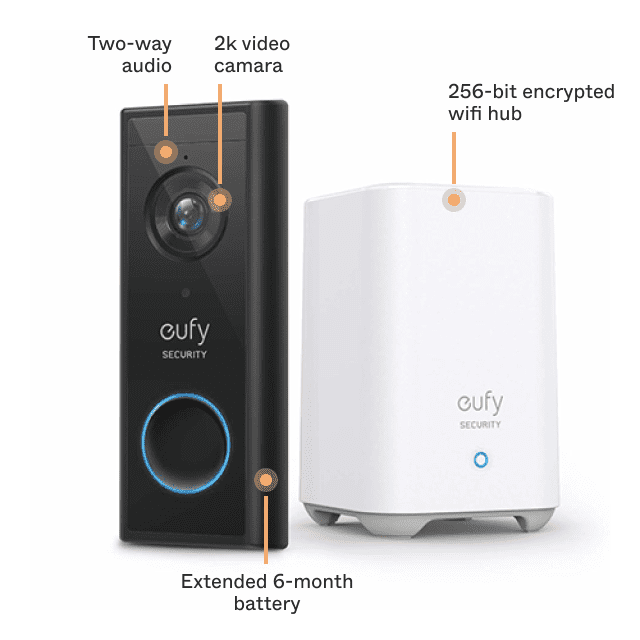 Eufy: Wireless 2k Video Doorbell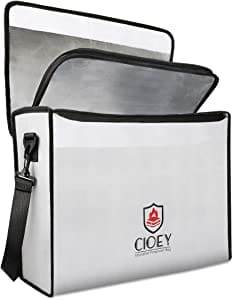 CIOEY: Fireproof Document Bag
First Alert: 2-Story Fire Escape ladder
Shop Our Holiday Gift Guide 2021
Everyone in your life can benefit from a little extra security, and the gift of home security keeps on giving all year long! A gift from Batten's marketplace can give your loved one peace of mind.
Still need help? Contact Batten to get a customized bundle solution. 
Shop for home security and cybersecurity solutions on the Batten Marketplace this holiday season!