Quick Hits: 
Base price: $329 (discounted to $279.99) 
Monitoring Cost: $6.99 per month for Standard Plan; $21.99 for Pro Plan
Type of Installation: DIY
Best for: Small apartment or home dwellers who want a basic, no-frills, all-in-one system
Not recommended for: Large homes with multiple entry points that need monitoring or if you want separate sirens, motion sensors, and cameras to monitor your home 
Since the beginning, the Abode iota All-in-One Security Kit has been one of our favorite home security systems. And for a good reason, too: It's one of the only home security systems on the market that offers three types of monitoring: self-monitoring, professional monitoring, and on-demand monitoring. It is also one of the easiest DIY setups for a security system with a clean app UI/UX.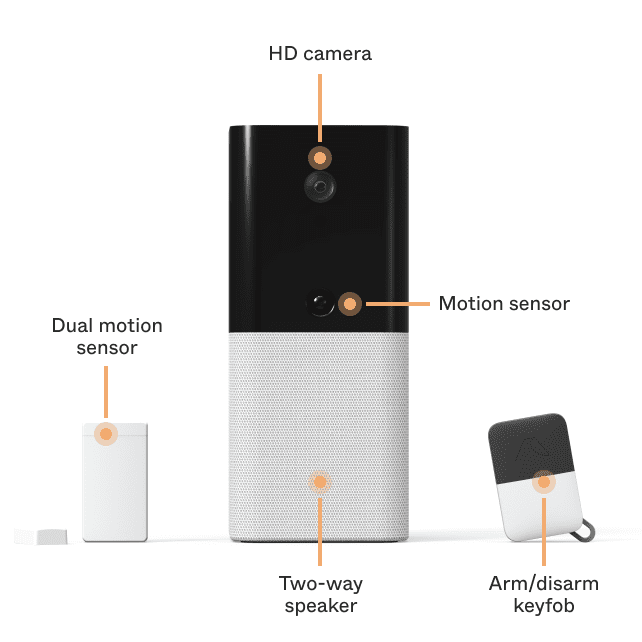 Abode: Iota DIY Security System
What We Like About the Abode iota
Affordable monitoring options

that can easily fit within your budget

Built-in video camera and motion sensor

in the hub for interior monitoring without needing additional devices

Quick and easy system set up

in just five steps (and in under 30 minutes)

Monitor other elements of your home

such as smoke levels, temperature, humidity, CO2, and more
What We Don't Like About the Abode iota
Need to connect it directly to your router

via an Ethernet cable to get on your WiFi network (it doesn't need to remain connected, though it does give you the option), which can be inconvenient depending on where your router is located

Higher cost of the initial base system

, especially if you need additional devices

Unclear labeling on the key fob

for arming/disarming system, so you're relying on your phone

Hard to watch the live video feed on a web browser

, so you rely on the app on your phone
Unique Features of the Abode iota System
Customizations

for your preferences include naming each device and sensor, video length capture, when you want your sensor to go off, etc. 

Automations

for arming/disarming your system based on geolocation to prevent accidentally setting off the alarm

Automatic person detection

for your camera that records clips and adds them to your activity timeline

Three different monitoring options

: self-monitoring, professional monitoring, and on-demand monitoring 

Integrations

with other smart home components such as plugs, lights, locks, and voice assistants
What's in the Box
Equipment
When you unbox the Abode iota, you'll find the following products: 
Hub with a built-in camera, motion sensor, 93db siren, and backup battery

Key fob to arm and disarm your system

1 mini door/window sensor

Ethernet cable

Wall power adapter

Instruction manual 

Getting started card
Features
Abode boasts several features for this system: 
Tool-free setup

, making it fast and easy for one person to set up and use 

Connect to Ethernet or WiFi,

depending on router location and desired strength of the connection

Connect up to 160 devices to the hub

, so you can seamlessly integrate all of your smart home devices

Cellular backup

(available on the Pro Plan), so you're not just relying on WIFi to keep your data stored

Back-up battery

so if your system gets unplugged or you lose power, it can keep going 

Built-in siren

so you always know when an intruder is lurking (and don't have to have an extra device)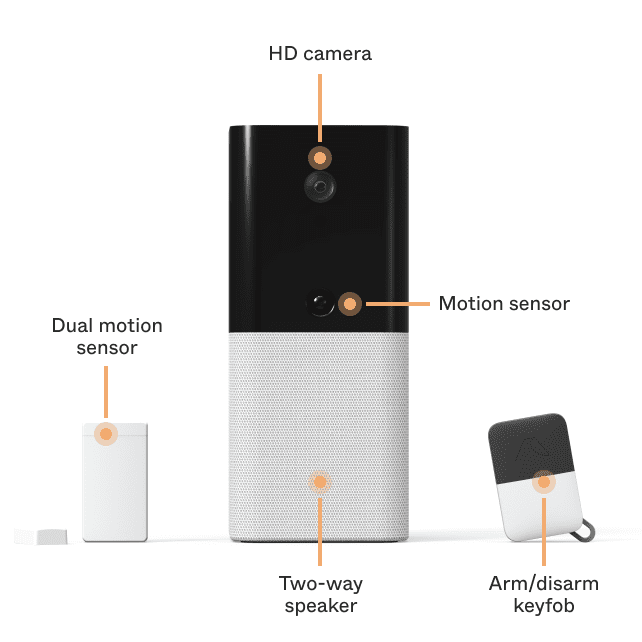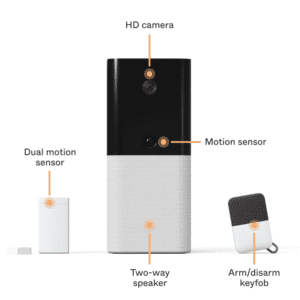 Mobile App
Like all other home security systems, Abode offers an app to download on the App Store or Google Play. The app provides an easy-to-use UI/UX, making it easy for users to see all of the devices they have connected to the hub and their online/offline status, a timeline of activity, and whether their home is armed or disarmed. In terms of intuitiveness, the app is pretty straightforward, with a clearly-labeled menu as well as widgets on the home screen to perform quick actions such as arming/disarming the system or creating automation.
Abode also offers a web interface that gives users the same interface but on their browser. Users can monitor their system, arm/disarm it, and manage their subscription like they would on the app.  
Prepare today for peace of mind tomorrow.
Get occasional tips about keeping your family and home safe — delivered to your inbox.
Set Up & Use
Abode makes it easy to get your iota system up and running. Follow the steps on the included getting started guide to get your system set up in just five steps. Start by plugging in your hub and connecting it to your WiFi network, then download the app to finish setting up your sensors, customizations, and automations. Since the hub has a built-in camera, make sure you strategically place it where you can get the most expansive field of view and in an area that receives a high volume of traffic that the sensor can pick up. Because the hub is small and sleek, it can go anywhere in your home, so long as it's near an outlet! 
The whole process takes around 30 minutes. The app makes it easy to walk through these steps, but if you need more help, consult its YouTube channel or Support Center for more resources. 
Don't just take our word for it; here's what customers have to say about setting up and using the Abode iota system. 
Getting the Most Out of Your System
Here are a few tips and tricks we recommend to take full advantage of your Abode iota system:
Set up automations within the app.

Automations can make arming and disarming your system more manageable. Add an automation to arm your system when you leave the house and disarm it when you come back. Note: you will have to have your location services turned on so the system can respond when you're in your designated geolocation.

Create groups to group your sensors and devices.

If you have a large home, creating groups based on the room or area can make it easier to manage these devices in that location, especially if you are looking to arm or disarm your system in that part of the house. 

Take advantage of on-demand monitoring when you're out of town

. A unique feature of Abode's system is on-demand monitoring, which activates a short-term professional monitoring service for your home. You get all of the benefits of professional monitoring when you're away from home for an extended period. 

Integrate with other smart home products.

The iota works with Amazon Alexa, Apple HomeKit, Google Assistant, smart lights, smart locks, etc. If you like having all of your devices connected, integrate your iota with your smart lights, locks, or voice assistants and use them to automate the arming/disarming of your system.
Plans & Pricing
Pricing
The base price for the Abode iota system is $329 (marked at $279.99), with each additional security product add-on priced anywhere from $30-$100 depending on the device. The base kit is perfect for a small apartment in a high rise where you might only need the hub and one sensor. But, if you live in a home or an older apartment with multiple entrances, the cost of setting up this system adds up quickly by the time you add additional sensors to your order. 
The price tag is relatively high for the number of products that come in the box, not to mention the $20 shipping fee if you choose the Standard Plan for your monitoring. However, though the initial base system is pricy, users get a break on the monitoring price. 
Monitoring Subscription Plans
Abode offers three main monitoring subscription plans:
Standard Plan ($6.99 per month):

You are automatically enrolled in a 30-day trial of its Standard Plan when you purchase the iota, which allows you to self-monitor your home from anywhere and add automations, integrations, and customizations at no extra charge. Additionally, you get access to your live video feed, alerts, and 10 days of media storage. 

Pro Plan ($21.99 per month):

If the Standard Plan isn't enough for you, upgrade to Abode's Pro Plan, which gives you the maximum level of protection with cell backup and 24/7 professional monitoring. You get all of the features of the Standard Plan plus premium support, unlimited device warranty, access to exclusive deals and sales, and free shipping. 

On-Demand Professional Monitoring ($8 for 3 days, $15 for 7 days)

: On-Demand Professional Monitoring is perfect for those on the Standard Plan who want short-term professional monitoring for when they are away from home for a short period. Professionals monitor your home 24/7 when this is enabled, so you don't have to worry about the safety of your home while you're away. 
Final Thoughts
The Abode iota is a superb yet straightforward system. It packs a punch and offers a lot for how little the system is. It's more than just an alarm; it's a whole home hub, managing everything in your home to keep it safe. It is expensive for the number of products you get, but the low price of monitoring and the number of monitoring options make up for the base system's cost and any add-ons you purchase. In addition, the customizations, automation, and integrations allow you to make it your own and make the system work in your greater home ecosystem. Overall, if you're willing to invest in a simple system that has everything you need in one place, the Abode iota is for you. 
Are you interested in purchasing the Abode iota system? Purchase it on the Batten Marketplace today.