Quick Hits: 
Base Price: $129 (drops to as little as $99 during sales)
Monitoring Type & Cost: $50 per month for professional monitoring; no self-monitoring option
Type of Installation: DIY (may need professional help for the hardwired video doorbell)
Best for: Apartment dwellers in older or larger units that have several entry points or are on lower floors; small homeowners; families with multiple members or roommates who would be arming or disarming the system
Not recommended for: Small apartment dwellers, renters, or large homeowners
In addition to the Abode iota system, the other home security system that we love over here at Batten is the Frontpoint Safehouse System. At just $99, the base cost of this system is relatively low for everything that comes in the bundle. However, users make up for it in the monthly monitoring fee—it's about $50 per month, but professionals monitor your home.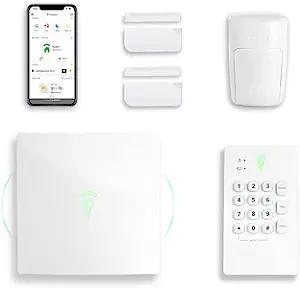 Frontpoint: The Safehouse System
What We Like About the Frontpoint Safehouse System
The number of devices you get for the price. 

The Safehouse System has a motion sensor, video doorbell, keypad, home hub, two window/door sensors, and lawn signs. 

Easy to set up, add devices to your home, customize your settings, and create automations

. In terms of DIY home security systems, Frontpoint makes it very easy to set up and get started with self-explanatory instructions on where to place all the devices and the steps you need to take.  

Adding additional devices can be done right from the cart.

 For example, if you need more sensors, an extra camera, or some more keypads, you can add these devices directly from the cart when you check out. This function makes for a faster and easier purchasing process. 
What We Don't Like About the Frontpoint Safehouse System
It's a contracted system.

 You get a free trial, after which you are technically locked into a contract for three years at $50 per month. So, if you are to cancel, make sure you do so within the trial period to avoid getting charged the total price of your contract. Frontpoint doesn't communicate this very well on its website, but it notifies when you purchase your system. 

The 30-day risk-free trial starts before you activate the system. 

Most other home security systems start your trial when you activate them. Not with Frontpoint. Your trial starts the day your package is delivered. We recommend setting up your system as soon as possible to get the most out of your trial. Additionally, Frontpoint charges you for the cost of monitoring during the trial.

You have to register to comply with local ordinances for alarm systems.

 Many cities suffer from false alarm calls with professionally-monitored systems, so they put processes in place with companies to make users aware of these charges. Frontpoint requires you to register your system with the city. We tested this in Seattle, where the price of registration was $10 per year, but it could vary depending on where you live. Additionally, you're also responsible for any false alarm fines that occur. Frontpoint works with a third-party vendor, Pal American, that offers users a discounted dispatch fee by signing up for this service. If you fill out the form Frontpoint sends you via email, you save on the cost of dispatching a false alarm. If you don't, you'll be subject to the full charge of the false alarm dispatch. In Seattle, the total price for every false alarm dispatch is $115, but with Pal American, the price drops to $45 per occurrence. 

Incessant reminders to activate your system.

 If you can't start your system right away, you will be reminded via email and text message every few days. So, if constant reminders annoy you, get your system set up ASAP!
Unique Features of the Frontpoint Safehouse System
Appoint one "master" of the house.

 With the Frontpoint system, you can have one "master" of the house who can control all the devices connected to the hub and who can receive notifications, and which ones they can receive.  

Multiple people can access the keypad.

 So while you have one master, everyone in your household can access the keypad to arm/disarm the system, call the police, and call for medical attention. This feature is perfect if you have teenage or young adult children coming and going. Each person can set their passcode too. 

Call authorities with keypad combinations.

 During the initial setup video, Frontpoint takes you through different keypad combinations you can perform to call the police, fire department, and nearest medical facilities. These are great if you can't access your phone but need immediate attention. 

"Move portal" to make moving addresses a breeze.

 Like cable, Frontpoint offers a way to quickly move your system from one address to another. Just go to the "Move Portal" in your account to start the process. 
What's in the Box
Equipment 
When you unbox the Frontpoint Safehouse System, you'll find the following products: 
Hub & keypad

 that controls your system and all of the devices. You can have the keypad floating or secure it to the wall with included adhesive. 

Two door/window sensors

 that you can attach to any door or window in your home. You can purchase additional sensors during checkout.

Motion sensor

 that you can place to catch intruders in the act

Doorbell camera

 that you can install outside your home. Note: It only works if you have existing doorbell wires 

Home defense kit

 with stickers and yard signs to let others know you're protected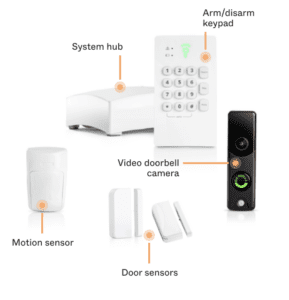 Features
The Frontpoint Safehouse System offers users several features:
Remote access

 via the Frontpoint app to control and monitor your home security system right from your phone 

Industry-leading professional monitoring

 that is always on call and enables you to get help fast 

Expandable system

 to add more sensors, cameras, and more based on your family's needs. Frontpoint offers a vast selection of additional products you can add to your system to cover a wide range of whole-home needs.  
Mobile App
Frontpoint's mobile app is easy to set up and use. You can do several customizations, from notifications to automations, for disarming and arming your system. For example, if you are the master of the house, you can determine who can get information for the systems and which notification. You can also set different "scenes" for automatically disarming or arming the system. You can also adjust the delay for arming or disarming the system upon entry or exit and when you want your night hours to begin and end. 
One of our favorite features is customizing the widgets on your dashboard, so your most commonly-used actions are front and center. For example, the app allows you to arm/disarm your system using haptic actions on the iPhone—press down on the app for quick actions. Within the app, you also can shop for new devices for your system. 
Prepare today for peace of mind tomorrow.
Get occasional tips about keeping your family and home safe — delivered to your inbox.
Setup & Use
When you receive your Frontpoint Safehouse System in the mail, you get a set of instructions to get started in addition to a unique activation code. All it takes is three steps: 
First, start by setting up an account through your mobile browser. 

Then you follow the specified steps for set up: connecting to WiFi, activating the hub, and setting up the keypad and senors. 

Lastly, when you finish the setup of the system and device, download the app to control the system from your phone. 
While you don't need to watch any setup videos, they include a video that they recommend you watch after you set up the hub and keypad. We recommend you watch this as it provides information for successfully arming and disarming your system in addition to the keypad strokes to call the local authorities. Compared to other systems, the keypad is clearly labeled to understand where to find the "arm" and "disarm" buttons. It also gives you verbal cues when acting on the keypad. 
In the app, you can set up a "non-emergency response mode" to get used to using the keypad without accidentally triggering the alarm. As we mentioned above, you can get charged for each false alarm. If you accidentally trigger the alarm, you can call Frontpoint's service line to cancel it. 
Frontpoint has you list two people to call during the setup process for when someone or something triggers the alarm. One of these people has to confirm the legitimacy of the notice. If Frontpoint can't reach anyone, it will automatically call the authorities, and it is considered a dispatch. 
Getting the Most Out of Your System
Set up your system and take advantage of the trial right away. 

Once the shipping carrier delivers your system to your door, the clock starts ticking on your trial. So to make sure you get it set up, test it out, and have time to cancel the trial, we recommend setting it up within a few days of receiving it.

Learn the keypad shortcuts. 

The keypad can do more than meets the eye, so make sure you have the shortcuts mastered to call for police, fire, and an ambulance when you need it. 

 

Give yourself a grace period to master arming and disarm the system. 

Take advantage of the non-emergency response mode feature to get the hang of using your system without triggering a false alarm. You can adjust the time frame of the grace period from a few days to a few weeks.  

Get everyone on your home set up with being able to access the system. 

If you have older children who stay home alone or young adults, add them as users to the system so they can arm and disarm the system on their own. This choice is optimal if they get home before you or spend the weekend alone. Of course, you can still control the devices and notifications, but adding others is the best way to ensure your home is protected even when you're not there. 

 
Plans & Pricing 
Pricing 
The base price for the system is $129 (or $99 if on sale), with each additional device costing between $25-$100. The base kit is more than enough to get started, especially for small homes or apartments. However, if you want additional monitoring, you may need to purchase an indoor camera, outdoor camera, or additional sensors. 
The number of items you get for what you pay is a steal. You even get free shipping, which is another bonus. You make up for the equipment price with the monthly monitoring.
Monitoring Subscription Plans 
Frontpoint only offers one plan: a three-year contract for professional monitoring that starts after your 30-day trial. This cost breaks down to $50 per month plus tax, or $1.64 per day. 
Final Thoughts 
Frontpoint's Safehouse System is perfect for those who want a simple security system with all the features and functions that a security system comes with—motion sensors, a keypad, video doorbell, etc. This system is also optimal for users who don't want an indoor camera monitoring their space, as this only comes with a motion sensor for internal monitoring. The system offers a lot for the small price tag, which helps offset the monitoring cost. This system is right for you if you're committed to professional monitoring and don't mind the extra steps to comply with local false alarm ordinances. The Safehouse system is also great if you want to have multiple family members or roommates monitoring the system. If this system had a self-monitoring option, it would give the competition a run for its money. 
Ready to improve your home security? Purchase the Frontpoint Safehouse System on the Batten Marketplace today.