Knowing who is on the other side of the door is an age-old problem. Is it the neighbor dropping off some misdelivered mail? Burrito delivery? With video doorbells, we no longer need to guess. There are plenty of reasons why you might want to upgrade to a video doorbell.
But with the range of video doorbells on the market today, you might be left wondering: Which is the best video doorbell in 2022?  
To help you navigate, we compare our top three picks for video doorbells.
By the end of this article, you will:
Have learned about three highly-rated video doorbells

Be more knowledgeable about video doorbell features

Have a better understanding of which video doorbell is best for you
Prepare today for peace of mind tomorrow.
Get occasional tips about keeping your family and home safe — delivered to your inbox.
Top 3 Video Doorbells for 2022
🏆
Kangaroo Doorbell Camera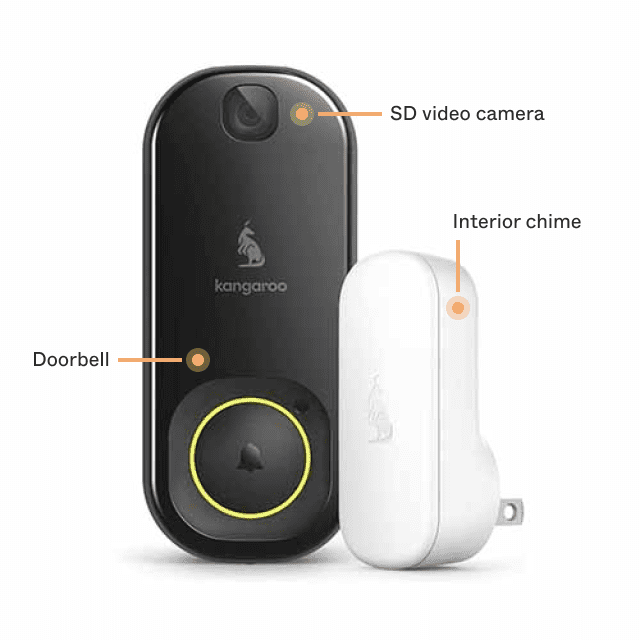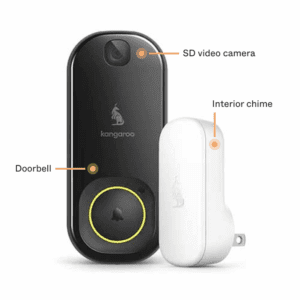 Quick Overview: Kangaroo prides itself on being a simple, affordable product that does the job well.
Price: $28.49, including everything you need for a quick installation, even batteries! 
Pros: The Kangaroo comes with two separate devices: a doorbell camera and an outlet-powered chime. You can view up to 24 hours of recorded photos stored in the cloud for free in the (included) Kangaroo app. For an additional $1.99 a month, your cloud storage expands to one year, and you also have access to package theft coverage (up to $300).
Cons: You do trade out some features in exchange for the low price point. There's no live video, wide-angle view, or high-definition options. Instead, the Kangaroo takes snapshots and compiles them into two-second gifs.
Who's it for?: Kangaroo is a solid choice for those who want to dabble in the world of video doorbells but with an affordable option. This doorbell camera is great for renters since it installs without any drilling or permanent changes to walls or doors.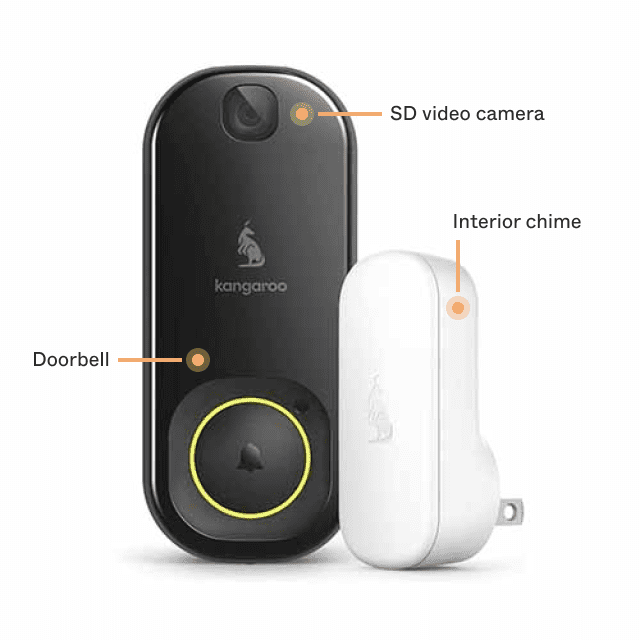 🏆
Arlo Wireless HD Video Doorbell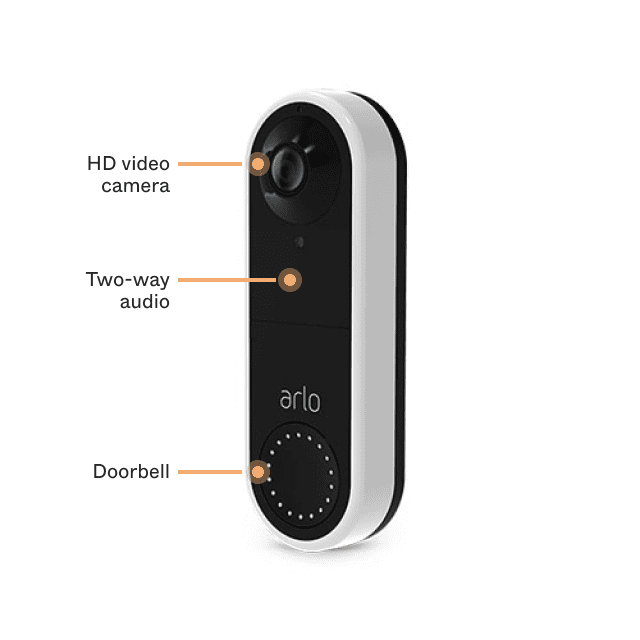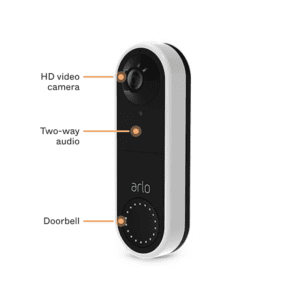 Quick Overview: Known for its high video quality, Arlo features a sleek, functional weatherproof design that captures HD video at a 180° angle. 
Price: Arlo's Wireless HD Video Doorbell ($199.99) comes with a free 3-month trial of Arlo Secure. After the trial, there are various tiered plans ranging from $9.99 to $14.99 monthly, offering access to 2K or 4K video resolution, 30 days of video history, and notifications. Without a plan, you'll still have access to live video streaming and motion alerts.
Pros: The Arlo is a great doorbell video camera with the option to expand its features through the Arlo Secure packages. And it can double as a baby monitor when placed in a nursery. Even without a subscription, Arlo provides much higher video quality than the average baby monitor, and much better video quality than its biggest competitor, Ring.
Cons: While this video doorbell has a lot of features that we love, one thing we don't love as much is the limited battery life. The product description claims that the battery will last up to 6 months, but we have found that it does not typically last that long.
Who's it for: With stellar video, night vision, and a speaker, Arlo's video doorbell is for homeowners who want their doorbell to function as home security.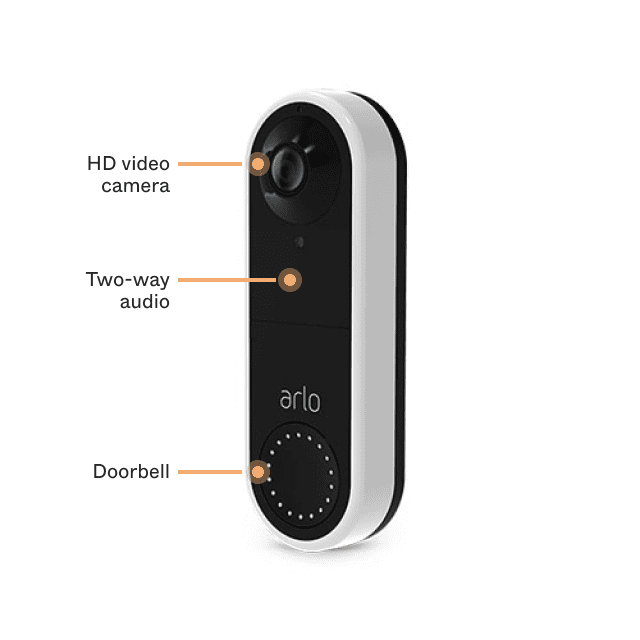 Arlo: Wireless HD Video Doorbell
🏆
Eufy Wireless 2K Video Doorbell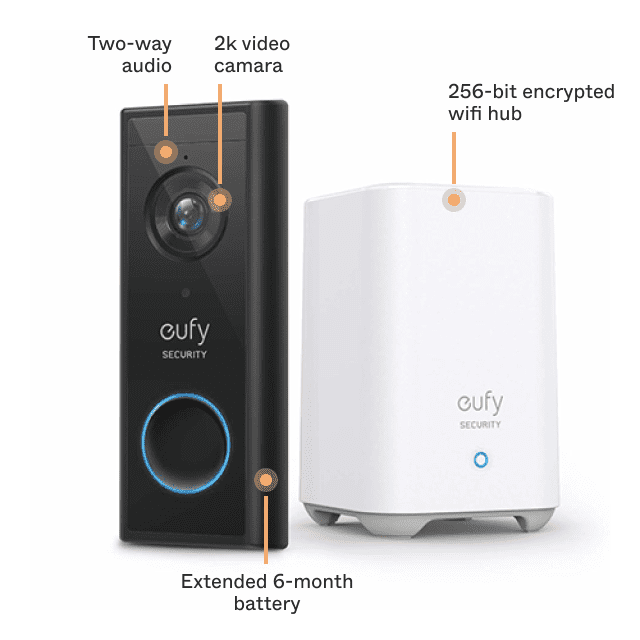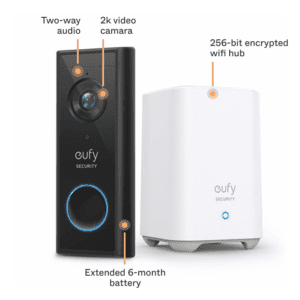 Quick Overview: Eufy's video doorbell is an excellent all-rounder, with robust features like package detection AI. It works with your smart home and other devices, too.
Price: Which video doorbell works best without a subscription? Hands down, it's Eufy. All your videos are stored locally, so you don't have to pay for cloud storage, and all the video doorbell features are included in the purchase price ($199.99). 
Pros/Cons: The Eufy comes with two separate devices: the doorbell camera, and a home base hub where all of your data is stored locally. The hub is both a pro and a con: it adds an additional device that needs a WiFi connection, but that inconvenience allows Eufy to capture 2K video and offers long-lasting battery life.
Who's it for?: Eufy is the perfect device for parents and homeowners looking for AI package recognition and a low subscription cost. It coordinates with Alexa and Google Home, and integrates with other smart home products from Eufy. We even dove deeper into its differences from Arlo if you're still unsure.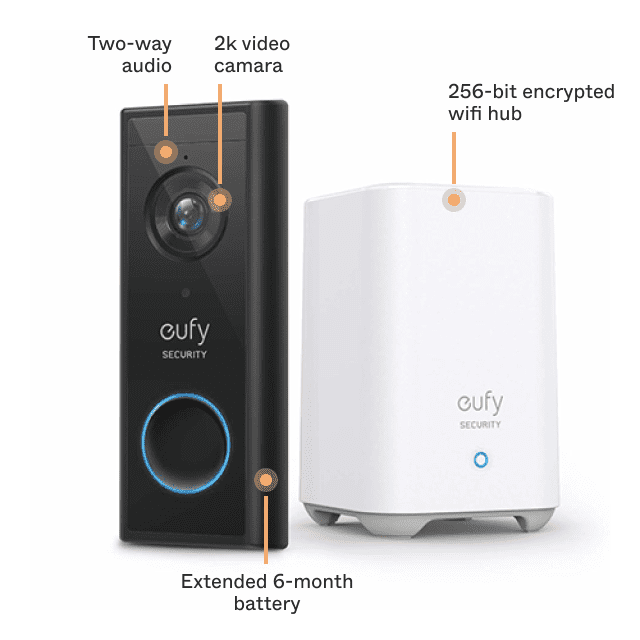 Eufy: Wireless 2k Video Doorbell
Conclusion: There's a Video Doorbell Out There for You
While there isn't a single "best" video doorbell these three options offer a reliable suite of features for most homes. If you're on the fence about getting a video doorbell, check out our guide to help you decide whether a wired or wireless option works best for you. Ready to take the plunge? Shop the Batten Marketplace for expert-recommended video doorbells.
If you aren't sure about Arlo versus Eufy, don't worry, we've got you covered. Check out this other blog post with a more in-depth comparison between the two video doorbells.