Parental control apps are a must for 2023. But not all families have the same needs when it comes to parental controls. We compare four top parental control apps based on design and usability, quality, cost, features, and accessibility. Dig in to find out which features are must-haves for your unique family, then shop the Batten Marketplace to start protecting your family today. 


How We Select the Best Parental Control App
All of Batten's expert-recommended, user-vetted products are assessed on the following criteria: 
Design and Usability:

How intuitive is the interface? Are settings hidden or to find and apply? How easy is it to see all family members and their settings?

Quality:

How well does the software perform? Does it block all harmful content? Send alerts when it should?

Cost:

How much is the subscription, and what value do you get in return?

Features:

What components does the software have? Where are there gaps?

Accessibility:

Can parents access devices and settings? Can children access and circumvent the software?
We ranked parental control apps based on these features, but because their features can differ so much, your choice will be based on your own kids' ages and whether you favor monitoring, filtering, or management for your family. As your kids grow, you may find you want fewer filtering options and more monitoring, to guard against predators and bullies. These are the all-around champions. 
Prepare today for peace of mind tomorrow.
Get occasional tips about keeping your family and home safe — delivered to your inbox.
Best Parental Control Apps for 2022
Qustodio
Quostodio ($54.95/year for 5 devices; $96.95/year for 10 devices; $137.95/year for 15 devices) is one of the best-known parental control apps for a good reason. It's a snap to set up, and you can click on multiple children's profiles from your family page.
Qustodio: Parental Controls
Who Is This Best For?
Parents who want the ease of use. Scroll through children's online activity, click to see those sites, and block content right from your reports. Its intuitive and straightforward interface saves frustration and allows for tons of customization.
Pros
Tidy and intuitive

user interface.

Prevent controls from turning off

. Qustodio will not let virtual private networks (VPNs) or browsers like Tor subvert controls.

Custom time limits

for every day of the week.

Custom schedules

that let you block particular apps during specific times.

Handles most devices

, including Amazon Kindle and Chromebooks.

Monitors calls and show text messages

sent and received (on Android). You can set a list of numbers to block.

Location tracking

alerts you when family members arrive and leave saved locations.

It scans for particular words you don't want your children to see. You can also add your own. It'll block websites or posts with those words.

29 categories

you can choose to customize or block

Control in-game purchases

so you don't see any surprises on your next credit card bill
Cons
Lack of message monitoring on trending social sites

like TikTok and Tumblr 

It's expensive

compared to other leading parental control apps. But there's a free version that allows for tracking one device and storing seven days of activity. However, you won't get any other features like notifications.
Prepare today for peace of mind tomorrow.
Get occasional tips about keeping your family and home safe — delivered to your inbox.
Kaspersky Safe Kids
Kaspersky rose to fame over 20 years ago as the first cybersecurity company to monitor viruses in quarantine. They eventually added password protection, VPN protection, and cloud security. You can download Kaspersky Safe Kids ($14.99/year)  on its own, and you'll get solid functionality in a no-nonsense package.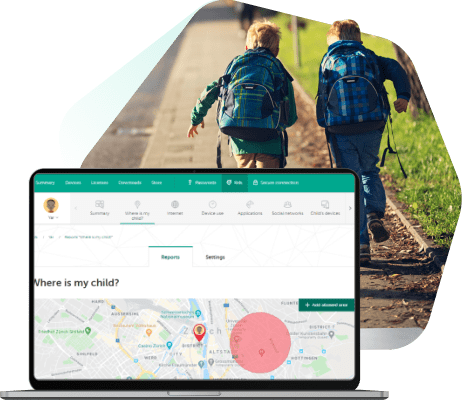 Who Is This Best For?
A family that wants an affordable app with all the essential features in a no-frills user interface. There's a 30-day trial period, and you can add up to 500 devices to test the waters.
Pros
Outstanding web filtering

across multiple categories. You can also block specific sites.

Offers the best geofencing

available. You can set allowable areas for times and days and get alerts if your child is not in that area. Track them live any time on a map from your app.

Safe search parameters

for YouTube and block harmful searches.

Custom screen time schedules

. Set rules for different days of the week and times of day, like during school hours.

Set warnings

without blocking a site.

Require permission

to open specific apps.

Get blocking, screen limits, and filtering free

. Or opt for $14.99 per year. You'll get GPS monitoring, YouTube search history, and alerts.

Checks for anonymizers

should your child try to hide their internet activity.
Cons
Uninspired hard to navigate

interface 

Does not send alerts about worrisome content

like bullying or depression.

Does not monitor texts, emails, photos, and apps

– only  monitors Facebook posts and messages

Fewer filtering categories

(11) than the competition.

Not all browsers are supported

. You'll need to block other browser apps to keep them off your child's device and keep their searches safe.
Net Nanny
An old hand at partnering with parents, Net Nanny ($54.99/year) has been around since 1996. The company has developed a suite of practical features essential to the parents they've always served—like letting you divide your child's time between devices. Part of the reason it is still around today is due to its continued strong reputation as a reliable and well-run organization. 
Who Is This Best For?
Mixed iOS/Android families. Parents who want an experienced company with top-rated filtering AI. Net Nanny software can analyze web content before your child even gets to it, even if you haven't blocked it.
Pros
Nearly identical

iPhone and Android features 

Real-time filtering and monitoring

to determine if content should be blocked based on a vast proprietary database 

Choose the types of websites or exact sites

you want to block. You can also set topics to "warn" and get notified if your child tries to access each type of content

Well-designed interface

with profiles for each family member and a real-time family feed. The parent dashboard is easy to use on both desktop and in a mobile app

Real-time location tracking

on a family map

Protection

on social sites like Tik Tok, using the same filters you choose for the rest of the internet, or you can block them entirely

YouTube monitoring

right in your Family Feed

Remote access

to approve extra time or disable the phone 
Cons
No call and text monitoring,

which can be a major downside if your child has a phone

Lags

in locating the device, as it's based on the last internet usage

High battery usage slows surfing.

This is not an app that runs in the background, making it feel intrusive for older teens
Norton Family
Norton's antivirus program is authoritative. It's no wonder the company sees protecting family computers with their wealth of databases as a logical expansion. Unlike Kaspersky, Norton Family's ($49.99/year) suite of features is tightly connected to its antivirus software. Are you thinking of using it to protect your family computers? It might be a good choice for parental control, too.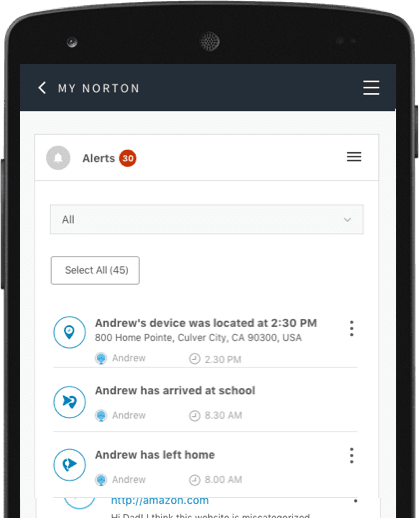 Who Is This Best For?
Big families with lots of PC and Android devices. Families who are already using Norton's antivirus suite (you'll get the parental control/Norton Family suite through Norton 360 Deluxe).
Pros
Monitor unlimited devices

, which can be a great value for large families.

Strong web filtering.

You can choose to block sites or allow them with continuous monitoring. There's even a "warning" category that allows the content with an alert to parents.

Intuitive navigation

through your child's browsing history, including YouTube and Hulu videos when viewed on a browser. You'll see thumbnails and can check out the content for yourself.

Keep tabs on your family

on a map. Set alerts if your child leaves a geofenced area. Geofencing works for Android and Apple and gives you a 30-day history of where your child has been.

Monitors new accounts

created by your child, including those with fudged birthdays

Limited app supervision,

available only for Android. You'll be able to see what apps your child has downloaded and block unacceptable apps.
Cons
Clunky dashboard

makes it difficult to set up preferences.

No communication monitoring

(text, call, or email)

Doesn't support devices that aren't fit for security and performance

. If your MacBook or Windows 10 is in S mode, you won't get to use Norton. It does work for Android, PC, and iOS.

Unable to restrict apps

by category, schedule, and time.
Are There Free Parental Control Apps?
Yes, both iPhone and Android devices have free options for minimal parental controls. You can also take advantage of freemium versions of more robust paid apps for some added control.
Free Parental Control App for iOS
Apple's Screen Time is built into iOS if you set up your child's Apple ID (not yours) under your own in a family sharing plan. You can control total screen time, app time, and make sure children don't download apps you haven't approved. There's a catch: once you've approved an app, you won't be able to change your mind.
Free Parental Control App for Android
For Android users, your free option is called Google Family Link. There's an app for parents and an app for children. Download the parent app on your device, and it will walk you through downloading and setting up your children's devices. Children over 13 do have the option to disable Google Family Link. You'll be notified if they do.
Software settings can limit which apps your child sees in the app store, outstripping Apple's app notification on the free software. You can approve apps and see when children download new apps, even if they've been installed previously.
Conclusion: You Can't Go Wrong With Any Parental Control App
Families are different. Luckily, parental control apps are, too. You'll want to sort through their differences to get the features that matter to you. Then support your family online with Batten's curated marketplace of parental control software.