These days, even the simplest tools in our lives have been made complicated. When phrased like that, it sounds like a bad thing, but in practice, it can make our lives more convenient.
Take garage door locks, for example. They have been simple for decades, but there are products that can add more functionality, features, and convenience to this simple aspect of our lives. There are so many automated garage door locks on the market, though, so which one would be best for you?
In this article, we aim to help you find out. We will do this by going over some of the top features to look for while showing you some of our top picks for the best garage door lock. By the end, we hope you will have found at least one or two that would suit your particular situation perfectly!
Key Takeaways
Automatic garage door locks allow you to open and close your garage door more conveniently than ever, often remotely and sometimes with app integration.
Automatic garage door locks are much better than traditional locks as they're more convenient, secure, and safe to use.
You should consider aspects like subscription costs, how it integrates into Home systems, durability, and ease of use.
We have 8 of the best automatic garage doors for you to consider, presenting the strengths and weaknesses of each one.
We made our choices of garage door products based on how much we trust the brand, features, security, and other aspects such as those.
What Are Automatic Garage Door Locks?
The concept behind an automatic garage door lock is simple, even though it can have other features incorporated. Essentially, it makes the process of unlocking, opening, and closing a garage door much more convenient.
This will be done using a remote usually, but there are other methods that some products may use. Some even allow you to operate the door remotely without having to be in the vicinity of the door.
Benefits Of Using Automatic Garage Door Locks Vs Traditional Locks
Traditional garage door locks get the job done, and they have been relied on for many years. While they're functional, there is still room for improvement, which is where automatic garage door locks come in.
When you're using a regular garage door lock, you will typically have to exit your car, unlock the door and then get back in. While this may not sound particularly arduous, it opens you up to being jumped by a car thief or you may get soaked in the rain as you unlock your door.
Automatic garage door locks solve all of these problems, as you can unlock the door not only from the safety of your car but often from other places if you're not home. This means that the automatic locks can not only be more convenient but also safer.
If you need even more security for vehicles not in your garage, we have also looked at some of the best car security cameras.
Important Things To Consider When Choosing Automatic Garage Door Locks
Subscription Costs – Some automatic doors that have extra sensors or surveillance may have extra subscription costs added, so that's worth keeping in mind if you're sticking to a budget.
Integration With Existing Home Products – SmartHome integration has become a big part of many people's daily lives, as it makes integrating new technology even more convenient than ever. Having a garage door system that can seamlessly integrate into an existing setup makes it easier to set up and operate.
Durability – Durability should be a priority not just because it means there will be fewer repairs needed in the long run, but the door will be able to withstand break-in attempts.
Ease Of Use – One of the biggest benefits of an automatic garage door lock is convenience, as it should make operating the door easier. If the system is difficult to use, then that will certainly defeat the purpose. Therefore, ease of use should be a high priority.
Price – Everyone has to work from a budget, so it's important to find a good mix of decent features, quality, and a price that fits into that budget.
Best Automatic Garage Door Lock
Genie – Best Smartphone Compatible Garage Door Lock
$59.99
as of October 1, 2023 12:46 pm
Last updated on October 1, 2023 12:46 pm
First up, we have the Genie ALKT1-R Smart Garage Door. This is a really solid option with some great features to take advantage of, so let's see what it has to offer.
About The Brand
The Genie brand began all the way back in 1923. From the beginning, they have had an emphasis on a high degree of quality in their products that serve a wide range of consumer and military functions.
Since 1954, they have created a long range of automatic garage doors that have become well known in this field for their high quality and functionality, something we will see in this very product.
Key Features And Benefits
The Genie Smart Garage Door has a few features that make it a really handy addition to your garage setup. For starters, with a wifi connection, you can connect the system to your smartphone, allowing you to operate it from pretty much anywhere.
The door system is compatible with Alexa and Google Assistant, meaning it should fit into most SmartHome systems easily. There are also alerts when the door opens or closes, and you can grant access keys to multiple people.
Connecting to the app allows for more features, and these are all free to use without a subscription.
Pros And Cons
Overall, this is an excellent automatic garage door system. It can connect to your smartphone for convenient use and it is robust from a trusted brand in this field.
One downside is that you will need to buy additional sensors for multiple garage doors, so that's worth keeping in mind.
Liftmaster – Best Heavy-Duty Garage Lock
$114.95
as of October 1, 2023 12:46 pm
Last updated on October 1, 2023 12:46 pm
If security for your garage door is an issue for you, then you may want to consider the Liftmaster 841LM Automatic Garage Door Lock. This is a highly secure automatic lock, but its fairly strict compatibility requirements may be an issue for some.
About The Brand
Liftmaster has a wide range of products focusing on security, surveillance, and other similar products. They are a part of the Chamberlain family of products, and they have a great reputation for their high-quality products.
Key Features And Benefits
This particular automatic garage door lock is intended as an extension to existing Liftmaster openers. It is compatible with the 8550WL, 8587WL, 8360WL, and 8500W models of openers, so if you don't own a product from those lines then you may not be able to use this lock.
It is incredibly secure against break-ins and bad weather, so it's one to consider if you've had a problem with those in the past. It also has smartphone monitoring capabilities, and will automatically engage when the existing door mechanism is operated.
Pros And Cons
This is a great option for anyone wanting increased security and peace of mind.
However, it is a bit limited in that you need specific hardware in place to use with the lock.
Nexx – Best Wi-Fi Automatic Garage Door Lock
$79.99
as of October 1, 2023 12:46 pm
Last updated on October 1, 2023 12:46 pm
Our third product is the Nexx Smart Wi-fi Controller. This is an impressive product with some great features that can make your existing garage door opener even more functional.
About The Brand
Nexx believes in technology that will serve us instead of the other way around. To do this, they focus on products that are easy to use, convenient, and high quality. Their products cover a wide range of SmartHome integrated products that have been consistently well received.
Key Features And Benefits
The Nexx controller will be integrated with an existing garage door opener. Unlike the previous product, this one is compatible with a wide range of garage door openers, and you can test compatibility on the Nexx website.
You can grant access to friends and family while receiving alerts about who is coming and going. You can also get a reminder when the door has been left open.
There is a strong antenna included for increased wifi and Bluetooth range, and the system has been designed to be easy to set up and use.
The opener also features voice commands, and it is compatible with Siri, Alexa, and Google Assistant. All of the features and app integration are free to use, with nothing locked behind a paywall.
Pros And Cons
Overall, this is a system that is easy to recommend. It is simple to use while still having a wide range of handy features for you to take advantage of.
Perhaps the only downside is that there is a possibility it may not be compatible with your garage door opener, so be sure to check that before buying.
Genie – Best Automatic Garage Door Lock Kit
$498.00
as of October 1, 2023 12:46 pm
Last updated on October 1, 2023 12:46 pm
We have another offering from Genie up next with the Genie B6172H Wall Mount Smart Garage Kit. This is a more comprehensive setup, especially good for people who may not have an automatic garage door opener already installed.
Key Features And Benefits
The door opener is fairly compact and connects to the side of your garage door, which saves space and makes it compatible with a wide range of doors. The motor is powerful and quiet and can be used to operate doors that are up to 850LB.
You will also have a programmable remote, battery backup, wifi connection with many of the features we looked at previously, and an automatic door lock.
Pros And Cons
This is a great kit to get you started when it comes to securely operating your garage door. It has pretty much everything you need, and it can be connected to most major SmartHome systems.
It is quite an involved system, so setting it up may be challenging for some. It's also a bit of a pricier option, but we do feel that what you're getting in return for that price is fair and justified.
MyQ – Best Automatic Garage Door Controller
$24.99
$29.98
as of October 1, 2023 12:46 pm
Last updated on October 1, 2023 12:46 pm
Our next pick is the MyQ Chamberlain Smart Garage Controller. We chose this as an excellent option for a smart door controller, and it has many of the features you would hope for from such a device.
About The Brand
MyQ is another brand under the Chamberlain umbrella of companies, much like Liftmaster before it. This brand focuses on products aimed at garages and garage doors specifically, and you can expect the same level of quality and expertise that we see with other Chamberlain products.
Key Features And Benefits
This product can be used with an existing automatic garage door system, and there are a few features that make it very useful. These include being able to control the door remotely from your smartphone, and you can also set an automatic close schedule so you never have to worry about accidentally leaving the door open.
You can grant access to friends and family, and additional sensors can be purchased and used with the product.
Pros And Cons
This is a fairly basic opener, but that is not necessarily a bad thing. It has all of the major features you could hope for, and it is easy to set up and use.
There can be potential compatibility issues, however, so we recommend carefully going through this section on their product page to ensure that you will be able to use this system.
Vivint – Best Security Camera System For Garages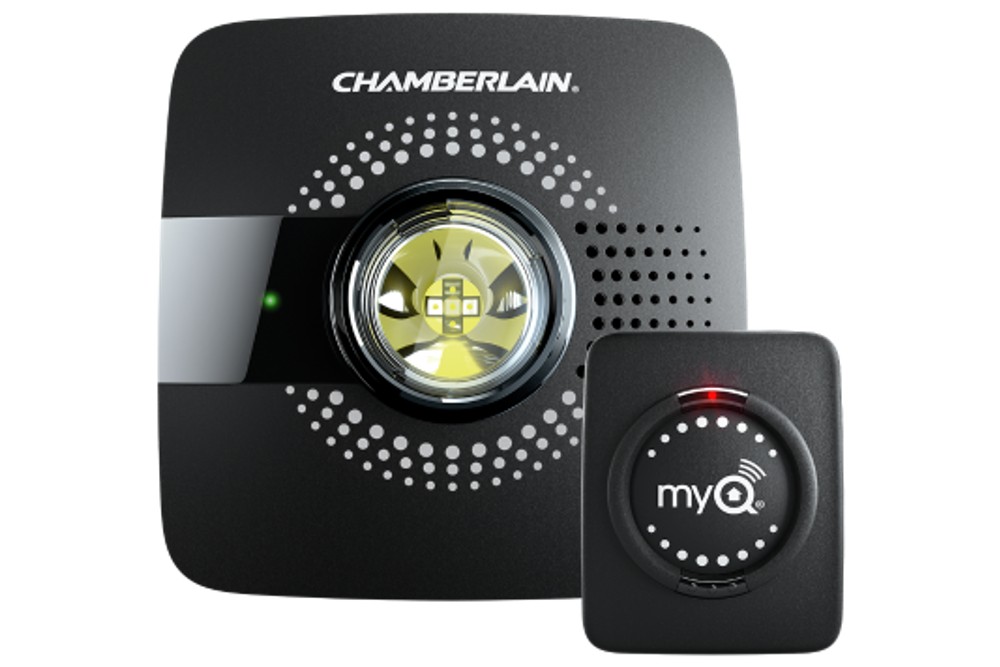 If you take your home security seriously and want a more personalized approach to your home surveillance, then Vivint provides a service that you will certainly want to take note of.
About The Brand
Vivint focuses on specialized security devices that can be used for monitoring and alerts. They offer 24/7 monitoring to give you further peace of mind, and they will install all products purchased through them.
They can install everything from cameras and automation devices to sensors and controllers, depending on your specific needs.
Key Features And Benefits
With this entry, we're looking at something a bit different. Instead of one particular product, you will be directed to contact Vivint directly and talk to one of their experts. You will then work with them to find the best products and services that suit your home and needs, ensuring that you only get what you need.
You'll be in good hands, as you will have access to some of the best security systems on the market and all the help you need setting it up.
Pros And Cons
This is a more specialized service, and it would be perfect for anyone wanting more control over their home safety or people who have specific safety requirements.
As a more generalized service, it may be too in-depth for some. There are also some extra subscription costs for services such as 24/7 monitoring that you should be aware of.
Eufy – Best Garage Control Cams For Multiple Doors
$129.99
as of October 1, 2023 12:46 pm
Last updated on October 1, 2023 12:46 pm
Eufy is famous for its home security camera devices, and the Eufy Garage Control Cam Plus brings their camera expertise and merges it with a highly useful garage door-controlling device.
For more in-depth tips on how to set up a camera such as this one, check out this guide on 3 places to place your indoor security cameras.
About The Brand
As mentioned, Eufy is perhaps best known for its camera products. We have looked at many of their cameras before, and they consistently prove to be some of the best on the market while remaining affordable.
Eufy has become so well known for their great products that the name has become quite the seal of quality.
Key Features And Benefits
Using one device, you can control up to two garage doors. The system has been designed to be compatible with most sectional, roller, and tilt doors created after 1993.
The camera and door controller can be controlled from your phone using the Eufy app, and this includes viewing the 2K live feed at any time.
Real-time notifications are available, and AI will limit the number of false alarms by distinguishing between humans and other objects.
You can save footage locally using the included memory card, or you can opt for cloud saving with an additional subscription.
Pros and Cons
As with most Eufy products, there is little to say against this device. It is a functional door controller in its own right, but the convenient camera integration is a huge plus. It is also compatible with Alexa and Google Assistant.
While designed to be highly compatible, it is best to ensure that it will be compatible with your specific door before purchasing.
Frontpoint Security – Best Garage Door Sensor
$79.99
as of October 1, 2023 12:46 pm
Last updated on October 1, 2023 12:46 pm
Finally, we have the Frontpoint Garage door sensor. This one is a bit more limited, as it is purely for security instead of operating the door, which makes it ideal as an addition to an existing opener.
About The Brand
Frontpoint is another well-known brand we have looked at many times before. They focus on cameras, sensors, and other security devices that all work to make your home more secure and convenient.
Key Features And Benefits
As mentioned, this is a door sensor that's aimed at providing a bit more security. You can easily affix it to the door, and it will set off an alert when the door is opened at more than 45 degrees.
It will set off a high decibel alarm to deter intruders, as well as an alert to your phone. You can also set it to give off an alert if the door is left open for too long, and only you can disarm it. The battery life lasts up to 5 years, and it is compatible with all kinds of garage doors.
Pros And Cons
As always, Frontpoint has created an excellent sensor device to make your garage safer. It is easy to set up, highly compatible, and gives you options for alerts and alarms so that you will have more control over your garage safety.
It is a bit limited, however, so it would be best paired with an existing garage door control system.
How We Made Our Choices For The Top Automatic Garage Door Locks
Brand Quality – While brand recognition isn't everything, we wanted to make sure that each product is from a brand that consistently offers great quality and reliable products.
Overall Security – One of our main goals was to choose products that would provide great overall security and convenience with their implementation.
Durability – No one wants to constantly have to repair and replace parts, so we tried to find products with long-lasting durability.
Ease Of Use – We didn't want to feature any products that would make life harder instead of easier, so all of these products are simple to set up, use and maintain.
Price – While some of these products are pricier than others, we tried to find a good range of different price points to fit any budget.
Tips For How To Use Automatic Garage Door Locks
When choosing your automatic garage door lock, it is important to do some research to ensure that your door will be compatible with your chosen device.
You should also try and determine whether safety, convenience, or a combination of the two and try to decide which products suit your priorities.
We would also recommend ensuring that any wifi connectable devices will be able to be within the range of your existing network.
Automatic Garage Door Lock FAQ
Can You Lock An Automatic Garage Door?
This will depend on the specific products used, but this is often a feature.
How Do I Stop Thieves From Opening My Garage Door?
A robust locking mechanism is the best bet, and you can purchase sensors and cameras to help you monitor your garage door and be alerted to any break-in attempts.
Can You Make A Standard Garage Door Automatic?
It should be possible to convert pretty much any garage door to an automatic system.
How Do I Lock My Garage Door For Vacation?
Make sure to double-check that all locks are engaged, as well as activate any sensors or security devices that you have installed.
Conclusion
As we have seen in this overview, there are many products that can be used to make operating your garage door safer and more convenient. We tried to find a wide range of products that will suit your needs no matter what your situation may be, so we hope that a few of the products caught your eye!
No matter what you choose, any of these products will help to make your garage and your home at large a little more secure and can help you take back some control over your general safety.