Natural disasters often come with little warning. When facing the unpredictability of a natural calamity such as a hurricane, having a reliable power source is essential for keeping you and your loved ones safe and comfortable. That's where a portable generator comes in.
In this detailed guide, we will explore the best portable generator for hurricane season – from power output and portability to fuel efficiency and safety features, you will have all the information to make an informed decision.
Key Takeaways
Portable generators are essential for power outages during harsh weather conditions such as hurricanes.
Best portable generators come with a long-lasting battery and multiple outlets to allow multi-device usage.
With a good portable generator for hurricanes, you can power ACs, TVs, machines, power tools, medical tech, and all communication devices.
Why Having a Reliable Portable Generator Is Essential During a Hurricane
Hurricanes bring about unpredictable and extensive power outages that could last a few hours or could even last a few days. Having a reliable portable generator is essential during a hurricane for multiple reasons. A portable generator can provide you with a steady source of electricity to power essential devices like a light bulb, medical equipment, communication devices, etc. The generator can also help prevent accidents in the dark and provide power to cooling or heating equipment during harsh climate conditions. A portable generator can also power your refrigerator to prevent food from spoiling.
You can also help neighbors or friends in trouble during harsh weather. Lastly, if you are planning to travel elsewhere to outrun the hurricane, you can take your portable generator along as well.
What to Look For in the Best Portable Generator for Hurricanes
A reliable portable generator to prepare for hurricanes is an important investment that will definitely pay off. Choosing it requires some measures to ensure safety in power outages. The first feature to consider should be the power output the generator produces. Your chosen generator must have sufficient power to meet your needs. In addition to this, the generator must have ideal fuel consumption and a long runtime so the most essential items such as refrigerators, lights, and any other equipment may run without hindrance. Lastly, a portable generator must also have the best measures to be transported easily.
Best Portable Generators for a Hurricane
The best portable home generators can help you in a multitude of ways. Let's take a look at the top best generators from our list.
Patriot Power Generator 1800 – 4patriots
The Patriot Power Generator 1800 is one of the best-selling generators in the market. The generator has a continuous output of 1800 watts with a 2048 peak. Most interestingly, it can store 768 Wh (60 Ah) of power! With 2 120-volt AC, 4 USB cables, one 12-volt solar extension cable, and one 12-volt DC outlet, you can plug in various forms of appliances.
The best thing about this generator is that you never need to rely on gas or electricity to recharge it – it can charge for absolutely no cost under the sun via the solar panel! The generator's powerful lithium-iron-phosphate batteries charge in only 3.5 hours and in 4-10 hours via solar power. The recharge cycle lasts up to 2500+ times!
The 40 lbs. Patriot power generator 1800 also produces no fumes to disrupt the clean air around you. Additionally, it does not just save you from air pollution but from noise pollution as well. Furthermore, you can use it to power critical appliances such as operating a TV, using power tools, keeping CPAP and oxygen going, and charging electrical appliances including refrigerators and fans. It also comes with a one-year money-back guarantee!
If you're looking for an in-depth review, the fine people at Goshen Prepping did a great job in the video below.
Patriot Power Generator 2000X – 4patriots
The Patriot power generator 2000X is the updated version of the 1800 model. So, you get all the stellar features that came with the last one but with more continuous power, more peak, and more outlets.
This 60 lbs. solar generator not only comes with a free solar panel but has twice the battery capacity than it did before. With one recharge, you can get 2000 watts of continuous power. The generator can thus handle up to 4000 watts of peak power.
With its 365-day money-back guarantee, you can plug in any power appliance you want to. You can power water pumps, washing machines, and even an RV AC, all of which you can plug into 4 AC outlets – each 523 watts capacity.
Goal Zero Yeti 3000X 120V Portable Power Station – Survival Frog
The Goal Zero Yeti 3000x 120V portable power station by Survival Frog is a versatile and incredibly powerful generator. With five built-in ports, you can use any power appliance – from ACs to electric bikes and grills.
This 69 lbs. generator comes with a 14-hour power supply. You can use the 12V charger to charge the Lithium-ion NMC battery which will make it last 25-50 hours depending on your usage. On solar power charge, the generator lets you use from 200 to 600 watts. All this totaling for a pack capacity of 3032 Wh.
The company offers a 6-month refund and a 3-year long warranty in case of any mishaps. Furthermore, they also offer free shipping.
Goal Zero Yeti 500X 120V Portable Power Station – Survival Frog
The Goal Zero Yeti 500X 120V portable power station by Survival Frog is smaller, more portable yet with more power than its family generators. This generator is perfect for camping trips, power-outage emergencies, and smaller RV spaces.
The 12.9 lbs. generator has a power supply of 8.5 hours which only charges in 4-7 hours at most. Solar charge usage is from 50 watts to 200 watts. In addition to this, the Li-ion battery has a pack capacity of 505 Wh. The 8 mm charging port goes up to 120W.
The warranty on the battery is 6 months while the solar panels have a year-long warranty.
Judy Portable Power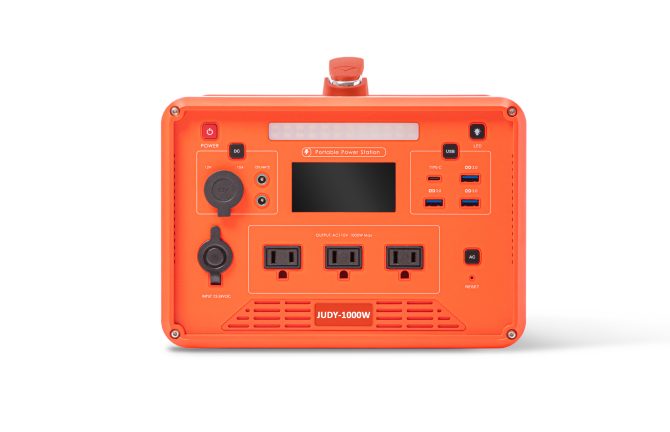 The powerful Judy portable power is one of the 1000w portable power generators that utilize a LiFePO4 battery. This powerful generator is noise-free, maintenance-free, and does not produce any air pollutants – thus you can keep it in your home.
The 1000/1280 WH generator comes with an AC adaptor, cigarette lighter cable, DC to MC 4 cable, and a user manual. Where portability is concerned, the generator only weighs 30.8 lbs. Furthermore, the surge capacity is up to 2000 watts.
The generator allows using a wall charger taking up to 8 hours of recharging time, solar panel charging taking 8-17 hours of recharging time, and a car charger taking 12-14 hours of recharging time.
HomePower ONE – Geneverse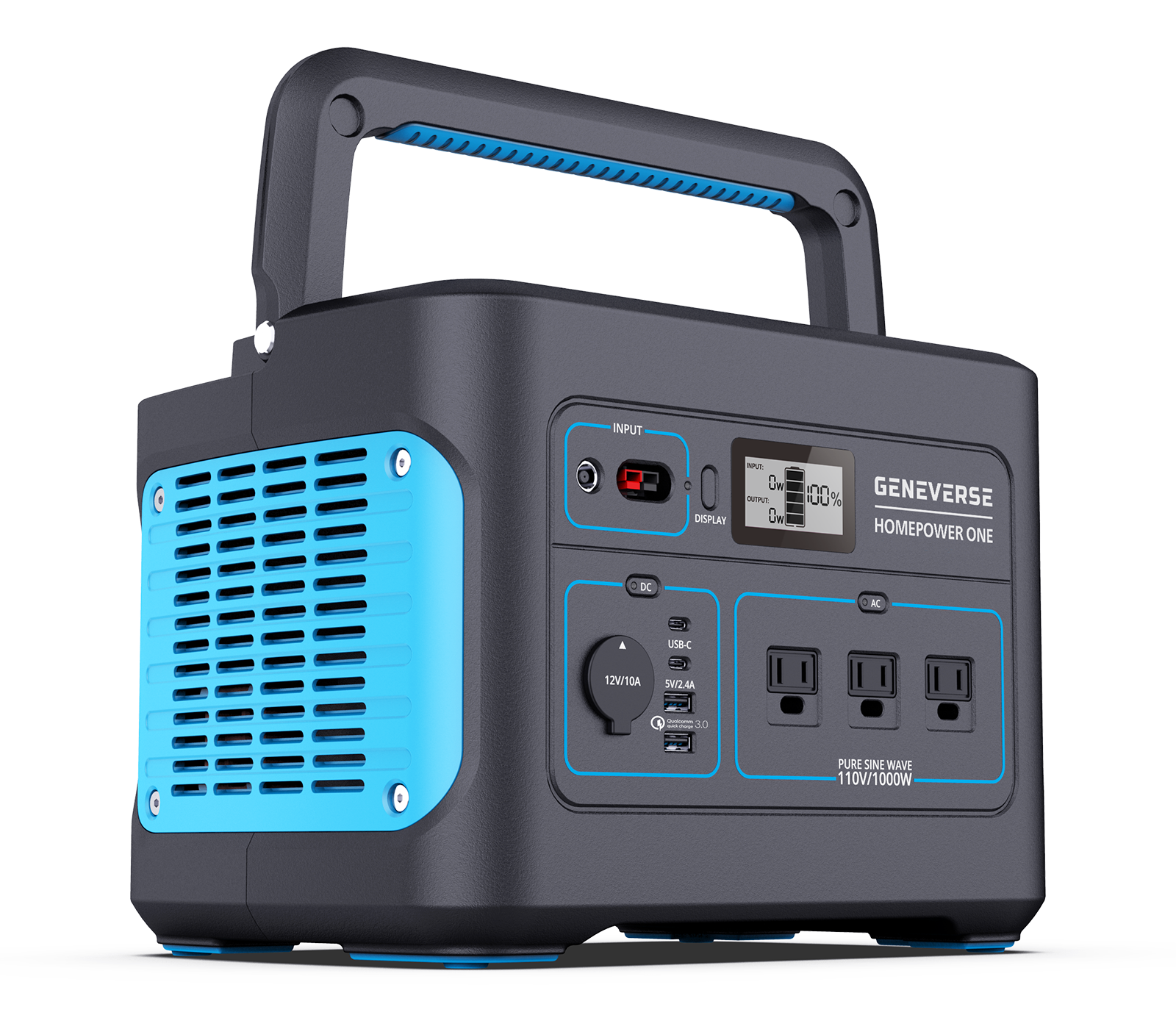 The 1002 Wh HomePower ONE generator by Geneverse is one of the most portable power stations. The built and compact frame makes it a great portable generator at home and on the go. The generator undergoes 52 safety tests to bring you the very best.
It is solar-capable and comes with an Anderson charging port and an 8mm charging port. The generator also features a total of eight outlets including 3 AC outlets. As for the solar charge, each panel emits 100 watts of maximum power output. You can combine more than one to yield more power. Once charged, you can use the generator to power your essential devices for an entire week.
The company boasts a 30-day money-back guarantee and a five-year warranty, along with free shipping.
Togo Power Advance
Togo Power Advance is your perfect companion in times of power outages, for camping, tailgating, and other such situations – weighing only 9.24 lbs.! The generator has a safe built of V0 grade ABS fireproof shell, anti-electric shock protection door, and is wear- and drop-resistant. The built-in BMS system helps prevent short circuits, enables voltage protection, and maintains temperature control.
The power generator features multi-port outputs such as one AC and two DC outlets, one cigarette lighter port, one wireless charger, one USB-C, and three USB-A ports – altogether powering up to nine devices at once. Furthermore, you can charge this generator via a power station in 6-7 hours, car charging, and through a solar panel (which doesn't come with the generator).
Anker SOLIX F2000
Made with long-lasting technology, the Anker SOLIX F2000 comes with a 10-year lifespan. With the ultra-durable LiFePO4 battery, a smart temperature control system (monitors temperature up to 100 times per second), and an impact-resistant structural design, the Anker SOLIX F2000 is a must-have.
The battery can be scaled up to the capacity of 4096 Wh. It also supports 2400 watts to power up to 12 devices with 4 AC ports, 3 USB-C, 2 USB-A, and 2 car outlets. Further, the generator comes with a 5-year warranty.
EcoFlow DELTA
The EcoFlow DELTA 1300 power station is the new standard of portable generators. This powerful generator can power most of your home appliances under 1800 watts (3300W surge, pure sine wave) and comes with a 1260Wh capacity, and can recharge from 0 to 80% in only one hour!
The DELTA 1300 can be recharged by solar panels in four hours and via a carport in 10-12 hours. Furthermore, it comes with an MC4 to WT60 solar panel charging cable, 1.5m AC and car charging cables, and a user manual for your ease. Also, the company offers a 24-month warranty.
Jackery Explorer 1000 Portable Power Station – Jackery
$649.00
$1,099.00
as of November 19, 2023 3:08 pm
Last updated on November 19, 2023 3:08 pm
Jackery Explorer 1000 portable power station is a powerful non-gasoline generator. The generator boasts a 1002 Wh capacity, 110 volts, and 1000 watts of output power. This solar-powered generator weighs only 22 pounds so you can carry it around easily and even keep it in small spaces.
The generator comes in two colors – orange and black – and carries a 200W solar panel and a charging cord along with it. Eight output ports and three total power outlets allow power usage of multiple devices at once. Lastly, the company offers a two-year warranty.
Conclusion
During times of uncertainty, the best portable generator for home will be a great investment. The best portable generator for home backup is the one that aligns with your specific needs – such as ease of use, portability, efficiency, safety, and power output.
Remember that when you explore the market and weigh your options, you must keep in mind the wattage requirement, quiet operation, clean power, extended runtimes, and availability of fuel sources. By making the right choice, you will be better equipped to handle the challenges posed by hurricanes and any other calamities that might come your way.