When it comes to home security, you can never have enough of it. A home invasion can be a costly and terrifying occurrence, and the more you can do to prevent or deal with them, the better.
Many people are opting for home security systems that include a camera setup to give them more peace of mind, but these can be rendered useless in the case of a power outage.
Solar cameras are a great solution to this problem, as you will have a constantly powered camera without having to worry about replacing batteries constantly.
In this overview, we will help you decide which is the best outdoor solar security camera by showing you 3 of the best solar cameras on the market.
Quick View: Best Solar Home Security Camera Systems
Why Solar Security Cameras Are Great For Home Security
Security cameras are a great addition to your home security arsenal for several reasons. They allow you to monitor your home when away. They can also alert you to intrusions and can help you figure out what happened after a break-in.
However, they're generally powered by a wired system or a battery, and both have their downsides. A wired camera can fail if the power goes out or someone snips the wire, and a battery-powered camera can run out of juice without you knowing.
A solar camera is a great alternative, as it will charge during the day using the unlimited power of the sun. It negates the downsides of the other methods and means you never have to worry about it.
Now, let's look at some of the best solar-powered cameras you can choose from.
AiDot Winees L1 Outdoor Wireless Solar Security Camera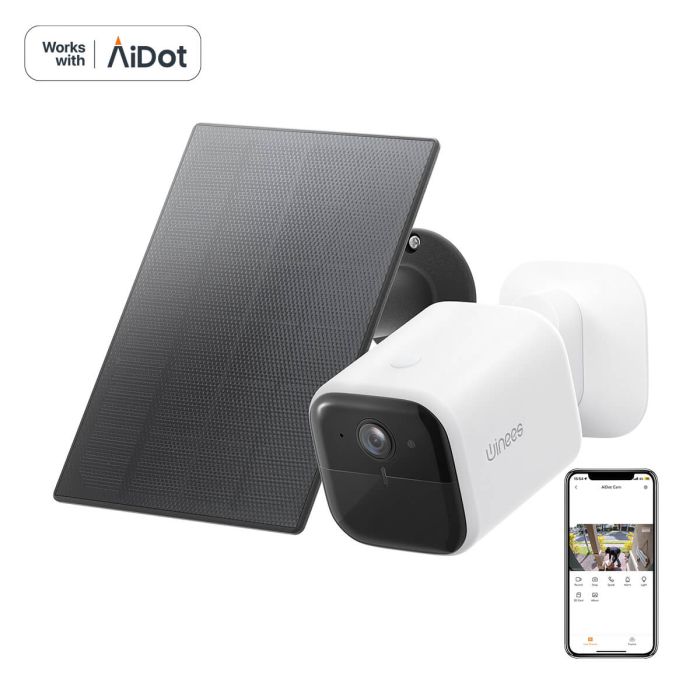 Outdoor Solar Security Cameras, 2K Wireless WiFi Security Camera, 365 Days Battery Life
as of June 15, 2023 5:35 pm
Winees battery cam has a built-in high-performance 5200mAh battery, which can be installed anywhere without any wires. After installing the solar panel easily, you can enjoy the 365-day lifespan of the winees solar camera£¨included in the package£©without
Introducing the AiDot Winees L1 Outdoor Wireless Solar Security Camera, your ultimate solution for reliable and eco-friendly surveillance. With its advanced features and high-resolution imaging, this camera ensures optimal security and peace of mind.
Key Features
Featuring a built-in high-performance 5200mAh battery, the Winees L1 camera can be installed anywhere without the hassle of wires. By simply adding the included solar panel, you can enjoy a hassle-free 365-day lifespan without the need for regular charging. This innovative combination of solar power and battery ensures continuous operation and minimal maintenance.
Equipped with a 130° diagonal viewing angle and 6x digital zoom, this camera delivers crystal-clear visuals in 2K resolution, allowing you to see more details and capture every important moment. Whether it's monitoring your property or keeping an eye on specific areas, the Winees L1 provides an expansive view of your surroundings.
The camera's 8GB Emmc local storage function offers ample space to save up to 60 days of video footage. With human detection capabilities and sensitive PIR sensing, you can rely on accurate alerts without any subscription or hidden fees. Say goodbye to false alarms as the camera intelligently identifies vehicles, packages, pets, and humans, ensuring that you receive only relevant and timely notifications.
Rest assured that your property is protected day and night. The advanced CMOS sensor and infrared night vision function enable clear visibility of movements up to 10 meters away, even in complete darkness. Whether it's day or night, the Winees L1 ensures optimal security and the safety of your family.
Built to withstand various weather conditions, this camera boasts an IP66 weatherproof rating, making it resistant to rain, sun, and cold snowy conditions. Additionally, its 360° flexible rotation allows the solar panel to effectively receive sunlight, ensuring continuous and efficient solar charging.
The AiDot Winees L1 Outdoor Wireless Solar Security Camera is the perfect choice for homeowners seeking a reliable, high-resolution surveillance solution. With its exceptional features, durability, and ease of use, this camera is suitable for a range of applications. From home security and outdoor monitoring to wildlife protection and all-weather surveillance, the Winees L1 provides unmatched performance and peace of mind.
Pros:
Long Battery Life: The high-performance battery and solar panel combination provide a hassle-free and long-lasting power supply.
Detailed Viewing: The 2K resolution and 6x digital zoom offer crystal-clear visuals and allow you to focus on important areas.
Accurate AI Recognition: Benefit from human, pet, and motion detection without any additional fees, reducing false alarms.
All-Weather Durability: The camera is designed to withstand rainy, sunny, and snowy conditions, ensuring continuous operation.
Night Vision Capability: Enjoy enhanced visibility even at night, thanks to the advanced CMOS sensor and infrared night vision function.
Two-Way Audio: Communicate in real-time with visitors through the camera's built-in microphone and speaker.
Cons:
Dependent on Sunlight: Adequate sunlight exposure is required for efficient solar charging.
Limited Storage: While the camera offers 8GB of local storage, additional cloud storage options may be desired for long-term video retention.
Internet Connection: Stable internet connectivity is necessary for remote access and real-time alerts.
Best Use Scenarios
Home Security: Safeguard your home with 24/7 surveillance, motion detection, and live alerts for human, pet, and vehicle activities.
Outdoor Monitoring: Monitor your outdoor spaces, including driveways, gardens, and entryways, to ensure enhanced security.
Wildlife Protection: Stay aware of potential wildlife threats, receiving prompt alerts to keep your property and loved ones safe.
All-Weather Surveillance: Utilize the camera's weatherproof design to monitor your property regardless of environmental conditions.
Nighttime Security: Benefit from the camera's advanced night vision capability to maintain a secure environment even in low-light conditions.
Invest in the AiDot Winees L1 Outdoor Wireless Solar Security Camera for reliable, high-resolution surveillance and unparalleled peace of mind. Ensure the safety of your family and property with this versatile and intelligent security solution.
Eufy Cam 3 with Homebase 3 — Best Integrated Solar Home Security System
S330 eufyCam (eufyCam 3) White
as of November 25, 2023 4:25 pm
See 4K Detail Day and Night Forever Power, Solar Style Up to 16 TB Expandable Local Storage* (Additional Storage Drive Not Included) (The operating system will occupy a portion of the built-in storage capacity) BionicMind™ AI Differentiates Family and Strangers HomeBase 3...
The first camera we will be looking at is the Eufy Cam 3 with Homebase 3. Eufy is a brand you will likely see a lot if you're looking for cameras, and they have become a trusted and respected brand in this field.
This is our top pick for an integrated camera system, and this closer look at some key features will show you why.
Key Features
Captures In 4K Detail Day And Night
Cameras always benefit from the highest resolution possible, and this Eufy camera has a crisp 4K resolution, meaning you can make out the smallest details.
This goes for the night vision mode, which is great as you will have a clear view of things no matter the time of day.
BionicMind Facial Recognition
BionicMind Facial Recognition sounds like something straight out of a science fiction film, but it's actually a programmed AI system that can be trained to detect certain faces. This means the camera can differentiate between approved family members and anyone else it doesn't recognize.
No Subscription Needed
Paid subscriptions are an unfortunate requirement for many camera brands, but Eufy is a bit of an exception. You can utilize a paid subscription if you want features such as cloud storage, but the camera system is certainly usable without any subscription.
This makes Eufy a great exception to the norm in the home security market.
16GB Built-in Storage (Expandable Up to 17TB)
Footage can be stored locally on the camera, which will be especially useful if you don't opt for the optional paid subscription.
There is a decent 16GB of storage built-in, and you can increase this up to 17TB with separate memory cards.
Two Way Audio
The camera features two-way audio, so you can communicate with anyone in range of the camera. If you spot someone suspicious on the camera, you can even address them to frighten them and maybe make them leave.
Built In Solar Panels
The solar panels for this camera are built in, meaning you will never have to worry about how much power it has, provided you have at least decent sunlight exposure in your area.
Amazon Alexa and Google Voice Assistant
The system is compatible with both Alexa and Google Voice Assistant, meaning it can fit into either exosystem if they're set up in your home.
Design
This setup will come with 2 sleek cameras with a pleasing white color scheme and solar panels on top of the units. These can both be easily mounted to a wall or a surface.
You will also get the HomeBase tower which can create a central hub for your security system.
Pros And Cons
As we have seen in this overview, there are many great features to this system. You have integrated solar power, and decent storage included plus no subscription is needed for basic features.
There are very few downsides to this set. It is a bit pricy at $550, but we feel it is worth it for the quality. A few reviews mentioned that the audio could be better, and some people found the motion sensing to not work for their particular setup.
These only seem to affect certain people, however, so overall it's a great choice.
Arlo Pro 5 with Solar Panel — Most Flexible Solar Options Security System
Arlo Pro 5S 2K - 3 kit, white
as of November 30, 2023 7:39 pm
A powerful camera with state-of-the-art features like 2K HDR video, color night vision, 12x zoom and a 160° field of view. Pair with the Arlo Home Security System for a better connection with SecureLink™.
Next, we will take a look at the Arlo Pro 5 solar camera. Once again, you will likely hear the Arlo name a lot when camera shopping, and they have also earned this reputation with quality products.
This next setup is a bit less powerful than the previous one, but it also comes with a much lower price tag. Now we shall take a closer look and see if it would be a better fit for you.
Key Features
2K Video With HDR
The Arlo camera does have half the resolution of the previous one. 4K is a bit of a luxury when it comes to security cameras, though. It's great to have, but a 2K resolution should be more than enough for most people.
The HDR implementation will help to differentiate details in various lighting conditions, too.
160 Degree Viewing Angle
The fewer blind spots a camera has, the better. This one features a wide 160-degree viewing angle to limit the blind spots of the viewing range.
Integrated Spotlight
The camera has a bright spotlight built in, and this has a variety of different uses, such as helping you see better if you arrive home in the dark.
Color Night Vision
The camera features color night vision capabilities, so you will be able to see footage easily even in dark conditions.
Magnetic Connections
Magnetic wall mounts can be purchased along with the setup, and they can make installing the camera much easier.
Amazon Alexa And Google Voice Assistant
This setup is also compatible with both Alexa and Google Voice.
Design
This basic set comes with one camera that is small and also has a pleasing white and black design.
It will also come with all the cables, mounts, and other essentials you need to get started.
Pros And Cons
This camera comes at an attractive price point, and it has all of the features you would need on a basic level. The 2K resolution should be more than enough for most users, and it has some great features.
There are a few downsides to this camera that you should be aware of. The solar charging is not built in, and you will need to buy a separate panel. A paid subscription will also be necessary to utilize all features of the camera.
Reolink Argus 3 Pro — Best Budget Solar Security System
REOLINK Security Camera Wireless Outdoor, 2K 4MP Night Vision with Spotlight, 2.4/5Ghz Dual-Band WiFi, Wire-Free Battery Solar Powered, Human/Vehicle Smart Detection, Argus 3 Pro with Solar Panel
as of November 30, 2023 8:46 pm
The final camera we have to look at is the Reolink Argus 3 Pro. This is our pick for the best solar camera on a budget, but it still has some great features we will go over now.
Key Features
2K Video
Once again, we have a decent 2K recording resolution, which should be perfect for most people.
122 Degree Viewing Angle
This camera also features a 122-degree viewing angle, once again limiting the blind spots of the camera.
Smart Detection
Smart detection capabilities have a few useful features. To name a few, it can detect the difference between humans, vehicles, and animals. It can also decide the best times to record if it detects a possible disturbance.
Two Way Audio
Two-way audio is once again included, which is always a useful feature to have.
Color Night Vision
You also have color night vision capabilities with this camera, which is great for keeping watch over your property at night.
GHz Dual Band Wifi
The dual-band wifi capabilities ensure compatibility with both 2.4 and 5Ghz wifi setups.
Up To 6 Months In Standby Mode
The camera can maintain up to 6 months of its standby mode in cases of low activity.
Design
The camera is a small unit utilizing a rounded black and white design. The included solar panel is a separate piece and is comprised of a large black panel.
These will need to be positioned close together for optimum efficiency.
Pros And Cons
Overall, this is a great camera setup for the price. You have the included solar panel, 2K resolution, and local storage which means a paid subscription is not mandatory.
Some users did report a few issues with motion detection, however. You will also need to buy a separate memory card for local storage. The camera being separate from the solar panel also makes for a more cumbersome setup as well, so that's worth keeping in mind.
FAQ
Are Solar Powered Security Cameras Any Good?
As we have seen in this overview, solar security cameras can provide excellent performance and quality.
How Long Do Solar Security Cameras Last?
This can vary on the make and placement of the camera, but with care and proper maintenance most should last a good long while.
Do Solar Cameras Require A Lot Of Maintenance?
Provided you place them wisely, your solar cameras shouldn't need extensive maintenance.
What Does Color Night Vision Mean?
Some night vision will have a grainy grey or green color to it, but color night vision will allow you to see in the dark while maintaining the color of what is being recorded.
Do Solar Cameras Run All The Time?
This can again vary from make to make, but most solar cameras will only record when movement is detected. Some will record constantly, and can often be programmed at the user's discretion.
Conclusion
Now that you have seen all three camera choices we decided on, we hope we have given you a lot to consider! In summary, the Eufy camera would be a great higher-end choice with integrated power.
Arlo provided us with a more affordable option with lots of customization options, but these do require additional components you will need to buy. Finally, Reolink gives us the most affordable option with an included solar panel and decent features.
Any of these cameras would be a great choice, and we hope one of them will be right for you!