Typically, when we think of home alarm systems, we think of them in the traditional sense—locked into a term contract and monitored by a team of professionals who are called any time it's triggered. However, that is no longer the case; you can just as easily monitor your own alarm system just as well as the professionals can. And for a fraction of the price. In fact, many of the alarm systems on the market make it possible for you to self-monitor your alarm system. 
Want to see if self-monitoring is right for you and your alarm system? We share the pros, cons, best use cases, and even which product to purchase if you are interested in a self-monitored alarm system.  
What is a Self-Monitoring Alarm System?
Simply put: a self-monitored alarm system is a system you monitor yourself. When the alarm goes off, there is no one calling local authorities. That's one of the truths of self-monitoring. You only have your phone notifications to rely on when something goes bad. The good news is that self-monitored home security systems can save you from false alarms and give you the confidence to play with smart home settings. 
That said, there are a number of pros and cons to self-monitoring your alarm system.
Pros and Cons of Self-Monitoring
Pros
Low monthly subscription cost. Sometimes self-monitoring is even free, offering an app where you can view notifications.

It's easy to change addresses and move your system. Just pick up your equipment and go.

Contracts? What's that? You won't have to worry about being tied to a company.

False alarms are no big deal. Since you're in charge, there's no chance police could be called to your home by mistake.
Cons
It's just you. There's no police team response rushing to your help. Once a burglar is inside your home, you'll get alerted. The downside? There's already a burglar in your home.

Self-monitoring plans don't come with cellular backup. This is the biggest drawback, from our point of view. It leaves you vulnerable because your alerts will always be a few seconds behind. It also means that when the Wi-Fi is down, your system is disabled. 

If you have phone signal issues while away from home, you may miss alerts.

You may not know if your cameras go offline or break, let alone how to fix them.
Prepare today for peace of mind tomorrow.
Get occasional tips about keeping your family and home safe — delivered to your inbox.
Who Is Self-Monitoring Best For?
You're a homeowner who is confident in responding to alerts from your security system. You're excited to experiment with automations. You also have the time to watch your system and spend most of your time in or near your home. You'll check motion alarms to make sure it was just the cat. You'll keep track of familiar people coming and going throughout the day. 
Scenarios When Self-Monitoring Makes Sense
You come and go a lot, and so do your dog walkers, caregivers, grocery delivery person, and family members. A professionally monitored system could lead to false alarms.

You're primarily watching for daytime crime while you're home, like package theft.

You're monitoring family members who wander. You're home, and there's no need to call emergency services, but you want to know when doors and windows open.
Abode: The Best Alarm System for Self-Monitoring 
Abode's iota All-in-One Security Kit ($329) is our best system for self-monitoring. It offers more than other self-monitoring choices with advanced features and endless integrations.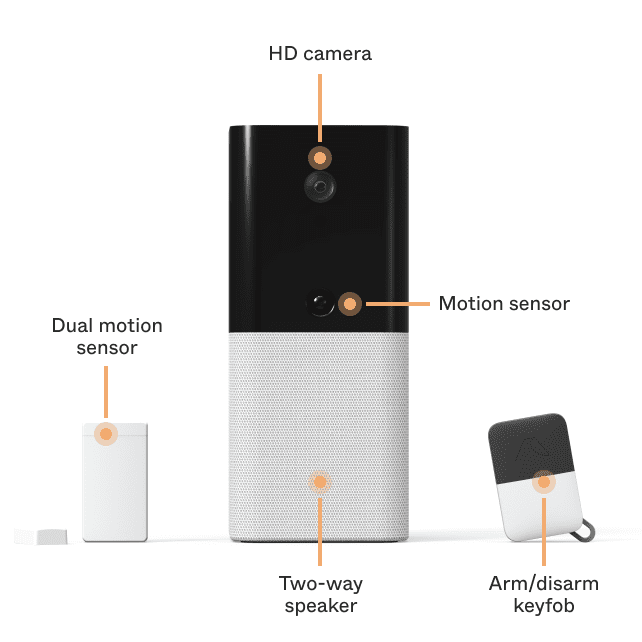 Abode: Iota DIY Security System
Here's why our team likes Abode if you're choosing to go the self-monitored route:
The Abode app's "Quick Actions" lets you lock smart doors or access live video feeds with a tap of a button. You'll also get a timeline of events and videos along with an in-app panic button for a suite of features the rivals Fort Knox (probably).
There's an automatic "home" and "away" feature. Through geofencing, it arms the system when all your devices leave the premises. Abode returns the system to "home" when a device returns. You can drive away without thinking about your alarm system at all. And when you return, just open your garage door and go inside. The alarm's already disarmed. 
Plays well with your other smart home automations, such as integrating with Apple, Alexa, Google Assistant, and If This Then That (IFTTT)
At just .20 cents per day, you get access to alerts and live video for any and all cameras you have connected to the system, in addition to the event timeline, automations, and stored video. 
If you decide self-monitoring is the route to go, you can view Abode and other great options directly through the Batten Alarm System Marketplace. All of our products are expert-recommended and user-vetted so you know you're getting the best value and quality for the price.
Conclusion: It's Up to You to Take Action
Gone are the days of contracted, professional alarm systems. You can just as easily monitor your alarm system from the comfort of your own home (or your smartphone) and respond to any emerging threats with the tap of a button. If you know that self-monitoring is right for you, your home, and your family, shop the Batten Marketplace for our recommended top self-monitored home alarm systems.
Not sure if self-monitoring is right for you? Check out our other blog posts on professional monitoring or on-demand monitoring.