Modern life means a colossal amount of your sensitive data, from your bank information to details about your health, is online and vulnerable. 2021 has already had more publicly reported data breaches than 2020, and the year isn't over yet!

To help protect you and your information from the many different cybersecurity threats out there, you can purchase a bundled cybersecurity solution. A bundled solution is a threat intelligence platform that covers the many vulnerabilities that your online information may have. Getting a single, all-encompassing digital security solution is much easier than picking out and managing multiple cybersecurity solutions. 
Batten's two favorite cybersecurity bundle options are Aura and Total Digital Security (TDS). Which one is right for you? It depends on your needs and the type of experience you want, as the two platforms are quite different.
Prepare today for peace of mind tomorrow.
Get occasional tips about keeping your family and home safe — delivered to your inbox.
What Makes Aura Great
Aura is our top choice for the best all-in-one security solution to help secure your personal information and accounts. Aura combines financial, identity, network, and device protection with a super simple user experience into one affordable cybersecurity platform. Your complete digital security solution can help protect everything you care about with just one dashboard. 
This cybersecurity bundle is extremely easy to use and includes  24/7 customer support staff.  With Aura, you'll be alerted to any digital security threats and recover lost assets, providing up to $1 million in identity theft insurance* for eligible losses.  What's more, you can utilize any of the solutions in the bundle as desired—use one, a few, or all of them based on your needs.
Get all of these great features and more for as little as $9 per month.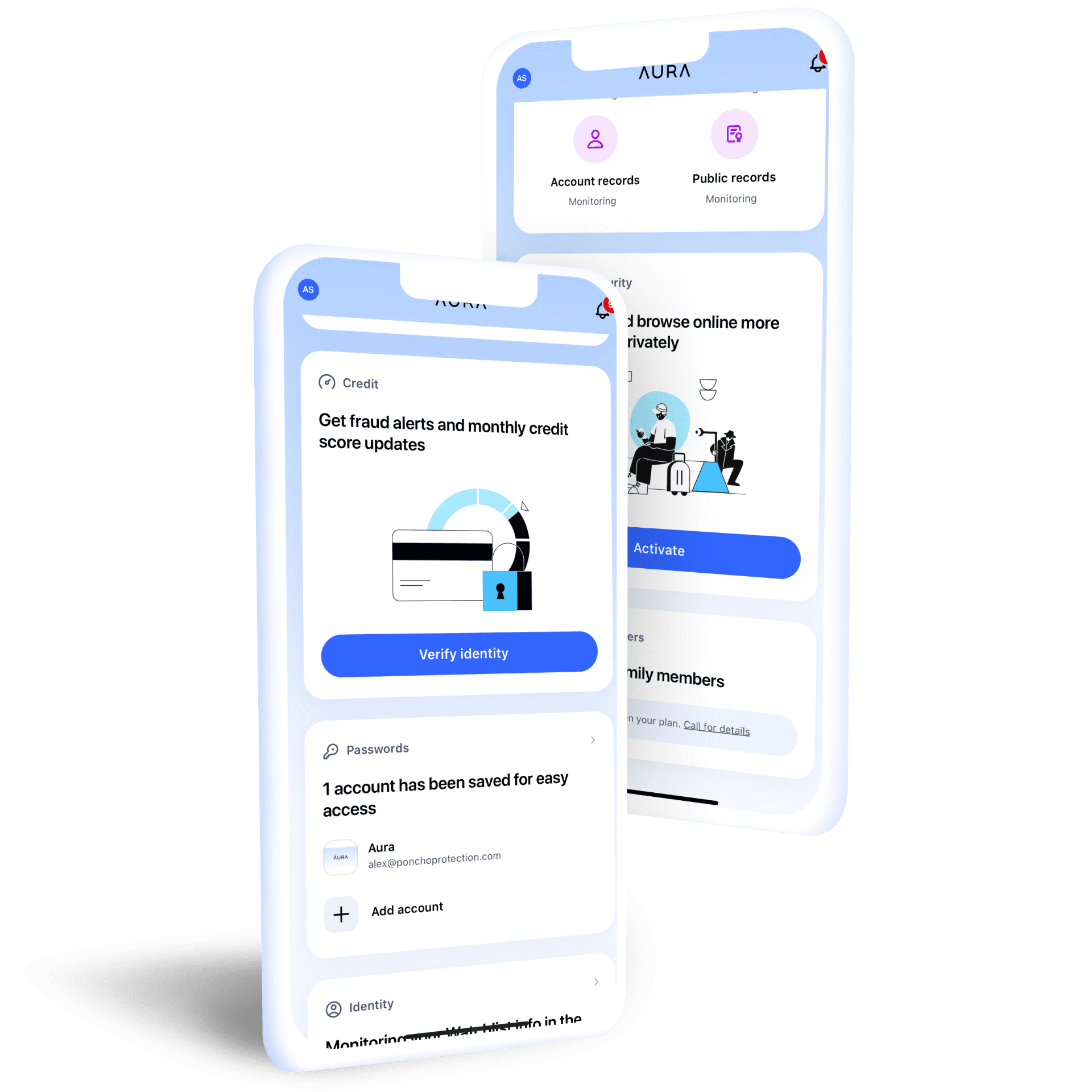 What Aura Does
Credit scores¹

 and reports

Instant credit lock by Experian

Lost wallet recovery

Password manager

Antivirus

WiFi security VPN

Multi-device protection
Who is Aura For?
Virtually anyone can utilize Aura to help protect themselves and their families. Aura is a great gateway platform for anyone who is comfortable with technology and after a simple user experience to address their identity theft or financial fraud concerns. Remote workers in particular will appreciate the secure login and password manager features. Plus, if you don't love the solution, there are no term commitments, you can subscribe month-to-month, and it's easy to cancel, so trying it out is essentially risk-free.
If you want to vastly improve your cybersecurity from a single easy-to-use dashboard, Aura is your solution.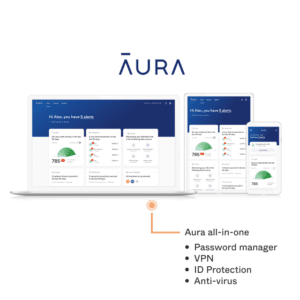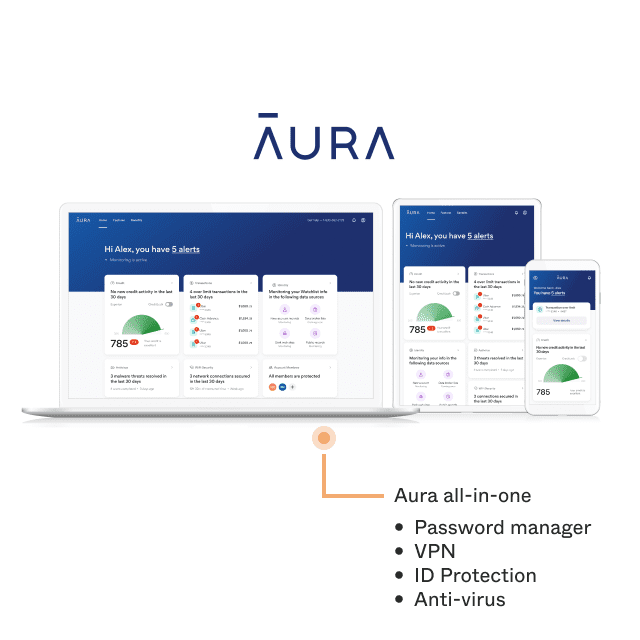 What Makes Total Digital Security Great
Total Digital Security (TDS) is a white-glove cybersecurity service. TDS is a completely hands-off cybersecurity platform option powered by experts. When you sign up with TDS you will be working directly with a personal cybersecurity specialist who will help set up and manage your digital security. 
TDS will alert you if any cybersecurity threat arises, as well as manage the immediate threat for you. As a TDS customer, you can expect privacy and security without having to worry about the technical setup process.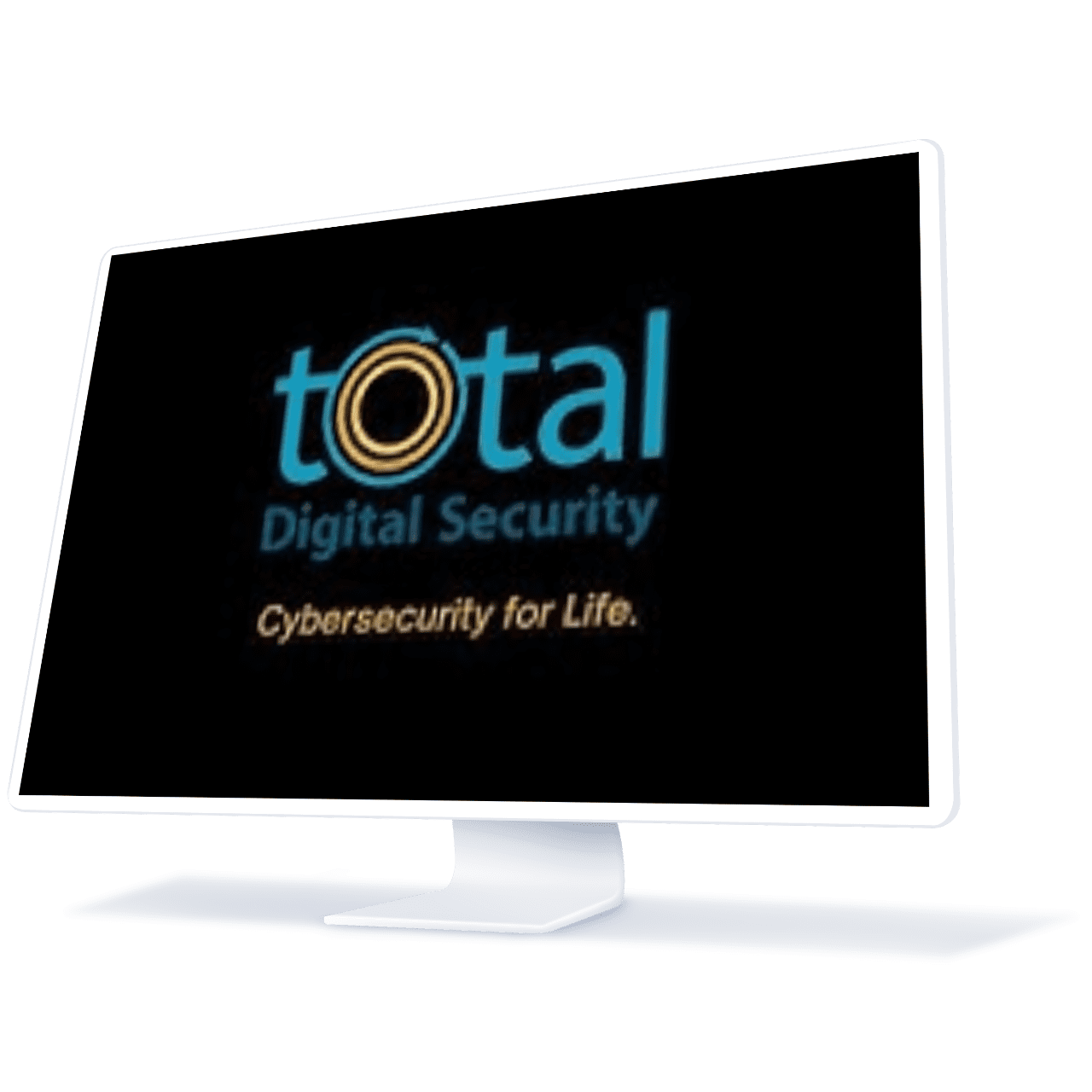 What Total Digital Security Does 
Privatize email with a personal, private email domain

Protect devices with antivirus software to prevent malware and ransomware attacks

Secure networks that are monitored 24/7 for threats

ID protection

Private browsing with a VPN 
Who is Total Digital Security For?
Baby Boomers and high net-worth individuals will appreciate how low effort TDS is for a digital security solution. Rather than manage all threats yourself, TDS can handle them for you. So, if you don't feel confident in your technology skills, TDS might be the way to go. 
With TDS there is no setup or management for the customer. Simply call in with your concerns, receive a free assessment, and build a personalized plan for your unique needs. Your customized threat intelligence platform is handled for you.
No matter your budget, TDS has a customizable plan for you. Set up a call with a specialist today.
Which Cybersecurity Solution Is Right for Me?
Aura and TDS are both trusted and thorough cybersecurity platform options. But they function differently, so what's right for you may not be right for someone else. 
Aura
If you feel comfortable navigating the internet on your own and have an awareness of what cyber threats to be aware of? Try Aura. Aura's service can be purchased annually or through a month-to-month subscription if you want to try it out before committing to a year. Aura is easy to cancel and easier to use to protect yourself online. 
Through Batten, you'll be able to receive up to 40 percent off monthly and annual subscriptions, with plans starting at just $9 a month. 
Explore the best Aura plan for you and your family here. 
Total Digital Security
If you are interested in letting specialists shore up your defenses so you don't have to worry about it? TDS is the best choice. Older, high-net-worth individuals, in particular, find that TDS meets their needs and keeps their cybersecurity solutions simple. Simply schedule your free TDS consultation and we will take care of the rest.
The Right Cybersecurity Platform
Utilizing a threat intelligence platform increases your protection while navigating life online. Between Aura and TDS, you have great options available and all the information you need to make the right decision for you. 
Explore the best Aura plan for you or schedule your free TDS consultation today through the Batten Marketplace to secure your sensitive information.
* Identity Theft Insurance underwritten by insurance company subsidiaries or affiliates of American International Group' Inc. The description herein is a summary and intended for informational purposes only and does not include all terms' conditions and exclusions of the policies described. Please refer to the actual policies for terms' conditions' and exclusions of coverage. Coverage may not be available in all jurisdictions.
¹ The score you receive with Aura is provided for educational purposes to help you understand your credit. It is calculated using the information contained in your TransUnion or Experian credit file. Lenders use many different credit scoring systems, and the score you receive with Aura is not the same score used by lenders to evaluate your credit.