Quick Hits: 
Personal: Starting at $6.49/month or $59.99/year
Business: Starting at $5/month
Best for: Individuals or business owners looking for an all-in-one password management solution with a few extra bells and whistles
Not recommended for: Those who just want the basics in a password manager 
Dashlane is Batten's top password manager for several reasons: It's easy to set up, easy to use, and offers the most bang for your buck. You get not only a password manager but also a VPN, dark web monitoring, password sharing, file storage, and an automatic password changer. Not to mention that it offers a simple UI/UX. It's one of the only password managers on the market to offer all of these features and more for a great price.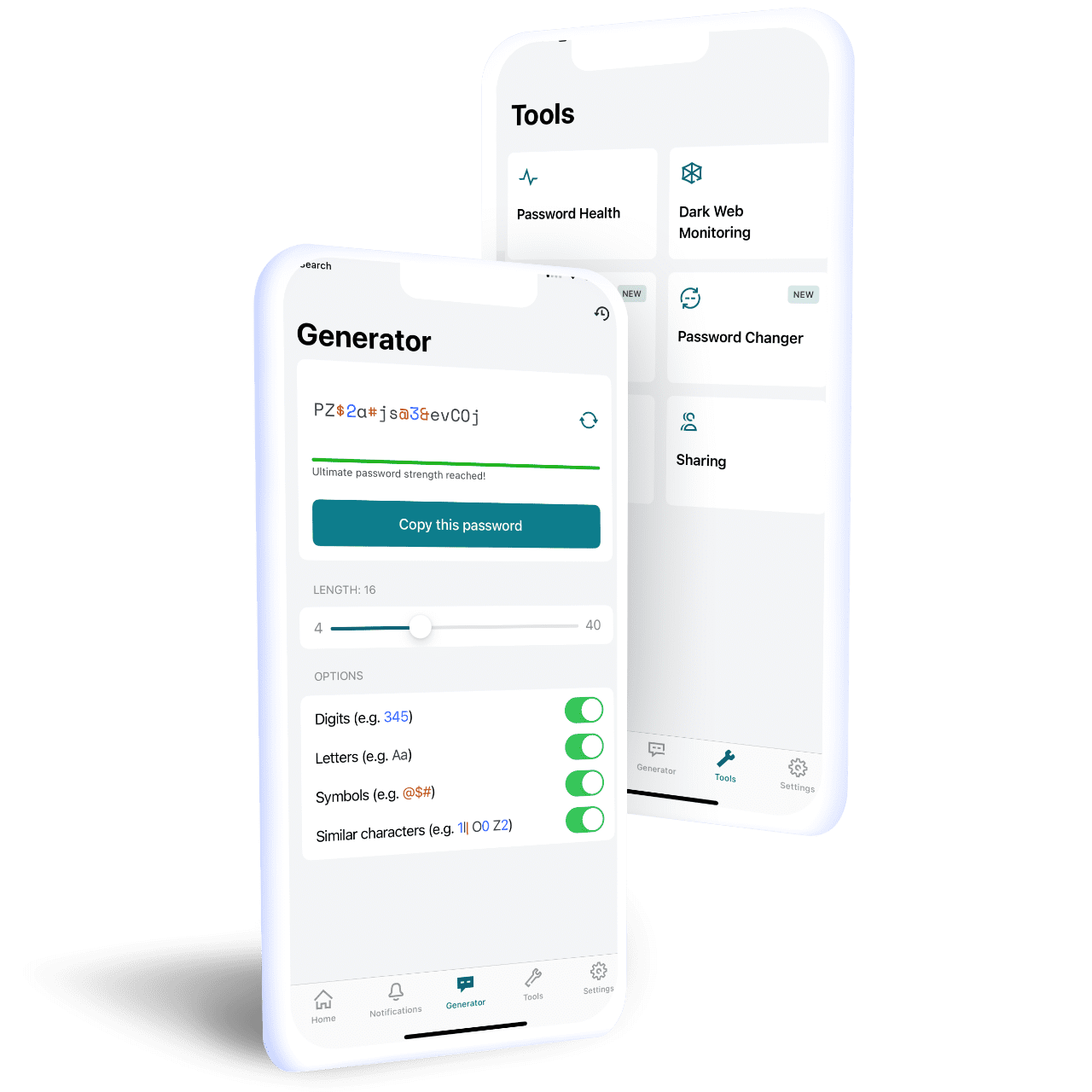 Dashlane: Family Password Manager
What We Like About Dashlane
Easy to set up and get started

with self-explanatory instructions for importing passwords, autofill, and getting set up on the mobile app 

Variety of account options

for personal use and business use 

Seamless alerts

for compromised passwords and when new devices have access to your vault 

Ability to share your vault or select passwords

with anyone
What We Don't Like About Dashlane
When set up on the web portal, you can't easily upload your passwords

as a CSV file.

The password generator isn't the easiest

to access on the browser interface.

No separate vaults

for personal and business passwords 

Marketing on the website is geared heavily towards businesses

despite multiple use cases
Unique Features of Dashlane
Built-in VPN

for the price of your subscription for added encryption

Automatically change weak passwords

both in Dashlane and for your account on that site.

Offers all features or a password manager in one device:

password health checker, dark web monitoring, sharing, security breach warnings, secure file storage, and more 

Getting Started
Signing Up & Security
Getting started with Dashlane is easy. All it takes is three steps:
Press "Get Started" on the website. You're taken to a download page for the Chrome extension
Set your master password. We

 recommend using a strong password, as this is the password that you will use to access the rest of your passwords. That said, make sure to write down your master password and keep it in a safe place.

Start filling your vault with passwords. Once you've downloaded the Chrome extension, you're taken to your vault to start filling it in with passwords.
Dashlane gives you self-explanatory instructions to walk through all of the steps to get you set up on the tool: importing passwords, autofill on websites, and getting set up on the mobile app. Set up only takes about 10 minutes. 
Extension and Web Portal
Dashlane does an excellent job of walking through how to access the Chrome extension by showing you exactly how to use the extension for autofill and password. In addition, each password card within the web portal has individual preferences such as auto-login, logging in using a specific URL, or requiring you to use your master password for access. 
From the web portal, you can also evaluate the health of your passwords, scan for dark web threats, access the VPN, and the ability to change any compromised passwords. 
Web Capture & Autofill 
Once you have the extension installed, web capture and autofill are easy. We recommend having your passwords imported to make autofill easy when you go to a website. If you go to a new site and create a new password, Dashlane will automatically capture the new password and add it to your vault. Plus, the browser extension offers a password generator, so you can be sure to use a strong password for your new web account. 
Mobile App
To get set up on the mobile app, scan the QR code provided, and it takes you right to the download page. The app has its onboarding instructions, including getting set up with autofill on your phone. You can connect your phone to your computer to fill in passwords from the phone on your computer. 
The app is easy to use, as it offers all of the necessary features you care about accessing on the go, such as the passwords you use most, the password generator, and your vault. 
Prepare today for peace of mind tomorrow.
Get occasional tips about keeping your family and home safe — delivered to your inbox.
Features
Dashlane offers a variety of features such as:
Password generator

to generate strong passwords for your online accounts

Security breach monitoring

that alerts you when your passwords are part of a compromised data breach

Password sharing

so you can share your entire vault or individual passwords with whomever you choose

Secure file storage

to keep sensitive files and documents safe

Automatic password changer

to change compromised or weak passwords

Dark web monitoring

to make sure hackers haven't compromised your login information 

VPN

for secure web browsing
Getting the Most Out of Dashlane
Import your passwords using a CSV file instead of adding them

. The onboarding process has you start by importing your passwords one at a time. If you want to upload them faster, navigate to your profile and select the option to let you import your passwords.

Enable biometric security features to enhance the security of your vault

. For example, Dashlane enables you to use TouchID or FaceID to access your vault. You can also use a hardware security key, two-factor authentication, or your master password for specific items.

Take advantage of the features to keep your data secure.

Many other password managers on the market offer the same features that Dashlane does, but either at an added cost or a more expensive monthly subscription. So, to truly get the value of this tool, use all the features it has to offer: password health, dark web monitoring, VPN, password generator, and password changer. 
Plans & Pricing 
Free: $0/month

Premium: $6.49/month, or $59.99 per year

Family: $8.99/month or $89.99 per year
Team: $5/month, billed annually

Business: $8/month, billed annually 
Final Thoughts 
It's no wonder Dashlane is Batten's top password manager. Though it's heavily marketed for businesses, it's such a consumer-friendly password manager. It's straightforward to use with all the features you want to see from a password manager. It's also nice to know that they are adding new features that consumers want the most. Overall, Dashlane is an excellent option if you are looking for various elements from your password manager or want a VPN and password manager in your cyber toolkit. It's definitely worth the $60 per year price tag. 
Purchase Dashlane today on Batten's Cyber Marketplace.