Be Prepared Before Disaster Strikes
The best time to be prepared was yesterday. The second best time is today. While you may sometimes get weather alerts for snow storms or hurricanes, other emergencies happen without warning. Power outages, tornadoes, earthquakes, wildfires, house fires, and home break-ins can all happen at any time.
Do you have the necessary tools to survive a power outage right now? How about an emergency exit plan for your entire family if you need to evacuate due to a house fire or an impending catastrophic storm?
Next month (September)is National Preparedness Month, which makes it the perfect time to sit down with your family and make an emergency plan. We've compiled a list of resources regarding the best supplies to have on hand for disaster preparation. We've also generated lists that you can fill out with important information and family disaster planning, so everyone in your household knows what to do in case of an emergency. Print it out and fill it out with everyone you live with. Then keep it in a safe place where it can be easily accessed when needed.
Prepare today for peace of mind tomorrow.
Get occasional tips about keeping your family and home safe — delivered to your inbox.
Recommended Disaster Preparation Products
Minimum disaster necessities recommended by the American Red Cross:
Water: 1 gal/person/day

3-day supply for evacuation, 2-week supply for home

Food: non-perishable, easy-to-prepare items

3-day supply for evacuation, 2-week supply for home

Battery-powered or hand-crank radio

NOAA Weather Radio, if possible

Extra batteries of all sizes
Medications (7-day supply) and medical items
Multi-purpose tool
Sanitation and personal hygiene items
Copies of personal documents

Medication list and pertinent medical information, proof of address, deed/lease to home, passports, birth certificates, insurance policies

Cell phone with chargers that will work in the event of a power outage
Family and emergency contact information
Extra cash
Paper map(s) of the local area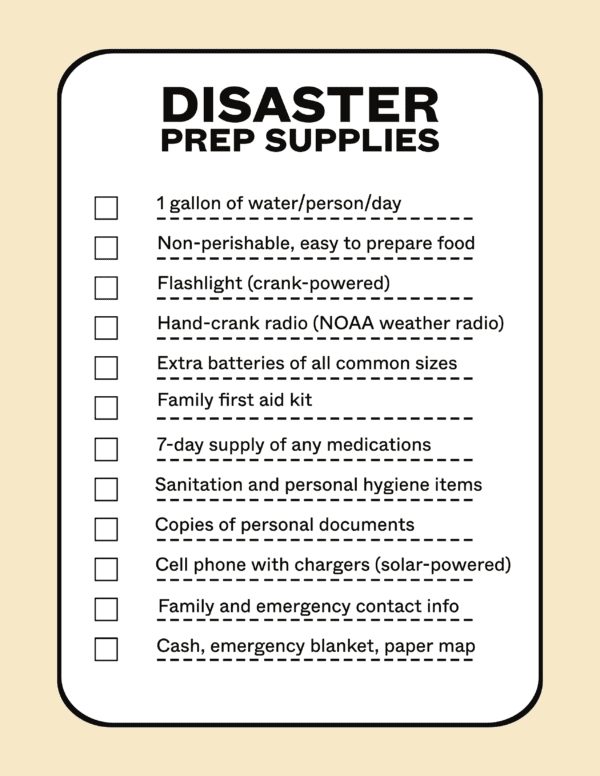 Our Batten experts also recommend having the following products on hand:
Low-tech entertainment for kids and pets
Supply Organization Table
Use this table to keep track of what you currently have and where it is at home. Keep track of the supplies that you have purchased as you build up your emergency preparation tools so that you buy what you need, when you need it.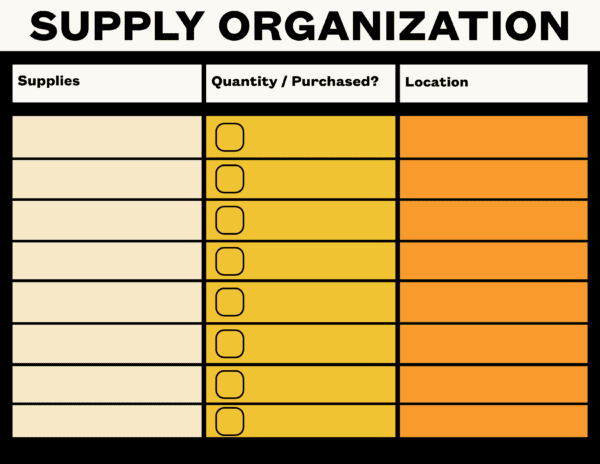 Family Contact Information
Keep this worksheet up-to-date and visible in an accessible location. Create a second copy and put it in your family emergency binder as well.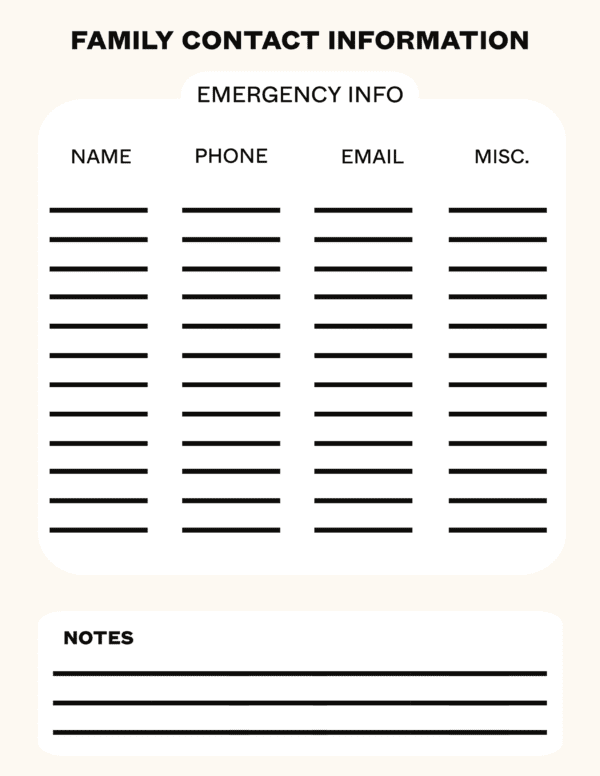 Plan of Action
1. The disasters most likely to affect our household are:
Hurricanes?
Tornadoes?
Tsunamis?
Nor'easter?
2. What are the escape routes from our home?
…
(Consider embedding walking directions below)
3. If separated during an emergency, what is our meeting place near our home?
(Be specific)
4. If we cannot return home or are asked to evacuate, what is our meeting place outside of our neighborhood?
(Be specific)
5. What is our route to get there and an alternate route, if the first route is impassible?
First Route:
Second Route:
6. In the event our household is separated or unable to communicate with each other, our emergency contact outside of our immediate area is:
Name:
Home Phone:
Cell Phone:
Email:
6. If at school/daycare, our child(ren) will be evacuated to:
Child's Name:
Evacuation Site (address and contact info):
7. Our plan for people in our household with a disability or special need is:
Person's Name:
Plan:
8. During certain emergencies local authorities may direct us to "shelter in place" in our home. An accessible, safe room where we can go, seal windows, vents and doors and listen to emergency broadcasts for instructions, is: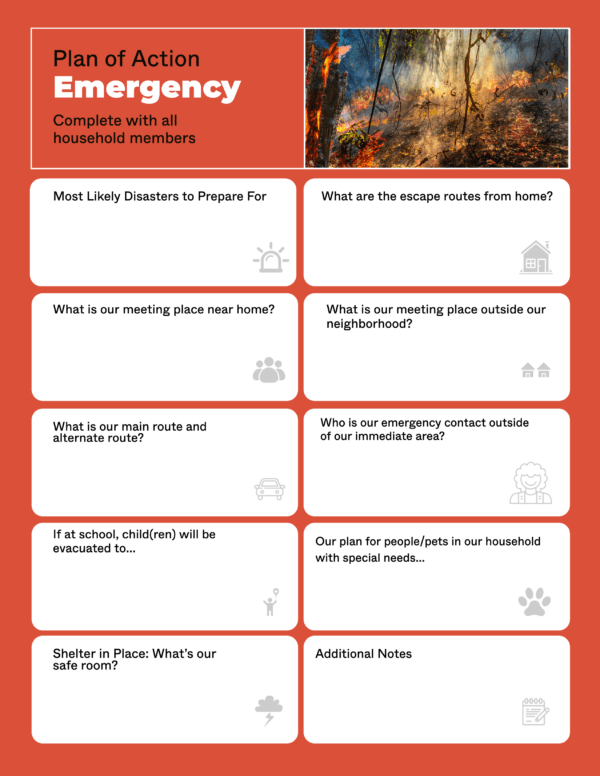 Additional Resources
If you are looking for more information to educate yourself, your family, or for more guidance in the case of disaster prep, we've collected an assortment of other Batten Resources articles with insights from our expert advisors: