Burglars admit that security systems deter them. Some studies even find that homes with systems may be 300% less likely to experience a break-in in the first place. You're looking to secure your home should a burglar target you, but you're not sure which system makes the most sense.
That's a common problem. After all, there are an increasing number of systems competing with their own set of integrations and advantages. In this article, I'll talk about two DIY installation systems: Frontpoint and Abode. 
A DIY system means you'll order a starter kit or custom build your own security system with as many cameras, window sensors, and motion alarms as you need. You'll connect its devices and set up your account. You can opt to self-monitor a DIY system or have it professionally monitored 24/7. That makes these systems versatile for families that aren't afraid of getting a device online or using an app, but who may want professional monitoring normally associated only with professionally installed systems. 
Frontpoint and Abode both offer the best DIY and professional systems, but with different features and drawbacks. Which one is right for you? Let's break each down and find out.
Frontpoint vs. Abode Quick Summary
After playing with different systems, I usually have strong feelings about which is best. But if you're asking, "Which is better? Frontpoint or Abode?" you won't get a straight answer from me. Both are highly rated for equipment, features, and monitoring. But their differences speak to different priorities, so there's no right buy for every kind of homeowner.
I like Abode's iota hub for a catch-all interior solution for small spaces and Frontpoint for its mix-and-match equipment options for larger homes. Abode's integrations are appealing for those who love connecting smart gadgets to their homes. But Frontpoint's absolute cascade of perks makes it better as a stand-alone security solution.
Here's a side-by-side comparison of the features that matter.
Frontpoint vs. Abode: Monitoring
Frontpoint's monitoring is expensive, professional, and fast. Frontpoint uses Rapid Response Monitoring, a premium, and highly-rated service center. Monitoring costs $1.64/day.
Professional monitoring includes:
Crash and smash protection

Geofencing services

Mobile text notifications

Remote access to your system

Live video streaming

Notifications

Smart home features

Identity theft monitoring
Abode's monitoring is affordable with flexible options. You can self-monitor or have your system professionally monitored. You can also get on-demand professional monitoring: $8 for three days per month or $15 for eight days. Monitoring costs 66 cents per day.
Professional monitoring includes: 
Access to the Abode app to remotely control your system

Recording and downloading video

Panic alarm feature
Frontpoint vs. Abode: Equipment
While there are a number of systems to choose from within each of these home security companies, we recommend Frontpoint's Safehouse System and Abode's iota System.
Batten's Choice: Frontpoint's Safehouse System 
Frontpoint offers more extensive and diverse offerings than most.
The hub runs on a cellular connection with WiFi backup. It's smash-proof and comes with a 24-hour backup battery.
Listed at $392 but offered at $99, the Safehouse System from Frontpoint includes:
The hub and keypad

2 window/door sensors

1 motion sensor

1 free doorbell camera

"Home defense kit" with stickers and yard sign

Professional monitoring 
If you need more than this, you're able to purchase additional window and door sensors, motion sensors, smoke and heat sensors, and indoor cameras that can be controlled through your hub. You can easily adjust the number you need in your cart before going through the checkout process.
Batten's Choice: Abode's iota System 
Abode uses beautiful equipment. And there is a new option for an outdoor camera, which is better than none. But options are limited in their small equipment universe. For example, you won't find any touchscreen here. 
The hub comes with slots for a North American SIM card, SD card, ethernet, and 12-hour backup battery in case your power goes out. The well-designed keyfob that comes with the Iota system can work to alarm and disarm your Abode without fiddling on your phone.
Listed at $279.99, the Abode's iota system gets you started with: 
A gateway hub (siren included)

1 window/door sensor

1 motion sensor

1 sticker

1 key fob
Abode also offers additional sensors, cameras, and other accessories to add to your system. Note that you have to navigate to the Shop page in order to access and add these items. 
Frontpoint vs. Abode: Pricing and Contracts
Frontpoint: A Cost-Effective Option
Frontpoint equipment costs are low, with a simple "Safehouse" kit offered at a reduced rate of $99, "Bunker" kit at $475.44, and "Fortress" kit at $598.41.You can buy components individually on Frontpoint's system, with prices listed in terms of monthly costs ($4.84 for an outdoor camera). Additionally, Frontpoint won't lock you into any contract. However, the monitoring cost is high, at $49.95/mo.
Abode: Can't-Beat Quality for the Price
Abode equipment costs are average, with two systems running at $231.99 for the Smart Security Kit and $279.99 for the iota kit. À la carte cameras and equipment are affordable, with an indoor/outdoor camera available for $37.99. Like Frontpoint, Abode also has no contracts. The monitoring cost is low, with two plans: $6/mo for self-monitoring or $20 per month for professional monitoring with cellular backup.
Frontpoint vs. Abode: Installation and Usability
Frontpoint: Clean Design & Lots of Functionality
Frontpoint is a DIY installation company. You'll install the system yourself. Each system comes with a solid app with a clean design and lots of functionality, from setting scenes to controlling and monitoring the system. Frontpoint offers a money-back guarantee and even pays return shipping if you're not happy with your new system.

Abode: Automation Made Easy 
Like Frontpoint, Abode is also DIY installation company. Abode's newly redesigned app offers automations and lets you control and monitor your home. You'll have to add cloud storage to your self-monitored plan for video. Its timeline view is designed well and it's easy to see what's happening with your system easily. Each system has a 30-day return policy. You'll pay return shipping and a $35 cancellation fee for any returned plans. If you're outside the U.S., you won't be able to return your system.
Frontpoint vs. Abode: Customer Service 
Frontpoint's customer service is responsive, with some of the best reviews in the business. However, some customers struggle with DIY installation, and they may find a professional installation more helpful.
Abode's customer service is responsive with the added bonus that even self-monitoring customers get the same outstanding 24/7 support team access. That doesn't mean Abode can always resolve your everything. Like Frontpoint, most customer complaints stem from trouble getting set up.
Prepare today for peace of mind tomorrow.
Get occasional tips about keeping your family and home safe — delivered to your inbox.
Frontpoint Security Roundup
Frontpoint is a DIY system where you pick your sensors and system and install your components yourself. Then you'll purchase professional monitoring to help you keep watch over your equipment and home. The company was founded in 2007 by three friends who wanted to offer world-class security without a fearmongering approach. Frontpoint has since laser-focused on a single monitoring package chock full of features unheard of in the rest of the DIY realm. The company provides high-end monitoring, but you'll pay more than with other DIYs.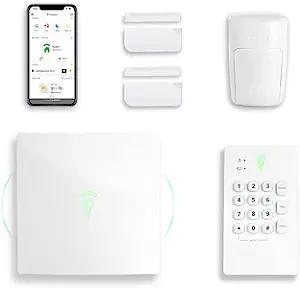 Frontpoint: The Safehouse System
Pros of the Frontpoint Security System
You won't be locked into a monthly contract. 

Paying a $99 down payment and a monthly payment for equipment often comes with a bonus device, like a doorbell camera, free. This system eliminates the sticker shock associated with getting started, which can run $400 and up for a custom system and all the sensors you'll need.

There are no activation fees, and because there are no contracts, there's no cancellation fee. No fees!

You'll get faster LTE cellular monitoring compared to other DIY options (not just WiFi with cellular backup).

With professional monitoring, you'll get all the premium features of their app with none of the hassle of wondering if you're getting enough storage or whether geofencing, video streaming, or custom notifications, are included. They are.

Their equipment selection is outstanding. It's a growing ecosystem rather than a selection of sensors that you can mix and match, with more smart home options offered all the time. You can pick from accessories that you'll see from other services, but with some Frontpoint branded options, too. 

Easy to add on additional sensors and equipment before checking out
Cons of the Frontpoint Security System 
High-priced 24/7 monitoring. There's just one plan with Frontpoint and it costs $1.64 per day. 

Options are hard to navigate. When shopping Frontpoint, I knew there were "pay now" and "no contract" options but couldn't easily find them. Adding a single device? There's no buy button without navigating to an initial "build your own system" screen. Having a human chat available helped, but shouldn't be necessary to grab a new camera.

Customer service reviews are lackluster for system setup concerns. It can be hard to get every device working and confirm it is online. This is especially true compared to a professionally installed system.
What are the Benefits and Value of Frontpoint?
Want to feel top-notch safety without attending a technology boot camp? That's the primary value driving the Frontpoint system.
You'll select individual devices or purchase a working starter system without diving deep. Use a touch screen, key fob, keyboard, or an app. Choose environmental sensors or a smart thermostat. This DIY provider's monitoring package and app expertly support your (nearly) full-service system.
What Makes Frontpoint Stand Out?
Top-tier features are great, from their large equipment selection (lightbulbs, locks, panic buttons, and more) to how you can use your equipment with or without professional monitoring. You can take your sensors to other systems, like Ring, if you prefer to self-monitor. 
Within the system, customizations also abound. For example, you can set unique codes for guests to let your friends and workers in the house without giving away your master code. 
When using cameras, you can define areas to ignore (that blowing tree outside, for example) or set "tripwires" in the frame where the camera stays dormant until it senses movement. This helps secure indoor areas where say, a doggy gate skims the camera's view range. 
It all adds up to lots of extras that make the system feel comprehensive.
Who is the Frontpoint System Best For?
Frontpoint is an all-arounder with outstanding equipment selection and costs that suits large homes best. It's great for those who are comfortable building and installing their own system but that want high-end monitoring—a combination that other companies find contradictory. 
Abode Home Security Roundup
Abode was the brainchild of a former ADT executive looking to streamline and simplify home security. The result? A flexible DIY home security system in a field of rigid and look-alike options. Abode's claim to fame is its compatibility with smart home systems, and it does a good job of integrating with multiple systems so your security system can fit right into your existing smart home.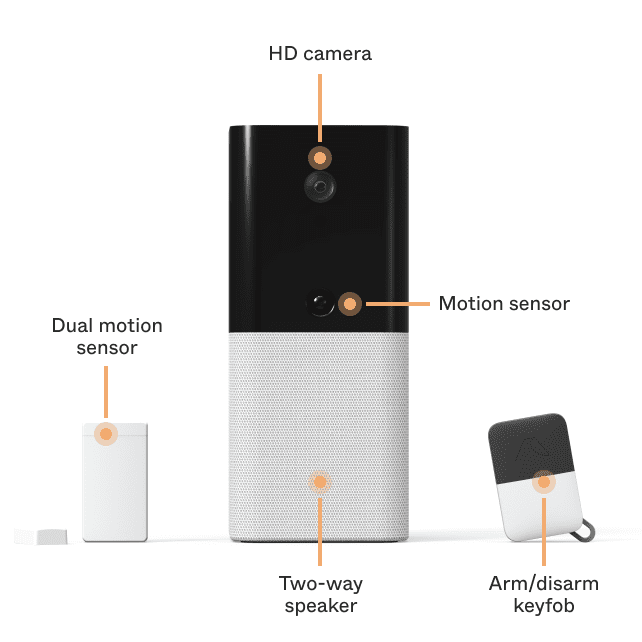 Abode: Iota DIY Security System
Pros of the Abode Security System
Here are the biggest pros of the Abode system:
Abode is a slick system with beautiful equipment all designed to work with your smart home. 

You can talk to it through Alexa, Siri, Google Assistant, Sonos, or Homekit. Smart home scenes and sequences work together easily to create some fun and unique combinations. Flash flights when a door opens. Have your coffee machine turn on when geofencing senses you've arrived home. It's simple to coordinate.

The smart home third-party integrations mean you won't always need to fiddle with your app. Use Siri or Google voice commands if you prefer.

With pro monitoring, Abode can use power, WiFi, ethernet, or 4G to connect the system and keep your security monitoring up no matter what happens. That's great because I had concerns the hub would need to be connected to my inconvenient ethernet (behind the couch) to have a fast, secure connection. Without rewiring my house, that would render the camera and motion sensor useless.

You'll get great organization from an app that sparks joy. The recently redesigned app sports a devices tab that shows you the status of all connected devices. You can group them for better organization if you have a large home and many cameras or sensors (it's possible to set them up by device types or even "rooms"). You'll also see an alarm tab for a running timeline of all events.
Cons of the Abode Security System
There are only three alarm modes (Home, Standby, and Away), with no "sleep" or "night" mode. That means you won't be able to customize interior motion alarms for your family's midnight snack habits or your pet's wandering. You'll likely leave all interior motion sensors turned off at night.

You won't get cellular back-up unless you're on the pro monitoring plan.

There's not much equipment in the starter kit. You'll likely want to customize your system and buy more sensors to get started. That makes the upfront cost steep.

The Abode cam is not certified for Apple's HomeKit. Why? HomeKit users should be Abode's biggest fans, so this is a blow to Apple users.

Backup battery life is limited. I live on an island where, when the power goes out, it might not get taken care of for a day or two. The iota's 12-hour battery life feels too short for me. Frontpoint's 24-hour backup battery is more reasonable.

Harder to add additional products without having to navigate back through the Product and Shop pages. 
What are the Benefits and Value of Abode?
Abode is an attractive, friendly system. It plays nicely with whatever smart home devices you already love. That compatibility means it fits in a variety of places—its iota hub is almost a small system in itself that would be handy in a studio or dorm room. 
Abode appeals to me because I don't like to live in an environment full of devices and all their apps. A streamlined, design-focused hub feels like part of my home, not just another device adding to the clutter. Abode iota's appropriate tagline is "Smart. Secure. All-in-One" and that's the primary benefit and appeal of the system.
What Makes Abode Stand out?
Abode is tied to smart home integrations and offers design-savvy equipment for customers who value both. It's also the only security set-up in the industry to offer on-demand monitoring, which makes it a true stand-out for flexibility. You can self-monitor most of the time with a reasonable plan that offers some decent app access, and pass the baton to a pro team when you're traveling.
Who is Abode Best For?
Abode was developed with smart home features to appeal to Apple users. Looking to make your automation work with Homekit? Abode is the obvious choice. If you're in North America, like to DIY your home automation, and also want professional monitoring on your own schedule, Abode hits the spot. If you're a lover of design, you'll also like Abode's product line.
Abode's higher upfront costs make more sense for apartments and small home dwellers. They need less equipment and will pay less over time. If you're outfitting a big space, competitors like Frontpoint Home Security may be smarter. They come with lower equipment prices and monthly payments. There's an exception to this rule: if you're planning a move, choose Frontpoint. Their larger equipment selection means easier reconfiguration and coverage for situations you might not know you're about to have.
What are the Takeaways?
Frontpoint vs. Abode: You'll find that both DIY home security systems offer 24-hour monitoring, sensors, motion, cameras, and a security system hub. That may be enough to convince some homeowners that they're similar options in an industry of look-alikes. 
But the two companies are differentiated by what they do best. Frontpoint helps savvy homeowners with big system needs straddle the line between DIY and professional security. Abode aims for compatibility with multiple smart systems for home integration.
Big house, small house, or smart house, knowing the perfect system for you is the first step. If you're a DIY'er who is comfortable setting up your devices, check out systems like Frontpoint and Abode in the Batten marketplace. But rest assured: they both have the power to safeguard your home and family when you need it most.