These days, reliable power isn't as sure a thing as it used to be. Power outages can happen all over the world, and they seem to happen more often than ever. That's why many people want to find ways to generate their own power to be less reliant on existing electricity methods.
Geneverse and Jackery are two companies that are leading names in sustainable power that you can generate yourself. In the past, we have covered how vital off-the-grid power can be, and these products can both be great choices for this purpose.
But which is the best brand of the two for you and your power needs?
We will be looking at some of the benefits and drawbacks of each of these companies to help you decide which one will be right for you.
Geneverse Vs Jackery – About The Brands
Geneverse
This company was founded in 2019 after founder Anson Liang had experienced one too many power outages in California. He worked hard to create some alternative backup power sources of his own so that his family would not have to suffer during outages.
This led to the creation of Geneverse, a brand that endeavors to create quality backup power sources so that no one will have to go through the experience of unexpected power cuts.
These days, they are a leading brand in the alternative power market, known for their great products that come in a wide range to suit different needs.
Jackery
Jackery has been around for a bit longer than Geneverse, and they have cultivated quite a reputation in that time. The company was founded in 2012 by a team of engineers in California, and since then they have become a leader in power storage and generation devices.
Both of these companies have become well-known in this tech niche, but now we will take a closer look at some of their most well-known products to compare them.
Geneverse vs Jackery: Solar Generator Series Overview
Generverse and Jackery both provide quality power storage devices that both perform similar functions. Both can be charged either by an outlet or separately purchased solar panels and can then be used to charge smaller devices.
Both have their strengths and weaknesses, but we will go over those in greater details throughout the comparison.
HomePower Pro TWO Battery vs Explorer 2000 Pro Battery
In this overview, we are comparing the Geneverese HomePower Pro TWO and the Jackery Explorer 2000 Pro Battery. While both offer the same function, they differ in a few key aspects.
Geneverse tends to offer better specifications when it comes to storage and output, while Jackery's products are a bit more portable and affordable. Both are excellent options, and it will depend on your specific needs to decide which is better suited to you.
SolarPower2 Panels vs SolarSaga 200
We will also be comparing the Geneverse SolarPower2 Panels and the Jackery SolarSaga 200. As you will see later in the review, the competition is much closer here than in the power stations.
Both have very similar specifications, so it will mainly come down to the design when it comes to choosing one right for you.
Geneverse vs Jackery Accessories
Both companies also offer a comprehensive set of accessories you can add to your order. If you look at Geneverse's product page, you will see their accessories are limited mostly to cables, converters and adaptors.
Jackery's page shows a similar selection to Geneverse, but they also feature a few more options for carrying cases and charging cables, so their selection is a bit healthier than Geneverse in this regard.
Battery: Geneverse HomePower Pro Two
First, we will be looking at the Geneverse HomePower Pro Two. This power station boasts some incredible features, and we will go over some of them now. You can also check out this overview video by Geneverse for a better look.
Features And Performance
Capacity 2419 Wh
The Geneverse Homepower Pro 2 features an impressive 2419 Wh. This will provide plenty of power for most appliances and gadgets.
Rated Power 2200W
This power station has a rated power output of 2200W which should keep you going through even the longest power outages.
Surge Power 4400W
Next, we have a surge power rating of 4400W, which is another impressive spec to keep in mind when it comes to the capabilities of this station.
LCD Intelligent Display
The station features a handy light-up LED display. This will display various specs and activated features of the station while also enabling quick and easy setup. The light ensures you will be able to view it in the dark if there is an unexpected power outage
Certified Efficient LFP Battery
Everything here is powered by a powerful and efficient Lithium Iron Phosphate (LFP) battery.
2x USB-C 100w
Many mobile phones and other portable devices can be powered with a USB-C cable, and the HomePower Pro 2 features 2 USB-C 100w ports for easy charging.
2x USB-A Qualcomm QuickCharge 3.0
For even faster charging, you have 2 USB-A ports with Qualcomm QuickCharge 3.0 tech for much faster charging.
3 AC Outlets 120v 60Hz
Larger appliances and gadgets may need regular AC outlets, and this station will have you covered in that regard. It features 3 AC outlets at 120v and 60Hz
6x Faster solar charging than competitors
If you want to take self-sufficient power to the next level, you can use solar products to charge your station using the power of the sun. Using solar power, you can charge the station in 3-4 hours, which is 6x faster than competing batteries.
3000 Charge Cycles
The station features 3000 charge cycles, meaning it will have an impressive lifespan even with fairly frequent charging.
Integrated Mobile App
Having more control is never a bad thing, and that's where the Geneverse app comes in. Connecting the app to your power station will allow you to monitor and control the station remotely.
Design And Build
The size of the HomePower PRO 2 is fairly hefty, but it's smaller than you may think given the power it packs. The dimensions of the station come in at L 17.83″ x W 11.02″ x H 14.11″
The weight of the unit is quite a lot at around 61.3 lbs, meaning transporting it around may take a bit of work. The design is a simple, sturdy rectangular shape with a pleasing black finish to the device.
Ease Of Use
The station has been designed with ease of use in mind. All of the ports are easily identifiable and positioned logically on the station. The LED display allows you to configure the device as you wish, even in the dark.
The weight of the unit is quite heavy, as we covered earlier, so that's worth keeping in mind in terms of how portable it will be for you.
Customer Service And Support
Geneverse has pretty comprehensive customer service and warranty support for many of its products. There is an up to 5-year warranty for products that prove to be defective in normal use.
You can also contact them in various ways, so you can reach them in a fashion that is comfortable for you. Their contact page shows all the ways you can reach them.
Pros And Cons
Overall, the Geneverse HomePower PRO 2 is a really great option for a portable battery. We have seen some great benefits such as the power output, variety of charging ports, LED display, app parity, and impressive charge cycle.
The only thing that could be a downside for some is that the device does weigh a decent amount, so some people may have a hard time transporting it on their own. It is also pricier than the competition at $2499. However, we will see how it earns this higher price tag when we look at the next product.
Battery: Jackery Explorer 2000 Pro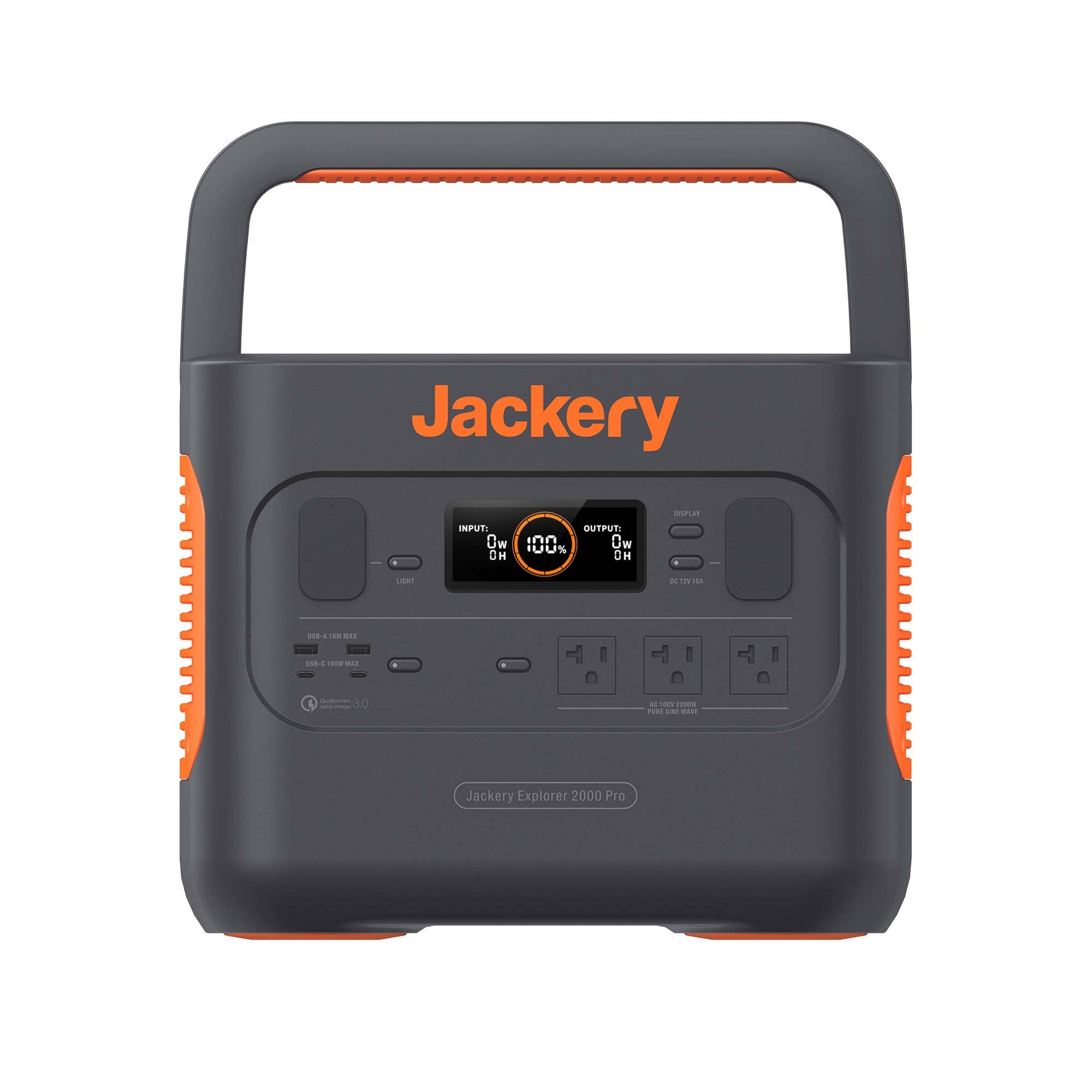 Now that we have seen what Geneverse has to offer, we will take a look at a similar device from Jackery: the Explorer 2000 Pro. This power station features some similar specs to the Geneverse offering, but it does have a few differences. Some of these differences are positive while a few others are negative. So, let's take a look at how it compared to Geneverse.
Jackery also provides an overview video for you to watch so that you can learn more about the station.
Key Features
Capacity 2160Wh
In terms of power output, we will see that the Jackery station falls slightly short of Geneverse with a capacity of 2160Wh
Rated Power 2200W
While the capacity may have differed, the power stations do have an identical rated power output of 2200W
Surge Power 4400W
Similarly, they share a surge power rating of 4400W
Ternary Lithium-ion Battery
Another major difference between these two stations is in the type of battery they use. The Jackery station has a ternary Lithium-ion battery, which tends to be more lightweight while having a shorter lifespan than the battery we saw in the Geneverse.
Quiet (53dB)
You won't have to worry about being disturbed by a loud operating sound with the Jackery, as it reaches a sound of 53dB, ensuring you'll barely notice it's even there.
2x USB-C 100w
Just like the Geneverse, it has 2 USB-C 100w ports for charging.
2x USB-A Qualcomm QuickCharge 3.0
It also features the same number of USB-A Qualcomm QuickCharge 3.0 ports, meaning in terms of ports these two stations are neck and neck.
1,000 charge cycles
The charge cycles of the device are quite a bit lower than the Geneverse option. This one has 1000 charge cycles, as opposed to the 3000 of the other device.
Design And Build
The build and portability of the Jackery Explorer is an area where it has a leg up over the Geneverse. It has a large, convenient handle at the top for easy carrying. It's also slightly smaller at 15.1 x 10.5 x 12.1 in.
The Jackery is also significantly lighter at 43 lbs, making it a much more portable device than the Geneverse.
Ease Of Use
The Explorer has also been designed so that the ports are easily accessible, and it features a clear and easy-to-read display for operating purposes. This combined with the increased portability makes it a very user-friendly device.
Reliability And Performance
Customer reviews on the product page are very positive, with an overall rating of 4.9 stars out of 5 from 51 reviews. The power station seems to be hardy and reliable, even though it may have a shorter lifespan than its competitor.
Customer Service And Support
Jackery features a 30-day money-back guarantee on all their products. They also offer a 24-month warranty on products that prove to be defective under normal use.
Their customer service page also shows you the many ways they can be reached for questions or concerns, which is always good to see.
Pros And Cons
As we have seen, there are definitely pros and cons to the Jackery Explorer, especially when compared to the Geneverse. It has similar power capabilities in most regards, is easier to transport, and is a bit cheaper at $2099.
It doesn't have quite as impressive a capacity as the Geneverese, however, and it also has a potentially much short lifespan given the reduced charge cycles.
Solar Panels: Geneverse SolarPower 2
$629.00
as of November 18, 2023 12:41 am
Last updated on November 18, 2023 12:41 am
We have covered the two power stations on offer from Geneverse and Jackery, and now we will see how they stack up in terms of the solar power units they produce to power their stations.
The first one we will look at is the Geneverse SolarPower 2 unit. Let's start by looking at the key features.
Features And Performance
Max Power (Pmax): 200W per panel
The SolarPower 2 has a maximum power output of 200W per panel used.
64 Solar Cells Each
Each panel has 64 solar cells, Geneverse assures us will offer 50% more solar power conversion than other solar power technology.
Efficiency (EFF): ≥23.4%
The solar panels have an efficiency (EFF rating) of ≥23.4%, which we will compare to Jackery later on in the review.
Type: Monocrystalline
The solar panels have monocrystalline panel technology, which contributes to the 50% better conversion efficiency we mentioned earlier.
1X Protective cover
Each panel comes with a protective cover you can use to keep it safe when not in use.
IP67 Waterproof Rating
The panels have an IP67 waterproof rating, which means they will be safe when exposed to water that is no greater than 3 feet. You should avoid water exposure as much as possible anyway, but it's good to know they will be safe if caught in bad weather.
Design And Build
The panels have a sleek, streamlined design that is also made of durable materials. They have dimensions of L 24.2″ x W 21.3″ x H 1.97″ when folded and L 91.3″ x W 21.3″ x H 0.98″ when unfolded.
The weight of the panels is 17.64 lbs, making them pretty portable even for one person.
Ease Of Use
The panels have been designed to fold and unfold easily for storage and transportation purposes. The ports and cables have also been designed to be user-friendly and convenient.
Reliability And Performance
These solar panels are definitely of high-quality standards, and the reviews on the product page reflect this. 10 reviews gave the panels a perfect 5-star rating, with highlights being how reliable and durable the panels are.
Solar Panels: Jackery SolarSaga 200
$489.00
$699.00
as of November 18, 2023 12:41 am
Last updated on November 18, 2023 12:41 am
Next, we will look at the solar panels from Jackery, the SolarSaga 200. As we will see when we look at the specifications, these panels are quite comparable to the Geneverse panels we just looked at.
Features And Performance
Max Power (Pmax): 200W per panel
For the first spec, we see that the Jackery panels have identical max power to the Geneverse ones, as they also have 200W per Panel.
Built-in Kickstands
The SolarSaga 200 has built-in adjustable kickstands so that you can position them for maxim sun exposure.
Carrying Bag
The panels come with a  durable, convenient carry bag that makes transporting and storing the panels so much easier.
Efficiency (EFF): ≥24.3%
The efficiency of the SolarSaga panels is very slightly less than Geneverse featured. Jackery's model gives us ≥24.3% as opposed to the ≥23.4% of Geneverse. Overall, this difference is fairly negligible and won't make a huge difference.
IP67 Waterproof Rating
The Jackery SolarSaga features the same IP67 waterproof rating that Geneverse's panels did, meaning it will be similarly water resistant.
Design And Build
The Jackery panels have a convenient foldable design which means they won't take up as much space when folded. When folded, the panel has dimensions of 21.25 X 24.21 X 1.57 inches. Unfolded, this changes to 21.25 X 91 X 0.98 inches.
It also weighs around 18 lbs. Overall, the size and weight of the panels is almost identical. The Geneverse panels do seem to be slightly sturdier, but overall they are very comparable.
Ease Of Use
Once again, the Jackery panels have been designed to be easy to unfold, set up and plug in.
Reliability And Performance
There is only one review for this product on the product page, although the review was really positive. If we look at the 100W model which is very similar in build, there is an impressive 4.8 out of 5 stars rating from 77 reviews, showing this line seems to be really dependable.
FAQs
How Do Solar Power Stations Work?
Solar panels will be sued to convert energy from sunlight into usable power that will then be stored in a power station. For more details, we have created a handy guide on how to use solar panels in the past.
How long does it take to charge a battery with solar?
This will vary depending on the battery. The Geneverse battery estimates between 3-4 hours for a solar charge. Jackery estimates around 2.5 hours for a full solar charge, but that is with 6 panels.
How do you clean solar panels?
Solar panels can be cleaned with a soft cloth or sponge along with soap and water.
Can you use a solar generator in winter?
This will depend on how harsh Winter gets in your area, but cloud cover will affect the charging time of your batteries and panels.
Do solar generators work on cloudy days?
As mentioned previously, excessive cloud cover will impact the solar panels' ability to catch sunlight
Can a solar generator power big appliances?
The power stations we have looked at in this review should be able to power some larger appliances, depending on their power needs.
Summary: Geneverse vs Jackery
In this review, we have seen that Geneverse and Jackery are quite comparable when it comes to the specs of their products. Overall, the Geneverse station was a bit more powerful with a longer expected life span. However, it is more expensive and is heavier, impacting transportation.
Jackery's station has decent specs, albeit a bit less so than Geneverse. It is a bit of a cheaper option, however, and the lighter weight makes it easier to transport. In the end, it will be up to you to decide how much you value the increased power and lifespan vs the lack of portability.
When it comes to the solar panels, the differences are pretty minor and surface level, so you will be pretty well off no matter which brand you choose here.