When it comes to our homes, one size does not fit all. Like the families inside, houses are unique, and those differences are significant when choosing a new home security system. Does your house have multiple levels and exterior windows? A lot of smart home features? Do residents and visitors come and go often? 
The bottom line is this: someone else's best-rated system may be wrong for your house. Check out our Ultimate Guide to Securing Your Home in 2022 for a breakdown of contracts, set-up options, and more. 
In this article, get started on the home security system features that are right for you, including:
The different features

of home security systems

Key considerations

to help you determine what type of home security system is right for you
Let's dig into the top differences in how a home security system operates:
🚨

Alerting You When There's a Break-in
Will you wake to a terrifying siren? Or get a text message while you're sound asleep? Here are a few different considerations for being alerted when it comes to a break-in:
Customize notifications

for individual sensors 

Ability to send notifications

to multiple recipients

Notification

via text, phone call, or push notifications

Loud alarms

when a sensor goes off and when it will go off 

Indoor siren options

(Is it included or do you have to purchase a la carte?)
🕹

Controlling the System
Most alarm systems come with keypads, video touch displays, key fobs, and app-only interfaces. It's handy to have multiple ways to arm and disarm your system (and fiddling with your phone all the time is the pits). 
For example, the Adobe iota system is controlled via a key fob, whereas Frontpoint's Safehouse system is controlled via a keypad (both can also be controlled by the app as well). 
👟

Types of Activities It Picks Up
Evolving technology can help you keep false alarms to a minimum, recognize familiar faces, and ignore pets' activity, specific rooms, and motion. Modern alarm systems can pick up anything from motion from intruders to rising climate levels in your home. Depending on the type of activities you want your home security system to watch for, consider a system that supports these elements:
Motion sensors

Indoor and outdoor video

Face identification

Familiar face recognition

Smoke, CO

2

, and water alarms
👀

Monitoring Preference and Cost
Typically with home security systems, there are three types of monitoring options:
Self-monitoring:

With self-monitoring, it's up to you to keep an eye on your system and call in threats. It's the least expensive of the three, at just a few dollars per month. However, there are

drawbacks to self-monitored systems

, like missing notifications while you're asleep.

Professional:

For $15 to $60 per month, a professional company will monitor your system, contact you and authorities if an alarm occurs, and follow up. It's

best for homeowners worried about security while they're away

.

On-demand:

Abode

is the only security system that offers on-demand monitoring, which enables you to activate professional monitoring in 3 or 7-day increments when you need it. Ideal for those who are OK with self-monitoring but want some added protection when they are out of town.
💰

Starter Kit and Add-ons Cost
Here's an example: Frontpoint's Safehouse System starter kit includes two door sensors, a window sensor, motion detector, doorbell camera, hub, and keypad for $99. On the other hand, Abode's iota system comes with a hub with a built-in motion sensor and camera, a key fob, and one door/window sensor for $279.99.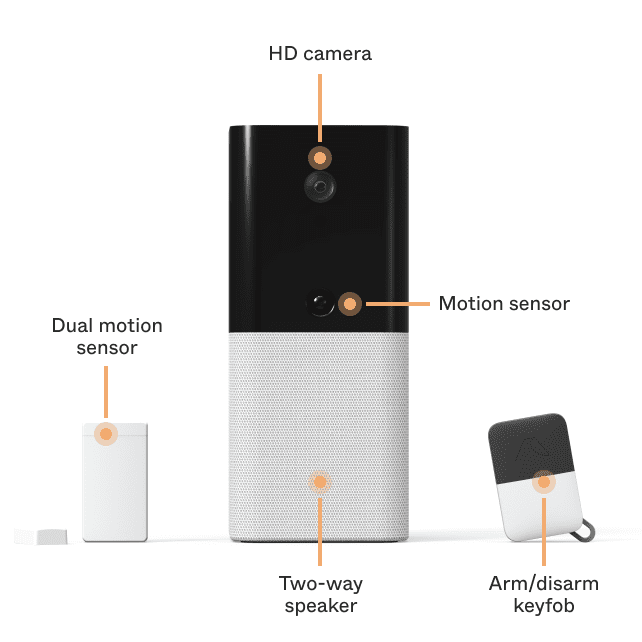 Abode: Iota DIY Security System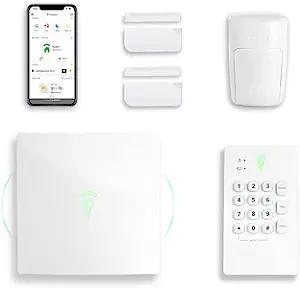 Frontpoint: The Safehouse System
Note: While the Frontpoint system costs less, the monitoring costs are more per month. The opposite is true for Abode—the system costs more, but the monthly monitoring is less.
The price difference for what you get could be significant, but depending on your space and your needs, the starter kit could be all you need. The good news is that most home security systems allow you to easily add additional components to your system to meet your needs as they change. 
Prepare today for peace of mind tomorrow.
Get occasional tips about keeping your family and home safe — delivered to your inbox.
To start, ask consider:
How you want to purchase add-ons (invest upfront, pay overtime, or add components later)

Which add-ons you need based on your space (indoor cameras, motion detectors, additional sensors) 

How much it costs to cover your first-floor entry points
🛠 System Customizations
Many home security systems offer customizations to get your system operating to meet your needs. When purchasing your system, look into whether you will be able to use:
Custom voice-controlled scenes

Pairing with other homes to manage multiple properties

Smart plugs, locks, and thermostat control

Automations for arming/disarming the system based on time of day, actions taken, etc.

Geofencing
👷‍♂️👷‍♀️

Installation
There are two considerations when deciding if you'd like to go the DIY or professional installation route: 
Professional installation from a company like Brinks can be fantastic for:

People who hate weekend projects. A professional installer can precisely identify what a home needs, ensuring your system works and showing you how to use components. 

Independent types can install a system themselves. DIY installation is a good solution for:

Homeowners with smaller homes who are confident making the installation decisions or those on a budget.
💎

System Quality and Value
Quality and value mean different things to different individuals depending on what you're looking to get out of your home security system features. For example, value can look like:
No-contract systems

: More value with less upfront commitment.

Battery life:

Some backup systems last overnight, while others barely give your power company time to get back up and running.

Video quality:

Crispness of the picture at a distance, brightness of the night vision, etc.  

The total cost of ownership:

The combined cost of the system equipment and the monthly monitoring.
Conclusion: Find the Home Security System Features That Work For You and Your Family
The features you'll appreciate most are unique to your family. Once you identify your biggest "must-haves," choosing a home security system from the Batten Marketplace will be a snap.