How do I know if my identity has been stolen?
Protecting your personal information online should be an important component of your cybersecurity plan. As you learn about identity theft and how to prevent it, you'll want to familiarize yourself with your credit report. That includes knowing how to check for identity theft. You'll want to be comfortable with the many ways that you can check for identity theft.
If you aren't familiar with identity theft, what it is or how it happens, start with our primer, What Is Identity Theft? and then come back to this article to dive deeper into how to check if your personal information has been compromised.

Your first step in recovering from identity theft is to recognize the warning signs
The best thing that you can do if your personal information was used to open accounts without your knowing is to recognize it as soon as it happens. Even with the best tips and tricks for keeping your personal identity information safe, there are so many ways that identity thieves steal information that it's a common occurrence in the digital age.
That is why knowing the warning signs of identity theft is so important. So that you can take action as soon as possible after noticing something is amiss. Moving quickly to report fraudulent activity to the proper authorities will help to protect your information and accounts before further damage can be done. The best way to do this is by vigilantly reviewing your credit reports.
Because there are so many ways that your identity can be stolen, there isn't one hard and fast rule for checking to see if you've been impacted by identity theft. Instead, there are just as many ways to check if your identity has been stolen.
Perhaps the easiest way to check as many sources as possible is reviewing your credit report. You can review your credit history and see if any new accounts were opened in your name that you don't recognize. While this won't cover every aspect that your personal information could be stolen and used for, it is a good way to keep tabs on the integrity of your personal information. It's less likely identity thieves will make it far with your information if you are quick to discover when financial identity theft has occurred. To do this, you'll want to set up alerts with all three major credit bureaus. Most will allow you to access your free credit report at least once a year.
As for the many other ways to check on the security of your identity, we'll go through several of the main methods of seeing if you've become a victim of identity theft.
You get a call from your credit card company asking if you made any outstanding charges or large purchases at an unusual location
While it may initially seem annoying to get alerts from your credit card company any time you make a purchase online or over a specified amount, this is one of the best ways to be alerted as soon as your personal financial information is used without your consent. If your credit card company offers you the security function to be alerted whenever a transaction is made, it is in your best interest to turn that feature on. Then you'll be the first to know if someone is using your credit card accounts.
Many credit card companies offer some form of fraud protection by monitoring where the majority of your purchases are made, or if a large transaction hits your card. That's why it's always a good idea to put in a travel notice if you are leaving your normal area. Then your credit card company won't assume that your card information was stolen and shut it down.
However, if identity theft does occur, these security features can shut down future credit card fraud purchases from being made, and help trace the culprit. Turn on these kind of security features for all of your credit accounts, where possible.
You notice unusual charges on your credit card bill
When it comes to personal finance, everyone's journey is different. One thing that can be said for everyone though, is to be vigilant about the activity on your bank and credit accounts. Reviewing your credit card bills/statements several times a week (if not every day, depending on the average number of charges that you make). It doesn't take much time to log in and review the most recent purchases made on your credit card. Get into the habit of doing it and you'll be in great shape for staying on top of one of the most common identity theft warning signs.
If you do notice a suspicious charge on your credit card bill, ensure that it actually is a suspicious charge and not something you purchased with another business name listed on your statement. This can happen when a business uses one name on a website but is owned or managed under a different or similar name. If that isn't the case, once the charge as posted, immediately flag it as a fraudulent charge. Each bank and/or credit card company has their own policies regarding fraud, so you'll want to take advantage of them. In most cases, you account will be frozen, the fraudulent purchases will be investigated, and you'll be issued new account and card information. You'll also want to update your username and password, to provide additional security. We recommend choosing a randomized alphanumeric passcode, something that can be remembered with a password manager.
Your bills and bank account statements don't come in the mail
If you expect your bills and bank statements to arrive monthly, but notice that you haven't received one in the normal timely fashion, inquire with your bank about your address and information on file. Most financial institutions will have you opt in to paperless statements if that's an option. But they can't do it without your consent first. If your paper statements are going missing, you'll want to ensure that they are being sent to the correct address. If that information that the bank has on file was changed, you'll want to work with one of their fraud experts as soon as possible to prevent any further fraud from occurring with your bank accounts.
Another possibility is that someone is taking your mail for the secure information that your bank statements and bills contain. If that is the case, review your bills and bank statements online and see if any fraudulent activity has occurred. You may also want to work with a customer service or fraud expert to change your financial institution information, just in case that stolen bank statement info hasn't turned up yet. Review your credit report to see if there is any other suspicious activity.
Someone files a tax return in your name
Commonly referred to as tax related identity theft, this happens if someone steals your identity to file a tax return in your name, with the identity thief reaping the tax return benefits. If you get a notice via email or the mail that your tax return was filed before you actually filed your taxes, you'll want to dig deeper into the cause for that notification.
The IRS provides the following list of potential warning signs that someone has used your identity to file a fraudulent tax return:
You get a letter from the IRS inquiring about a suspicious tax return that you did not file.You can't e-file your tax return because of a duplicate Social Security number.

You get a tax transcript in the mail that you did not request.

You get an IRS notice that an online account has been created in your name.

You get an IRS notice that your existing online account has been accessed or disabled when you took no action.

You get an IRS notice that you owe additional tax or refund offset, or that you have had collection actions taken against you for a year you did not file a tax return.

IRS records indicate you received wages or other income from an employer you didn't work for.

You've been assigned an Employer Identification Number but you did not request an EIN.
Refer to the IRS for the full list of possible tax-related identity theft warning signs.
While the IRS can be difficult to get in contact with, they have set up Identity Theft Central on their website. You can learn more about tax fraud related to identity theft, including how to report suspected tax fraud. You'll want to do this immediately after determining someone has filed a tax return in your name (and it wasn't your tax advisor) and report identity theft via tax return fraud.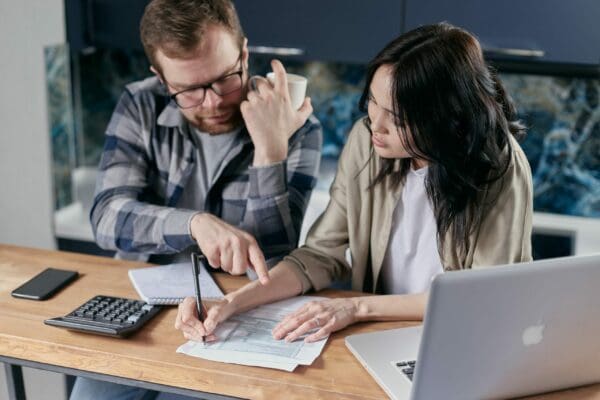 You get bills for medical services you didn't receive
Another sign that your personal identity information has been compromised? You receive bills for medical services that you didn't receive. Medical identity theft is its own subset, but can result from your personal information being mishandled or stolen and used as billing information for someone else's medical procedure through Medicare or other health insurance companies.
If you receive a bill for a medical procedure or service and it appears to be fraud, the first step will be to contact the healthcare provider listed on the bill. Speak with someone in the billing department to get more information on the procedure. It's possible it could be a mistake on their end. However, if further communication makes it more likely that medical identity theft has resulted in fraud using your information, you'll need to file a fraud report with the appropriate group. If the medical service used your Medicare information, report the questionable charges to 1-800-MEDICARE or contact your local Senior Medicare Patrol for assistance: 1-877-808-2468 or www.SMPResource.org. If the insurance being billed isn't through Medicare, you'll want to talk with your health insurance provider about their procedures for documenting medical fraud. You may also want to consider filing a police report for identity theft and medical identity theft. Having a claim filed will help when it comes to future claims that you aren't responsible for paying for the medical procedure that you didn't receive.
You receive calls or letters from unknown debt collectors
While no one wants to receive a call from a debt collector, it's even worse when you aren't anticipating such a call. When you don't know that your personal information was compromised, resulting in identity theft, it can take months for the bills to pile up, resulting in them being sent to debt collectors. It may only be at that point that you realize your information was used to open up unsanctioned credit accounts. This is why it's so important to monitor your credit reports.
If you do receive a call or letter from an unknown debt collector, get in touch with them via whichever contact method they provide on the call/in the letter. Speak to the person assigned to the bill(s) and find out more information. When were these accounts opened? Where are the accounts housed? Get as much information as you can about the business that the account is with, as well as the charge(s) itself. Review your credit report to see if there are any other purchases that can prove your identity was stolen.
Once you have that information, you need to go on the offensive and defensive. File an identity theft report with your local authorities. Get in touch with the business that the fraudulent bill was made with to see what their fraud policies are and how to take action there. Depending on what personal information was used to open these accounts, you'll want to secure that information as well. It may also make sense to file an identity theft report with the three major credit bureaus.
You're denied credit for no apparent reason
Another terrible way to find out that you're a victim of identity theft is when you go to apply for credit and you're denied unexpectedly. While most of us have a relative idea of where our credit score stands at any given time (ignoring random event-triggered fluctuations), when we apply for credit, the business will often give you an approval range so that they don't hit your credit score unnecessarily. That's why being denied can be very surprising and frustrating.
If identity theft is involved, and someone has used your personal information to open accounts for their own use, your credit score will most likely take a hit, sometimes drastically. If that happens without you being aware of it, you may go to apply for credit for your own use and be denied.
If this situation happens to you, the first step is to go and review your credit history and credit reports with all three credit reporting agencies. Look for accounts that have been opened in the past few months that you don't recognize. It could be anything from credit cards to store credit cards to mortgages or even personal lines of credit. Anything that doesn't look familiar to you, investigate further. Reach out to the business it's with and get their fraud reporting process started. While it's much harder to tackle identity theft after time has passed, you still will need to be diligent about repairing your credit score and financial reputation. This is why we recommend signing up for security alerts with the major credit bureaus, and potentially even freezing your credit full-time. Review your credit report consistently, that's our top tip for catching identity theft right when it happens.
Someone uses your Social Security number to get a job or government benefits
If someone gets a hold of your social security number, that's one of the worst forms of identity theft. Identity thieves can use that information to apply for credit, get a job, or claim government benefits all in your name. If you are watching your credit report, you should be able to see if anyone is opening new accounts in your name.
If you have reason to believe that your social security number is being used by criminals, you'll want to file a fraud claim with the Social Security administration. You'll also want to file a police report. You can learn more information about contacting the SSA regarding identity theft at their website.
And as a final tip, never carry around your social security card. Memorize the number and keep it in a safe place, away from prying eyes or out of harm's way from being lost or stolen.
Identity Theft Protection
Now that you know how to react if your identity has been stolen, it's time to take action and be proactive about protecting your personal information. Our expert advisors recommend cybersecurity solutions that offer credit monitoring services over identity theft insurance, but you may want to research and see if both services are right for your lifestyle. The best way to prevent identity theft is to lock down your personal information as much as possible, especially online where it is all too easy for data breaches to leak personal information on to the dark web.
To learn more about identity theft protection, you can read our full Resource blog article about it here. But for a quick summary, here are the top three security solutions that our experts recommend when it comes to keeping your identity safe:
Aura: A total all-in-one solution not just for identity theft but protection forma ll threats while using the internet, all of us here at Batten are big fans of Aura. Aura's intuitive UI makes signing up and accessing the home dashboard simple. You can use a password manager, VPN, ID protection, and antivirus with one subscription. There are no term limits, so you can try Aura risk-free. Aura is best for anyone who is comfortable using standard software tools and browser extensions.


Identity Guard: For total identity theft protection, Identity Guard offers the best bang for your buck. With two different tiers for accommodating different security levels and budgets, you should be able to find a plan that fits your lifestyle best. Our experts chose Identity Guard because it has comprehensive coverage that monitors your online information on the dark web, alerts you to fraud threats, helps you recover your assets, and includes a $1M identity theft insurance policy. They also liked that its intuitive setup process allows you to sign up and start protecting your online identity in minutes. Additionally, it has 24/7 US-based customer support.


Identity Guard - Total Plan

TDS: If all of this sounds great, but the thought of implementing your own cybersecurity protocols and software feels like more than you can handle, what you need is a cybersecurity concierge service. With Total Digital Security, you have access to professional cybersecurity advisors. You are assigned a personal specialist who is dedicated to working with you over the phone and available for consultation whenever you need. It offers a free, no-obligation assessment of your cybersecurity needs. All plans are personalized to you and your family. Our experts agree that TDS is best for those who are not tech-savvy and want a low-effort digital security solution.
Now you can start your personal protection journey and move forward with the peace of mind, knowing that your personal identity is safe, and that you have the tools to monitor for identity theft. And continue your journey by learning more about how to protect yourself online, at home, and in an emergency with our Resource blog. When you're ready to buy with confidence, our Marketplace has the best expert-recommended security solutions.