If you've determined that self-monitoring isn't the right option for you, don't worry, there are a few more options you can consider to give you and your family peace of mind. One of those options is professional security monitoring. 
That's been the gold standard for decades. Before, you had to purchase a contract with your alarm system, which included professional monitoring. While it's no longer required for many systems, many still leverage professional monitoring for convenience and reliance. 
But is it right for you and a service worth paying for? Keep reading to find out.  
What is Professionally Monitored Security?
Real people check your security system 24/7. When an alarm goes off, they'll contact you via phone, text, or your touch-screen panel—or all three. If they can't reach you, they'll dispatch an emergency response team to your home.
You'll enjoy uninterrupted monitoring. No phone? Spotty service? No problem. Professional monitoring is even safeguarding you when your family is asleep. You'll get peace of mind that help is on the way without having to do anything.
Pros and Cons
Pros
Lower upfront costs.

You'll enjoy lower upfront costs, but you'll pay more over time. This can be a benefit, as you'll set up a comprehensive system (or have one professionally installed) without the upfront price tag. For instance, you can have a Frontpoint system up and running for $99 plus $49 monthly monitoring. You can even pay in installments for large systems.

No monitoring interruptions.

Your team is connected to your system no matter where you are and how poor your cell service is. It's a considerable drawback to install a system to protect your home and have it rely on your cell phone. It could be lost, stolen, forgotten, out of battery, or have no service.

Monitor more than just burglars.

These systems can help you rest easy with CO2, smoke, and temperature monitoring.

Discounts on homeowner's insurance.

Check with your insurance provider because sometimes the discount alone can cover the cost of monitoring.

Peace of mind. 24/7 monitoring is not possible with self-monitoring. But with professional security monitoring, you can sleep knowing a dependable team is ready to call for help when you can't.
Cons
It's more expensive.

Having a professional team watch your system costs more than if you were to monitor it yourself.

You may need a permit for installation.

After many false alarms, some towns now require you to get a permit for a home security system. You'll have to research what's needed. This is especially true if you install the system yourself and don't have an expert to explain it.

You could end up stuck in a contract.

You could get tied to a professionally monitored system even if it no longer serves your needs. Unfortunately, many companies do not offer self-monitoring.

Your monitoring company could be inconsistent.

Changes in customer service or monitoring standards may leave you less satisfied as time goes on.

There's no liability for losses.

Professional monitoring does not mean fewer break-ins or more arrests. It's simply a service that can assure you there will be a timely response to alarms.
Who is Professional Monitoring Best For?
Homeowners who have a large home or many entrances. They won't always be aware something is happening in another part of the home. But a professional service can serve as their "ears and eyes." 
Professionals who can't check their alerts. People who travel. People who won't always have their phones on them. Business owners who monitor a business location but won't be there at all hours to verify alerts.
Scenarios When Professional Monitoring Makes Sense
When you want someone on duty 24/7.

Remember that nighttime break-in that prompted us to look into a security system? That's the scenario that encourages most families to choose professional monitoring. 

You're away from home in a remote location

. A fire breaks out in your home while you're away camping. Your cell service is spotty, and you won't get the notification for hours.

You're traveling for work with kids in tow.

You can't add another duty right now but need peace of mind for your home.

When you aren't home very often.

It is more challenging to verify a false alarm versus a real emergency remotely. Professional monitors can verify issues no matter where you are.

You like to be away from your phone in social situations.

Not constantly monitoring your security situation means you get to be more present with your friends and family and off your phone. 
Frontpoint Security Monitoring: The Best System for Professional Monitoring
Frontpoint once offered three different professionally-monitored plans. Now, all customers get the top-tier plan and comprehensive features with its Safehouse system ($99 for the system; $49.99/month for monitoring).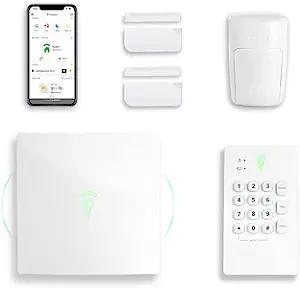 Frontpoint: The Safehouse System
Here's why we like Frontpoint for professional monitoring:
You get a ton of features for the price: LTE cellular (better than Wi-Fi with cellular backup), night vision, smart lock control, video history, and motion alerts.

Superb response times 

Pay for monitoring month-to-month 

Automatic system checks every hour, so there's never a question that your system is on guard. 

Great features such as rapid SMS to confirm or cancel alarms, a duress code to set off a silent alarm, automatic alarm mode changes based on geofencing, and more.

Customize your alarm settings in various scenarios, connecting lights, thermostats, locks—and anything else in your smart home.
You can purchase Frontpoint through the Batten Marketplace. All of our products are expert-recommended and user-vetted, so you're always getting great products that keep your family safe. 
Prepare today for peace of mind tomorrow.
Get occasional tips about keeping your family and home safe — delivered to your inbox.
How Much Does It Cost to Monitor a Security System?
The million-dollar question. There are also no long-term contracts with Frontpoint for customers who pay upfront—opt-out whenever. Monitoring costs $1.64/day no matter how many sensors you're using. That's competitive because it comes with all the features of the biggest competitors. It also throws in Frontpoint identity protection free.
The $49.99 monthly cost may seem steep for professional monitoring. But it includes unlimited devices and has no additional fees. It also includes professional add-ons like remote controls and home automation capabilities. So your Frontpoint system will cost between $400 and $800. (Watch for sales. You can save a significant amount on your system.)
Conclusion: Get Peace of Mind With Your Alarm System 
Is professional monitoring worth it? Short answer: Yes, if it's what makes sense for your lifestyle. If you're after convenience, ease of use, and peace of mind, professional monitoring is probably the right monitoring route to go for you, your home, and your family. If you're ready to purchase an alarm system that is fit for professional monitoring, the Batten Marketplace has the right product to fit your needs. 
Don't think professional monitoring is right for you? Then, check out our blog posts on self-monitoring and on-demand monitoring.