Quick Hits: 
Personal: $2.91-$4.87 per month or $34.99-$58.47 annually
Family: $6.24-$8.62 per month or $74.99-$103.48 annually 
Business: Keeper Business: $3.75 per user per month or $45 annually
Best for: Tech-savvy individuals who want security as their number one feature in a password manager or fall into a not-so-common use case.
Not recommended for: Someone who wants more common password management features and a streamlined user interface. 
Keeper is Batten's recommendation for the most secure password manager. It's best suited for those who are technically confident, as the extra security requires a bit more work upfront. While its basic features are limiting, users can still benefit from password storage, secure messaging, and emergency vault access.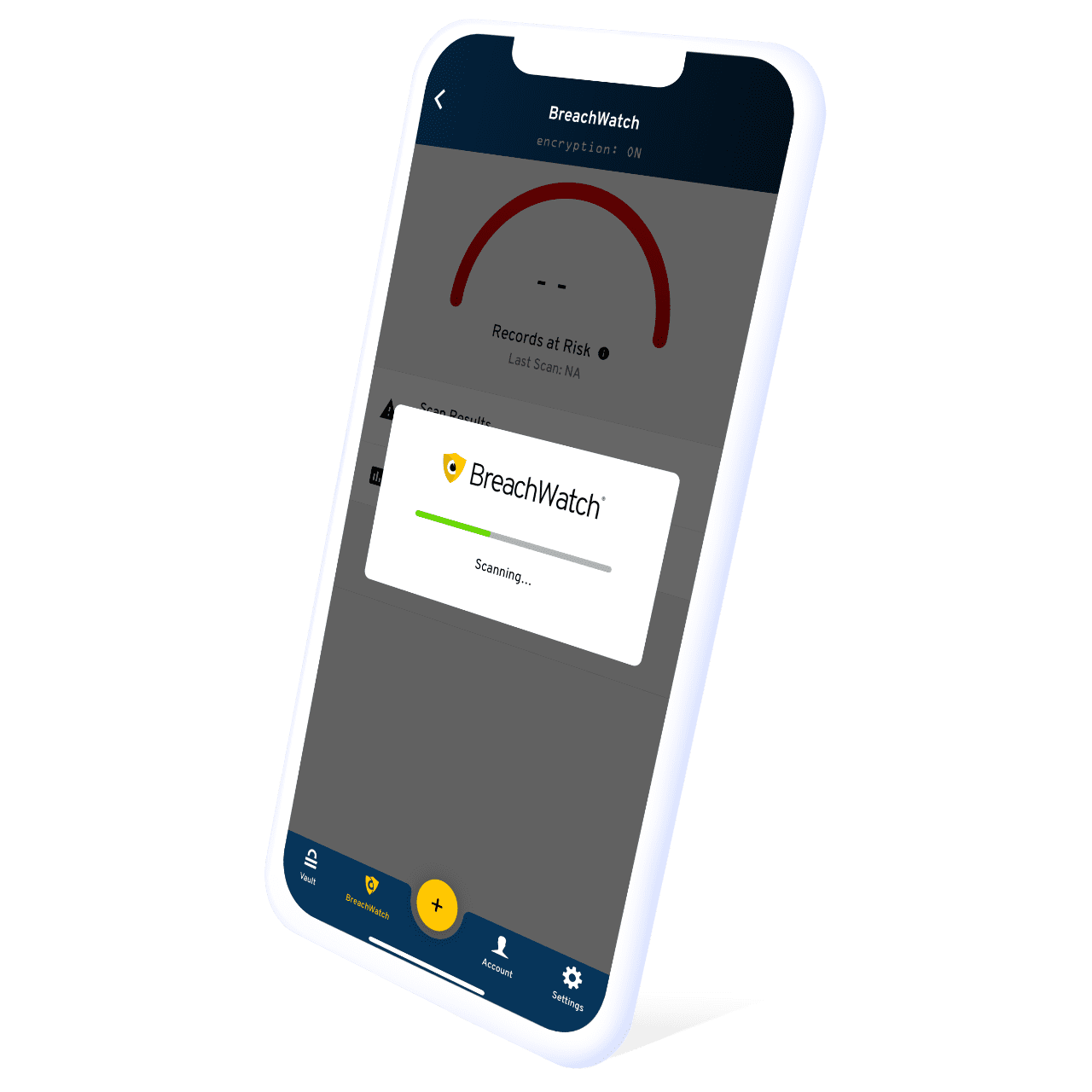 What We Like About Keeper
Several different user types.

Keeper offers different plans for many different user types such as Enterprises, Business, Personal, Family, Student, Military, and Medical. It has the most extensive use cases of most password managers on the market. 

Double encryption.

Keeper offers double encryption, making it super secure for any sensitive data you might need to store. In addition, its zero-knowledge architecture and market-leading security infrastructure and policies make it our recommendation for the most secure password manager. 

30-day free trial.

Keeper offers users a 30-day free trial, which is longer than most password managers. 
What We Don't Like About Keeper 
You have to download a separate tool to import your passwords.

Additionally, it starts importing them from Safari by default…one by one. Then, it takes over your screen, preventing you from doing anything else. You have to grant it access to your keychain, and it times out after a few minutes, requiring you to relaunch it every time. It takes a lot longer than simply uploading a CSV file. 

Features that should be free cost extra. Compared to features you get with other password managers such as Dashlane or 1Password, some of Keeper's features, such as Breach Watch, are only available if you purchase it Plus bundle. 
Clunky interface.

The web portal design is very cumbersome and not very aesthetically pleasing.

Not a lot of features for the base price. For the Personal plan, all you get is essentially password management for $2.91 per month. By comparison, 1Password is the same price per month, and you get additional features such as file storage, security breach monitoring, masked email, and more.
Unique Features of Keeper
Ability to purchase additional features.

While Keeper's Personal plan is rather basic, you can add additional monitoring, secure file storage, and a concierge service to your monthly subscription.  

Secure messaging.

Keeper has its secure messaging platform, KeeperChat (similar to Signal), that you can access through your profile on the web portal. Send encrypted private messages to friends, family members, and colleagues. All Personal plans include KeeperChat.  

Emergency vault access.

Say you pass away or get into an accident. You can give up to five individuals (like a family member or power of attorney) emergency access to your vault so they can access any critical accounts on your behalf. 

Concierge service.

Similar to professional monitoring with home alarm systems, Keeper Concierge ensures maximum protection from cyber threats with a team of experts who provide you with one-on-one training and support. Users can purchase this feature for $8.33 per month or $99 annually.  

Getting Started
Signing Up & Security
Signing up for Keeper is easy. Once you start your free 30-day trial, you're prompted to enter your email address, click "accept terms and conditions," and take you to your vault. You're sent a follow-up email highlighting some of the platform's best features. You can choose a free trial of the Business, Managed Service Provider, or Personal plans to try out whichever method would best meet your needs. Upon entering the web portal, you're given step-by-step instructions to import your passwords, including a quick video. The video outlines the different use cases and ways to access your vault (web browser, desktop app, mobile app).
Extension & Web Portal 
Keeper has you download a separate tool to import your passwords. By default, it starts importing them from Safari—you don't get to choose the browser. Once you grant the tool access, it imports your passwords one by one, taking anywhere from a few minutes to 10-15 minutes, depending on how many you have saved to your browser. This process can be tedious, especially since Safari Passwords times out every few minutes, requiring reauthorization to relaunch it. It also takes over your screen, preventing you from doing anything else while your passwords are loading. You can import your passwords using a CSV file by going to your profile settings. 
Web Capture & Autofill
Once you get your passwords set up, download the browser extension, KeeperFill, for easy web capture and autofill. If you're already logged into the browser portal, KeeperFill logs you in, so you're all set and ready to go. 
Mobile App
Keeper has a desktop app for Mac and PC and an app for iOS and Android. While you can't download the app straight from the web portal, you can download the apps straight from the website. The desktop and mobile app have more customization options than the web browser, and each view offers different sidebar views. Like other password manager mobile apps, you can access your vault, favorites, and password generator functions. The app also comes with a self-destruct feature where you have the option to delete your vault if someone has five failed login attempts. 
Features
Unlimited password storage

so you can store hundreds of passwords for all of your internet accounts

Unlimited identity & payments

for your details and credit card information

Fingerprint & Face ID login

to keep your password vault safer and more secure

Unlimited devices & sync

so you can access your passwords across all of your devices

Secure record sharing

with anyone who might need access to your passwords or secure information

Emergency access

to your vault for beneficiaries, executors, or family members who would need to access your account information 

Web application

for accessible vault and account management 

24/7 support for anything you might need related to your account 
BreachWatch (paid add-on)

that monitors the dark web for breached accounts and then alerts you to change any compromised passwords

KeeperConceirge (paid add-on)

offers personalized, one-on-one training and support.

Secure, effortless file storage and sharing (paid add-on)

through Keeper's Cloud Security Vault to securely store, manage and share your digital assets. 
Getting the Most Out of Keeper
Bypass the import tool and upload a CSV file.

Given how inconvenient the Keeper importer tool is, we recommend bypassing the tool and just going straight to uploading a CSV file to get set up faster. 

Take advantage of secure messaging.

One of the best features included in Keeper's most basic plan is secure messaging. Use it for secure messaging friends, family, and colleagues.  

Consider purchasing the add-ons.

The best way to experience all Keeper offers is to buy add-ons or the Plus Bundle. 

Sign up for emergency access.

This feature is hands down one of the best features of Keeper. Make sure you sign up for it if you ever need to hand off access to your password vault! 
Plans & Pricing 
Keeper offers several different plans and discounts for students and members of the military, first responders, and medical professionals. 
Personal 

Keeper Unlimited (Basic Plan): $2.91 per month or $34.99 annually

Plus Bundle: $4.87 per month or $58.47 annually 

Family 

Keeper Family: $6.24 per month or $74.99 annually 

Plus Bundle: $8.62 per month or $103.48 annually 

Business

Keeper Business: $3.75 per user per month or $45 annually

Students:

50% off Keeper plans

Military, First Responders, Nurses, Doctors, and Hospital Employees:

30% off Keeper plans
With Keeper, you can purchase the Plus Bundle or the Keeper Unlimited plan with BreachWatch and secure file storage add-ons. If you're looking to add secure file storage, we recommend adding it to the Plus Bundle—it's only $4 more per year, and you get all of the features of the Plus Bundle. 
Final Thoughts 
Keeper is a very basic password manager. It's a clunky interface, and you have to click around to find what you need and quite a bit of hand-holding to get set up. To get the best from the tool, you need to purchase add-ons, which can be more expensive than other password managers that offer more features for less. 
Purchase Keeper on the Batten Marketplace.