Mobile Living Needs Security Because It's a Home on Wheels
If Instagram and TikTok content are any indication of the latest trends, then tiny living and #vanlife are all the rage with younger generations. But older generations, retirees, and "snow birds" have made tiny living on the road a way of life long before social media was around to provide proof of it. But when your home is on wheels, you may forget to protect it like you would a brick and mortar house. Because mobile living needs security to keep you, and your belongings and family members, safe.
Van life and RV communities are full of information on how to keep your rig safe, finding secure parking spots, and maintaining safe temperatures inside for furry friends. On top of that, our experts at Batten have selected several security systems and ancillary items that will keep you and your companions safe. Even if your home security system isn't protecting a traditional home.
Prepare today for peace of mind tomorrow.
Get occasional tips about keeping your family and home safe — delivered to your inbox.
Considerations for Mobile Living Security Systems
Some home security systems that aren't permanently installed in a home could be relocated to a van. However, if you are looking to purchase a system specifically for a van set up, there are several factors to take into consideration. These include hardware flexibility, ease of installation, and battery life.
Hardware Flexibility
Did we make this term up? Yes, we did. "Hardware flexibility" refers to the capability for traditional home security system components to be equally as effective in a tiny living set up like a van. For example, a system that includes LED motion sensor lights may simply be impractical for a van set up. Even something less complex as a mounted central hub display might not work in a van.
Ease of Installation
Do the security system components have to be drilled, glued, or wired into an electrical panel to function effectively? If so, those pieces may not be the best fit for van lifers. Components that can be attached via command strips, Velco, or similar temporary attachment measures are a better fit in a van. Just because mobile living needs security, that doesn't mean it should be complicated.
Battery Life
Some vans are off grid. Others are powered by batteries or propane or solar panels. But one common denominator among vans is that they don't have the same electrical capabilities as a modern, traditional home. Therefore, we rated security systems with components that run on batteries more favorably than anything that needed to be wired.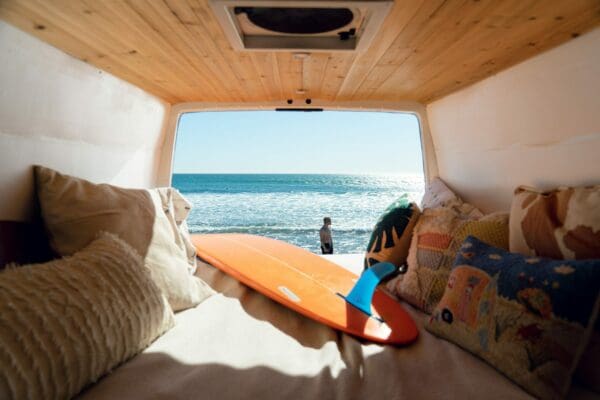 Van Life
When it comes to what qualifies as "van life", you may get a lot of answers. For our purposes, we're using it to refer to vehicles that have been outfitted or designed for full-time living, not simply transporting people or goods from point A to point B. So whether you're doing an epic summer cross country road trip in a van or you call the open road home 365 days a year, our recommendations can help you keep both you and your van safe.
Our choice for Best Security System for Van Life is…
Based on the above criteria, our experts chose SCOUT as the security system of choice for van lifers.
What We Love
There are no contract obligations, just month-to-month monitoring plans.
It has a fantastic user experience and ability to set event-based alerts.
Flexible packages allow you to build the right solution for any home.
The equipment has an aesthetically modern design and can be attached with adhesives instead of wall mounts.
There are add-ons include water sensors, glass break triggers, and carbon monoxide detectors that can be added and incorporated into your security system.
What to be Aware of
24/7 professional monitoring and cloud storage for video are only available with the Always On+ plan for $19.99. However, Scout owners can turn this on and off from month to month, allowing for flexibility.
We also felt that the Abode: iota Security Kit was another consideration for van lifers.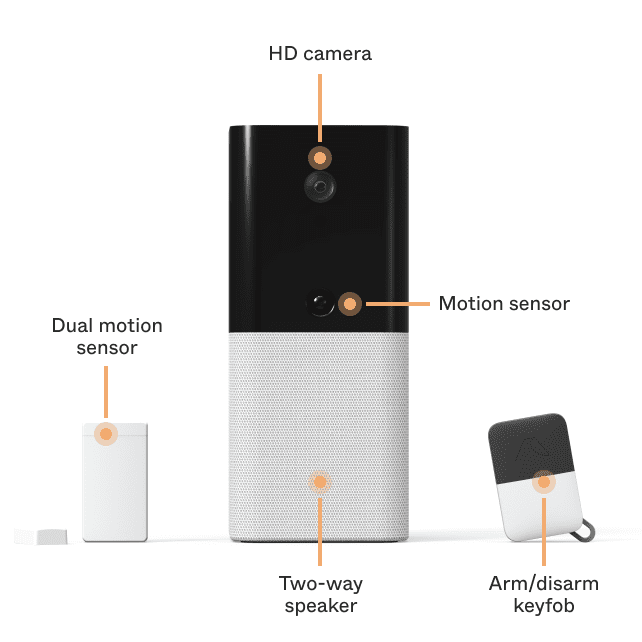 Abode: Iota DIY Security System
What We Love
A quick and easy system set up in under 30 minutes.
Affordable monitoring options and the only company that offers on-demand monitoring, which allows you to turn on professional monitoring for just 3–5 days while you're traveling.
Built-in video camera and motion sensor in the hub for interior monitoring without needing additional devices.
But Keep in Mind…
The initial base system has a higher price than competitors, but its professional monitoring options are very affordable.
Both of these choices have the flexibility to build a system that works for your van and opt in to the level of professional or self-monitoring that you feel most comfortable with.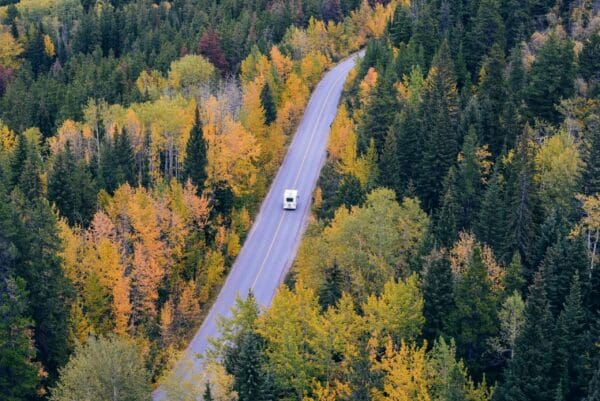 RV Living
While similar to van lifers, people who live in RVs long-term or full-time come from a variety of backgrounds. There are DIYers who have converted older models into stylish, modern homes on wheels. There are part-time travelers who prefer to spend the cooler months in warmer climates, or take the kids on the road when school is over for the summer. And there are those people who aren't interested in owning or renting a home but want somewhere to call their own.
No matter their circumstances, anyone dwelling in a travel trailer, motorhome, or camper can still enjoy the peace of mind that comes from having a security system. As we did with the vans, we considered hardware flexibility, ease of installation, and battery life. However, RVs are generally capable of generating more power than a van. And many people choose to stay in RV parks that offer 50 watt and 30 watt plug in options. Additionally, RVs also have walls that are more like traditional home walls, but without the same rigidity or strength as drywall.
Keeping those features in mind, our experts recommended SimpliSafe as their top security system of choice for living in a RV.
What We Love
You can set up the system in minutes without any tools or drilling.
It offers flexible, no-commitment professional or self-monitoring plans.
It's easily customizable.
The camera's motion sensors aren't triggered by pets.
Works best with multiple door entry points
SimpliSafe has quickly gained popularity as a great security system for renters, homeowners not willing to pay out hundreds or thousands of dollars for a permanent security system, and people who are looking for more flexibility in their security system. All those same reasons apply for RVers.
But You Should Know…
The only catch with the SimpliSafe system is that some components do require hardwiring for electricity. The video doorbell, for example, requires common doorbell wiring to be set up. However, not every RV owner is looking to permanently install security components on to their rig.
Invest in Some Form of Security
Security systems have come a long way recently, with plenty of innovation and flexibility for people in a variety of housing situations. As van and RV living continue to gain popularity, it's likely that security system companies will pick up on the trend and continue to provide the flexibility that alternative living requires for setting up a security system. Mobile living needs security, and hopefully one day there will be more specific security systems for nomadic living situations.
While there currently aren't any "perfect" systems for RV or van life, hacking these available security systems to work for your situation is better than not having any security. If you have pets, a security system should be a must have. But even without furry friends, a security system could be what stands between a thief decided your van or RV is worth the risk of taking for themselves. There have been tragic stories in the news of people losing their travel trailer or van with their pets still inside. The owners of those vehicles have not only lost their family member but also their home.
Remember, the best time to be prepared is yesterday. But the second best time is now.