Quick Hits: NordVPN Review 2022
1-month subscription: $11.99 per month
1-year plan: $4.99 per month
12-month subscription: $3.99 per month
Best for: Individuals who want a three-in-one cybersecurity tool for a VPN, password manager, and secure file storage.
NordVPN is Batten's top choice for a VPN, or Virtual Private Network. While it's a VPN, it also doubles as a password manager and secure file storage. So really, it's a three-in-one product for those looking primarily for a VPN but also want to dabble in other cybersecurity tools. In addition, it's marketed as the fastest VPN, allowing you to connect, stream, and download content without any interruption. And, with over 5,400 servers in 60 countries, users have no problem finding a secure connection.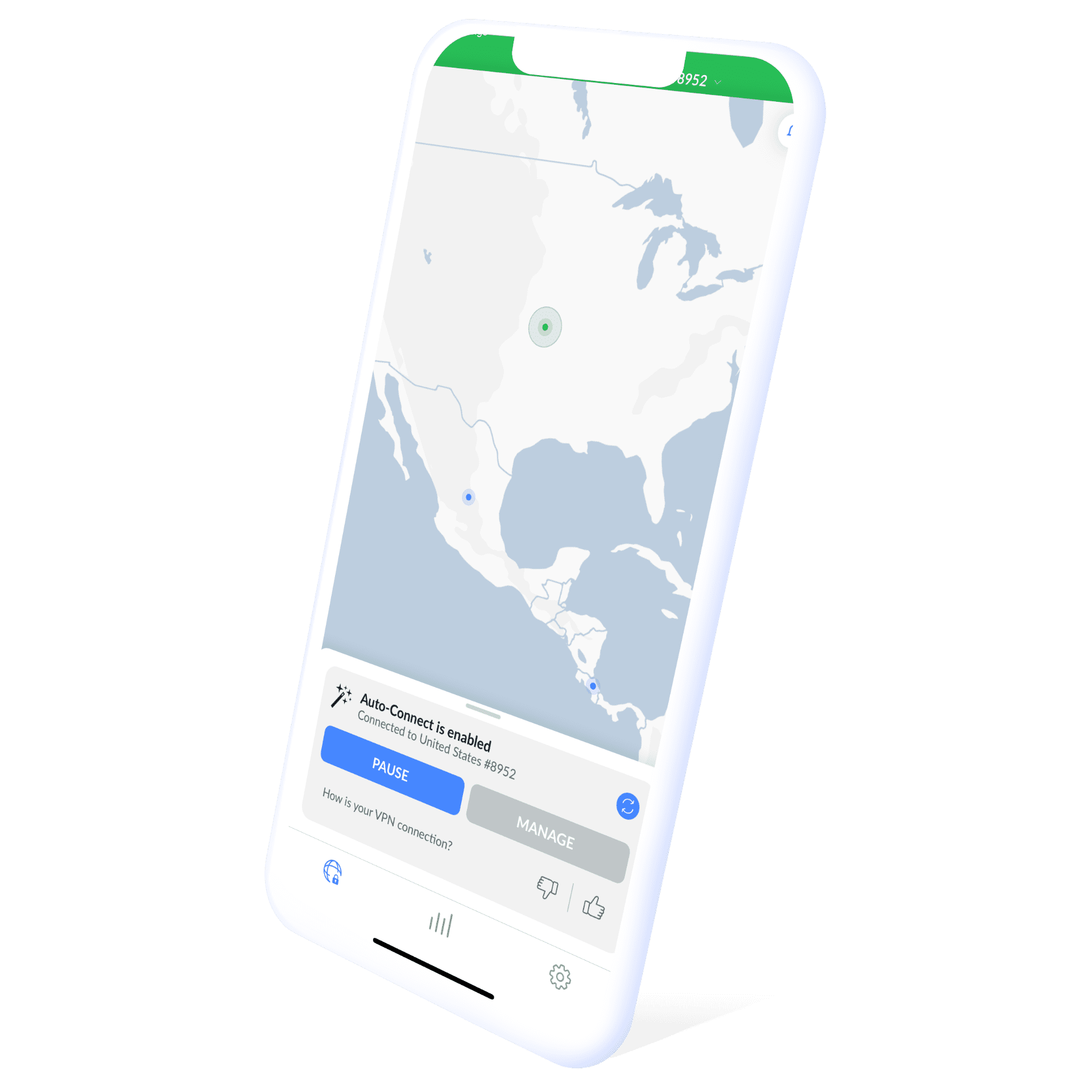 What We Like About NordVPN
At-a-glance usage statistics. NordVPN offers statistics showing connection length to that particular server, your IP address, the protocol used, weekly time protected, longest connection time, and streak of how many days in a row you're using the VPN. If you're a data guru or just generally curious, you can see your VPN usage.
Pause your VPN connection. When you have the VPN window open, you can choose to pause your connection for five minutes, 30 minutes, or one hour without disconnecting completely. You might find pausing your connection beneficial if you're viewing content that is available in your region but restricted in the country where the server you're connected to is based, setting up an internet connection for the first time, authenticating yourself and connecting to WiFi in hotels, or troubleshooting network issues.
Four different protocols to choose from. If you are particular about your VPN's protocol, NordVPN offers four different protocols to choose from when you connect to a server: NordLynx, IKEv2, OpenVPN (UDP), and OpenVPN (TCP).
Customize your VPN experience. From choosing your protocol to which country you can auto-connect, to the WiFi networks you trust, NordVPN offers several customization features to get the most from the tool.

What We Don't Like About NordVPN
No "free" trial. You have to pay to sign up to start using the service. However, if you cancel within 30 days, you'll get a refund.
Unique Features of NordVPN
Use up to three products as part of your subscription. In addition to the VPN, you can take advantage of the free versions of NordPass for password management and NordLocker for secure file storage.
Optimized VPN server connection for specific actions. When you download the VPN for your computer, you have a section called "Presets" on the sidebar. The preferences describe these as "VPN connection settings with shortcuts to apps or websites for secure, one-click access." In other words, you can choose what action you want your VPN optimized for—Downloads, Speed, or Browsing—and it will connect you to the best server to perform said action.
The CyberSec feature protects you from potential cybersecurity threats. In the Preferences window on the VPN, you can toggle its "CyberSec" feature. If you toggle it on, NordVPN will automatically block access to harmful sites, lowering your risk of getting hacked.
NordVPN Features
Like other VPNs on the market, NordVPN offers secure browsing, a no-logs policy, servers that hide your internet traffic and VPN connection, masked IP address, split tunneling support, etc. However, here are a few features that make NordVPN stand out from the rest:
Dark Web Monitor that notifies you when someone leaks your credentials to the dark web.
Kill Switch for essential protection against data leaks if your VPN connection is lost. NordVPN also offers an advanced version for specific IP leaks. Note: The Kill Switch feature is only available for NordLynx and OpenVPN protocols.
Threat Protection to avoid online hazards like viruses, infected websites, and trackers.
5,400+ servers in 60 countries, so your data is protected no matter where in the world you are.
Multi-factor authentication (MFA) to secure your Nord Account.
Private DNS to shield your data and prevent any data leaks.
Fastest VPN on the market, so you can browse and stream without interruption.
Encryption + anonymity when you combine NordVPN encryption with the anonymity provided by The Onion Router (Tor), allowing users to protect their privacy and security against traffic analysis.
Getting the Most Out of NordVPN
Activate the free versions of NordLocker and NordPass. While you can add on premium subscriptions of NordLocker and NordPass, the free version is impressive for NordVPN users. With NordLocker, you can encrypt an unlimited number of files on an unlimited number of devices. It offers zero-knowledge encryption and 3GB of cloud storage. With NordPass, you can save an unlimited number of passwords, notes, and credit cards that automatically sync across your devices. Additionally, you can access your passwords on any browser of your choosing.
Take the time to customize your VPN window. You can do several customizations with NordVPN to get it exactly how you want it. When you first sign up, take the time to add your WiFi network as a trusted network, pick your favorite server location, protocol type, and how you want it to appear on your computer for a better overall experience.
Set up MFA for your account. NordVPN gives you the option to set up multi-factor authentication to keep your account more secure. Take a few minutes to set it up for an added layer of cybersecurity.
Refer a friend for a free month. NordVPN has a referral program, so you get 30 days for free if you refer a friend. This program is perfect if you're looking to save some money on your subscription.
Getting Started with NordVPN
Signing Up & Setting Up Your Devices
Getting started with NordVPN is easy. Choose your plan, plug in your credit card info, and you're ready to connect to the VPN. When you sign up, you have the option to add premium versions of NordPass and NordLocker to your plan. While it's not a free trial, you have a 30-day money-back guarantee if you choose to cancel your plan.
Once your payment information goes through, you're sent a unique activation code over email. After it's activated, you create a secure password for your account, and then you're prompted to download the VPN for your device.
Connecting to the VPN
You have several different ways to connect to the VPN. First, you have the VPN on your device or as a browser extension. Then, after you download the apps, log in with the password you created and you're ready to connect to the VPN. NordVPN will go ahead and identify your location and recommend a VPN to connect to based on your location.
Mobile App
NordVPN makes it simple to connect to the VPN on your mobile device. Download the app from your device's app store, log in with your credentials, and join. On NordVPN's app, you're able to:
Favorite servers for easier connection
Set up auto-connect, so you're connected anytime you're on a WiFi network
Choose your protocol
Enable Threat Protection
Turn on Dark Web Monitor
Create a voice-activated shortcut for connecting and disconnecting
Set up MFA
Pause VPN connection
Prepare today for peace of mind tomorrow.
Get occasional tips about keeping your family and home safe — delivered to your inbox.
Plans & Pricing
NordVPN offers plans in month-to-month or yearly increments. All plans offer a 30-day money-back guarantee, so you can cancel and receive a full refund if you're not satisfied. This guarantee also extends to NordPass and NordLocker if you have premium subscriptions. Like ExpressVPN, you get a free 30 days if you refer a friend. Additionally, if you are a student, NordVPN offers a 15% discount on its plans. You also are able to download and use the VPN on six devices with each plan.
NordVPN offers three plans: one month, one year, and two years depending on how long you need a VPN (we recommend always using one when away from your home network). The most popular plan option (and the best deal) is its two-year plan:
1 month: $11.99
1 year: $4.99 per month; $59.88 for the first year; $99.48 per year after that
2 years: $3.99 per month; $95.76 for the first two years; $99.48 after that
You also can add on premium versions of NordPass and NordLocker:
NordPass

$4.99 per month
$1.99 per month for 1-year plan
$1.49 per month for 2-year plan

NordLocker

$0 per month for 3 GB
$3.19 per month for 500GB
$7.99 per month for 2TB
Final Thoughts for our NordVPN 2022 Review
If you're looking for a VPN that offers a lot of bang for your buck, NordVPN is your VPN of choice. It provides a pleasant setup, interface, and user experience. It essentially offers three products in one—a VPN, a password manager, and secure file storage—at an unbelievable price. Don't sleep on these features, as the free versions offer just as much if not more than similar products on the market. This VPN is perfect for anyone looking for additional internet privacy without the headache of a complicated setup.
Purchase NordVPN today on the Batten Marketplace.