What if we told you there was a way to self-monitor your alarm system and bring in the professionals when you need them? 
On-demand monitoring is the best-kept secret when it comes to alarm system monitoring. It's a super-powerful, unique, and convenient feature when you want to monitor your system primarily but bring in professionals from time to time. Not to mention that only one alarm system on the market currently offers this service.
If you've struck out with the other two types of monitoring, see if on-demand might be your holy grail.
What Is On-Demand Monitoring?
It's the best of both worlds. Want to be in charge of your notifications most of the time, but have a professional watch your home while you travel and check alerts for water leaks, fire, and burglary? On-demand monitoring lets you switch between modes.
It's so smart that it's a wonder only one company offers this service. Unique to Abode's system, on-demand monitoring means you can activate 24/7 monitoring when you need it.
On-demand monitoring extends professional monitoring but on a flexible plan. You can opt for professional monitoring month-to-month. You can also sign up for three or seven-day monitoring with Abode, then return to self-monitoring. Abode security monitoring has options that make it the best choice for families.
Pros and Cons
Pros
You can pay for what you use. There's no need to have constant monitoring when you're home and doing the job yourself.

You can use it for travel, business trips, long weekends, and holidays. For example, are you heading to your parents' for Thanksgiving? It's a perfect time to let professionals handle the monitoring while you focus on the people who matter.

It's simple to turn on from your app. There's no need to plan and schedule your time away. Need monitoring now? Just turn it on.

Change your mind. You can self-monitor or professional monitor with Abode.
Cons
Costs can be higher. You won't get a homeowner's insurance discount for professional monitoring on-demand.

Flexibility can be deceiving. If you want on-demand monitoring, you'll need to use Abode's system.

You can't jump in and out whenever you want. You're constrained to 3 or 7 days per month.
Prepare today for peace of mind tomorrow.
Get occasional tips about keeping your family and home safe — delivered to your inbox.
Who Is On-Demand Monitoring Best For?
Younger people who are home most of the time or on a tighter budget. They want to upgrade protection when they travel for work or go away for the weekend.
Scenarios When On-Demand Monitoring Makes Sense
You're usually home but need to take a lengthy vacation and fear your unoccupied house is a break-in target. So you want it monitored while you're away.

You're happy self-monitoring but have a situation where you won't be able to.

You're unsure if you need professional monitoring and want a flexible system. Your needs may change, but you don't want to buy a new system and change companies when they do.
Abode: The Best On-Demand Monitoring System
Abode ($329; $8 for three days per month of on-demand monitoring, $15 for seven days per month) is the only alarm offering this unique hybrid monitoring. We also love Abode's iota system for self-monitoring.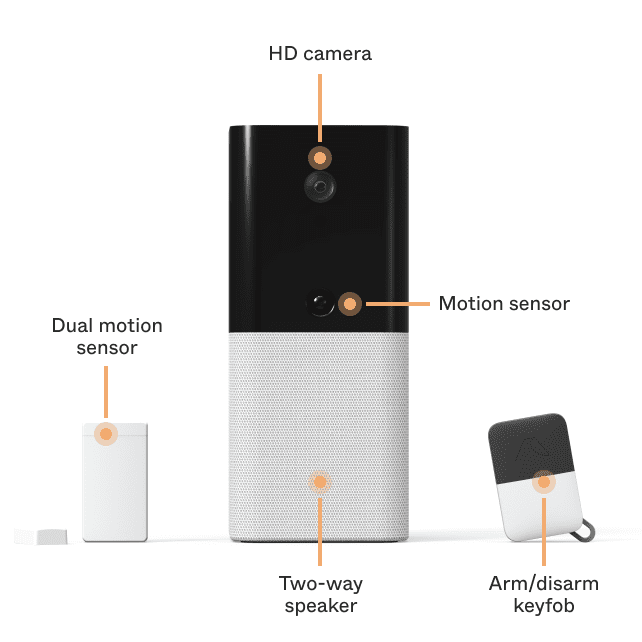 Abode: Iota DIY Security System
Use "Go Abode" self-monitoring, and then check out their on-demand professional monitoring to try it out. Set up is straightforward. The app user experience is flawless, but it is easier to set up on the desktop app (instead of the mobile version).
Over Thanksgiving, we did on-demand monitoring. It took seven seconds to set up, and the house was protected when we needed it. It's a hand-off service that lets you stay in charge of your notifications and settings.
Purchase the Abode iota system through the Batten Marketplace. All of our products are expert-vetted user recommended, so you're getting only the best security options for your home.
On-Demand Monitoring System Costs
On-demand monitoring costs $8 for three days per month or $15 for seven days per month. If you love your professional monitoring experience, Abode has flexible contracting. You can monitor the system on a month-to-month basis, with on-demand packages taking the flexibility one step further without any contracts to worry about. 
Get the Best of Both Worlds
On-demand monitoring is a unique option for those who want both a self-monitoring and a professional monitoring option. It's a model that works for anyone who wants to take security into their own hands when they are home and trust it'll be taken care of when they are away. So if on-demand monitoring is the route for you, shop the Batten Marketplace for your next alarm system. 
Learn more about self-monitoring and professional monitoring and see if those options are right for you.