Cats are often independent creatures. That's part of the appeal of choosing a feline companion over a canine one. However, just because Whiskers can be alone for the night as long as you've put food and water out, doesn't mean that you shouldn't still be taking safety precautions. It all starts with understanding the basics when it comes to cat owner home safety security tips. There's also more to keeping cats safe than having their litter box clean and available. Threats to your home's safety could be safety hazards to them as well.
This is the second in our series of pet and home safety guides: "Pet Owner Safety Tips" to help pet owners navigate home and pet safety risks. In this article, we're going to focus on the best security cameras for cats to keep your pet safe.
Why security cameras? While domesticated cats are more self-sufficient than pet dogs, some might argue that cats have a higher tendency to cause damage or get into trouble. "Curiosity killed the cat," after all. Security cameras can help everyone feel safer when cats are home alone, whether it's for an overnight trip or for a full workday. Security cameras can help pet-proof a home and let your furry friends live a safe, healthy life.
Prepare today for peace of mind tomorrow.
Get occasional tips about keeping your family and home safe — delivered to your inbox.
The Best Pet Camera: What to Look For
If you read our last security camera article, one of the indoor cameras that we recommended was a dog-specific camera that included a treat dispenser (the Furbo dog camera). A treat dispenser is a pretty nifty trick when it comes to cameras. However, for cats, our experts don't recommend any such frivolous features. Choosing a reliable, reasonably priced security camera for your cat doesn't need the bells and whistles that come with an interactive pet camera. And if you are trying to entertain a kitten or a more active adult cat, purchase a toy with that purpose in mind. Trying to blend a camera and entertainment into one gadget can compromise the integrity of the camera features.
So, if you aren't looking for treat dispensers, toy wavers, or laser pointers, what should you consider in a dedicated pet camera? Our home security experts recommend the following features when it comes to finding the best pet camera:
High video quality
Night vision
Movable camera via app
Customizable app alerts
Two-way audio with high audio quality
Programmable motion detection sensitivity for pets
Space in cloud storage or on your phone to save video clips
We'll dive into further detail on these features when we review our recommendations for the best pet cameras.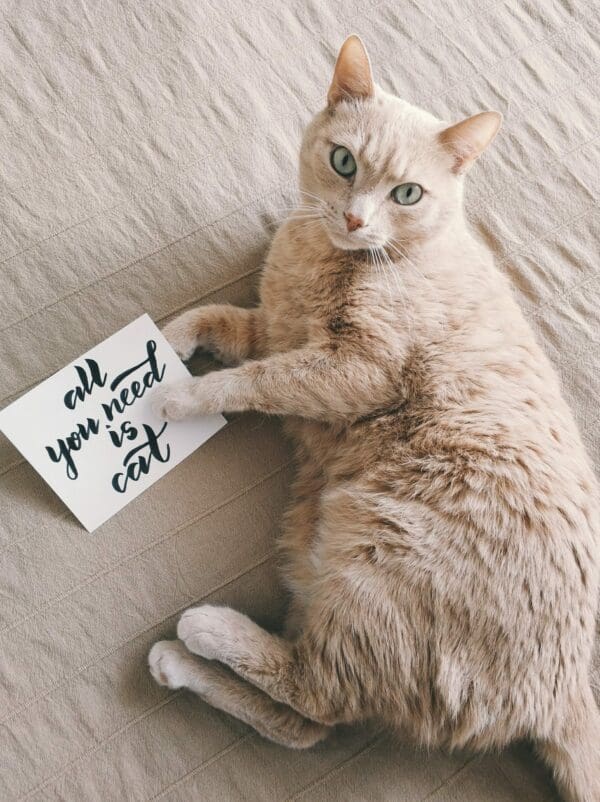 Pet Cameras vs Home Security Cameras
Another consideration to make is whether should you invest in a pet camera or more generic home security cameras. Finding a specific dog camera or cat camera can certainly come with its own set of benefits. However, for the cost and time invested in setting up the pet cameras in your home, installing and preparing the app, and more, we recommend choosing a home security camera system with features that are beneficial for pet parents.
Most pet cameras are solitary devices that you can use in your living room or mud room to keep an eye on your friends. However, by spending a little bit more to get an entire home security camera system, you can keep an eye on your cat without sacrificing the utility of a whole home security system. And that will better protect your home, family, and belongings.
We have an entire guide to choosing home security systems based on your lifestyle and preferences. Click here to read that guide.
Top Security Camera Recommendations For Cat Owners
If you aren't fully invested in choosing and purchasing a full home security system, we still have several camera recommendations that will work best for cat owners. These cameras are not only pet cameras but instead will be solid home security camera choices. Pet owners can rest easy knowing that whichever cameras they choose from our selections, they'll be able to reliably keep an eye on their furry friend without breaking the budget.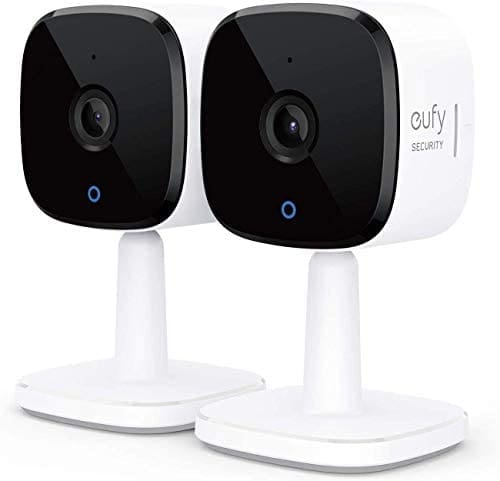 We are big proponents of Eufy's smart doorbell cameras so it isn't a surprise that we also recommend their indoor camera. This indoor camera has a few features that not only make it a fantastic indoor camera selection but also have pet-specific improvements:
Custom AI that can tell whether a subject is a person or a pet
HD video quality that records video in the form of 2K clarity
Speak in real time via the camera's built-in two-way audio
Connects with Apple HomeKit, Google Assistant, and Amazon Alexa
Advanced night vision allows you to keep an eye on any room, even in low-light settings
Choose whether to store your video locally on your phone or with Eufy's cloud storage option, always accessible via the phone app
At only $75.99, you can purchase one or multiple cameras to connect to the Eufy app. And if you decide to upgrade your system, you can connect outdoor cameras and doorbell cams to your system to have comprehensive coverage over your home.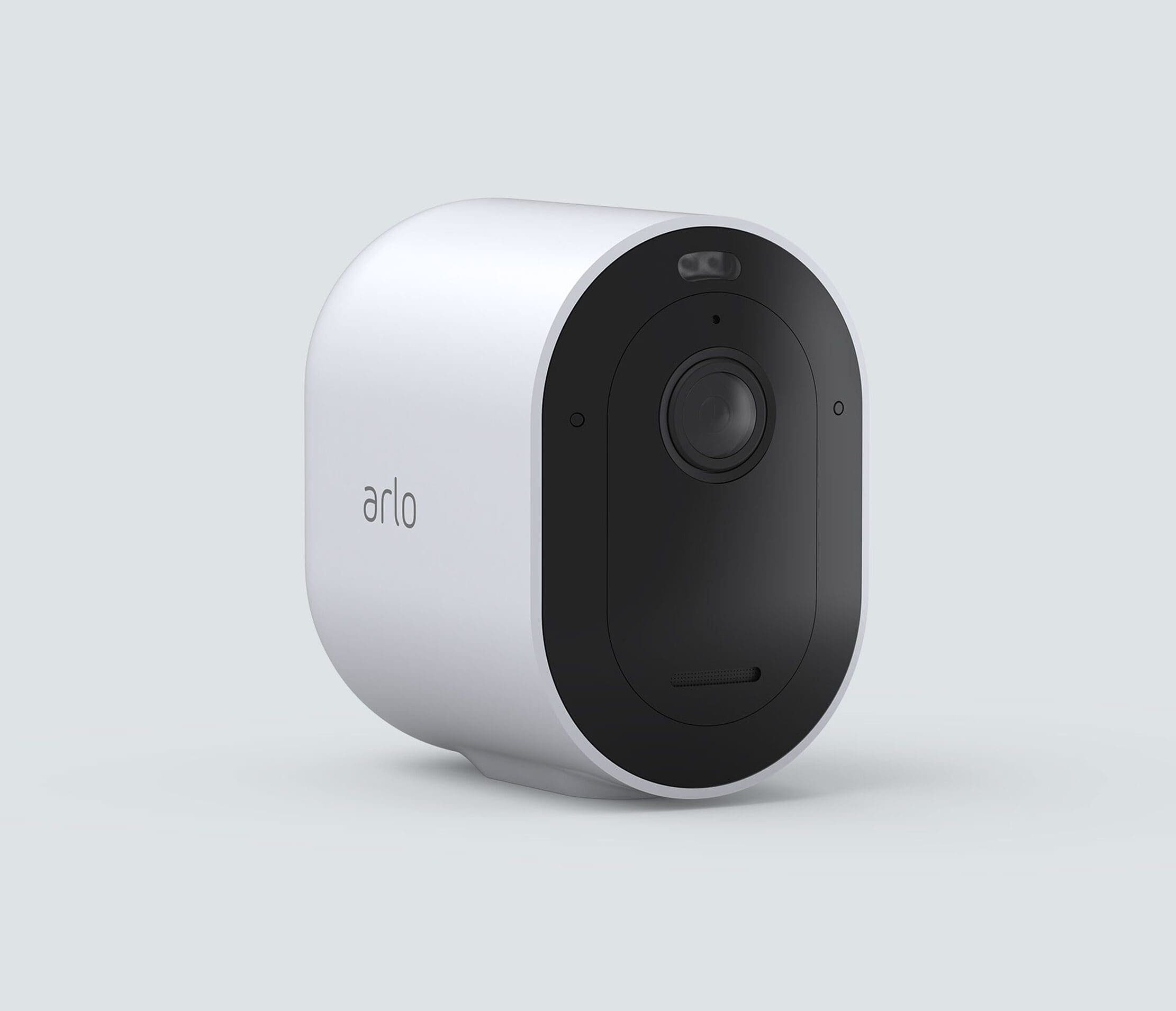 Arlo's Pro 4 camera is an alternative option for cat owners. Designed to work both indoors and outdoors, it provides the flexibility to use indoors, for now, to keep an eye on your cat. But, it could be used as an exterior camera if you move.
Our experts recommend Arlo's video doorbell as one of our exterior home security options, so this is in the same family of home protection. What do you get with one of their indoor cameras?
2K video with HDR
Integrated Spotlight
Rechargeable Battery
Connects directly to Wi-Fi
Arlo Secure trial included
Full picture capture in low light with color imagery
The only con that we have with this camera is that Arlo requires you to subscribe to their monitoring package called Arlo Secure. It isn't an expensive option, but it is a differentiator from Eufy's indoor camera option. But having dedicated in-color Night Vision functionality is a good feature to have for nocturnal pets like cats.
Better Protecting Your Space For Humans and Pets
Getting a security camera to keep an eye on your cat is a great first step. They are easy to install, don't break the bank, and can provide important peace of mind for pet owners. But it should only be the start of your home security journey.
But it's a lot more of an undertaking choosing a security system that is right for your home, your family, and your lifestyle than a single security camera for your cat. That's why we've created multiple resources that help guide you to purchasing the perfect home security system for your unique circumstances: