Prepare for Extreme Heat Waves and Blackouts
Heat waves are affecting large swathes of the United States and Europe this summer. Now is the time to prepare for extreme heat waves and the rolling blackouts that can accompany them. You might not think of a heat wave as an extreme weather event like a hurricane or snow storm. But, elevated temperatures for an extended period of time can claim lives. The EPA estimates that nearly 1,300 people per year die due to extreme heat incidents, and that number has grown over time (source).
To keep you and your family safe during these extreme heat events, we've put together our top tips and recommendations so that you can prepare in advance. The best time to prepare was yesterday. The second best time is now.
Managing Blackouts
You may believe that as long as your air conditioner is working and your ceiling fans are turned on, you'll be alright during intense high temperatures. However, when everyone has the same idea and the power grid struggles to keep up with demand, rolling blackouts can occur.
A rolling blackout is a method to maintain the integrity of the power grid when there is increased demand. They are essentially controlled, temporary power outages. When everyone needs to run their air conditioning at max power, that's more than the power grid system can handle at once. By cutting access to some users for a short duration, power grid operators can prevent too much energy from being drawn.
While this is an effective way to maintain the integrity of the power grid, it can make life difficult for those who don't have access to power for several hours. That discomfort is made even more acute when temperatures are high outside (and climbing inside).
Our experts recommend several tips for managing blackouts, and they all require preparation in advance. So if you are in the midst of a heat wave with rolling blackouts on the horizon, now is the time to prepare.
Prepare today for peace of mind tomorrow.
Get occasional tips about keeping your family and home safe — delivered to your inbox.
Tip #1: Prepare Your Tools and Supplies
While not as drastic as the ice storms that knocked out power in Texas in February 2021, rolling blackouts put the responsibility on individuals to fend for themselves. When a heat wave is coming, it's up to you to prepare your household with essential items for weathering an extended power outage. This includes a backup generator, tools to cook, water, a cooling source, and lighting.
As a result, the first items we recommend updating your home with are:
Generac 8000 Watt Generator
Gowithwind: 5 Gallon Water Container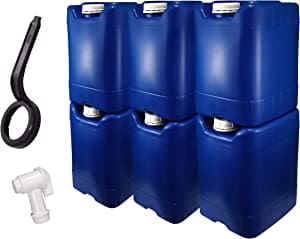 30 Gallon Emergency Water Storage
Tip #1.5: Don't Forget about Lighting
It may be less likely that a blackout will happen overnight, but being prepared will help you manage any unexpected circumstance. We take our access to lighting for granted, so we often overlook having emergency lighting in case of a power outage. Consider keeping a flashlight in multiple places around the home such as the car, bedrooms, bathrooms, and the entryway. In addition, keep one near your electrical panel. While most cell phones have a built-in flashlight, you might also want to consider keeping a flashlight on your key ring, in your pocket and/or purse, and at work.
In addition to flashlights, keep a secondary form of lighting in your home, such as lanterns or emergency candles in rooms that you gather in like the kitchen or living room. For example, a few lighting products we love and recommend are the UCO Candle Lantern and the Streamlight Pro Tac HL-X. Both can be purchased through the Batten Marketplace.
You Can't Be Over Prepared for Extreme Heat Waves
It may feel like overkill to get so many supplies at once if you are starting from zero. But according to our emergency preparation expert, Bob Newman, you can never be too prepared:
"Always have extras. Whether it is food, water, batteries, or candles, one is never enough. Make sure to always have multiple in stock, and always be on the lookout to give to those in need. For example, create a simple emergency kit of supplies so that when disaster strikes, you're ready."
The Batten Marketplace is a great place to stock up on these essentials as you prepare for extreme heat waves.
Tip #2: Ensure that food and water are easily accessible
When the power is out, you can't heat up a frozen dinner in the microwave, boil water to make pasta, or stir fry vegetables on an electric stove top.
One of the easiest ways to know that you'll have food that is power outage friendly is to keep an emergency food reserve. In case of emergencies, our experts recommend having at least three days of food for everyone in the family, including pets. A 30-day stockpile is better, especially if you can stock more of the food you are eating already.
If you have a second fridge or freezer, or additional pantry space, consider building that stockpile of food. If you are looking to build your emergency food stash from scratch, a great option is the Nutrient Survival: 72 Hour Food Kit and the 30-Day Food Kit.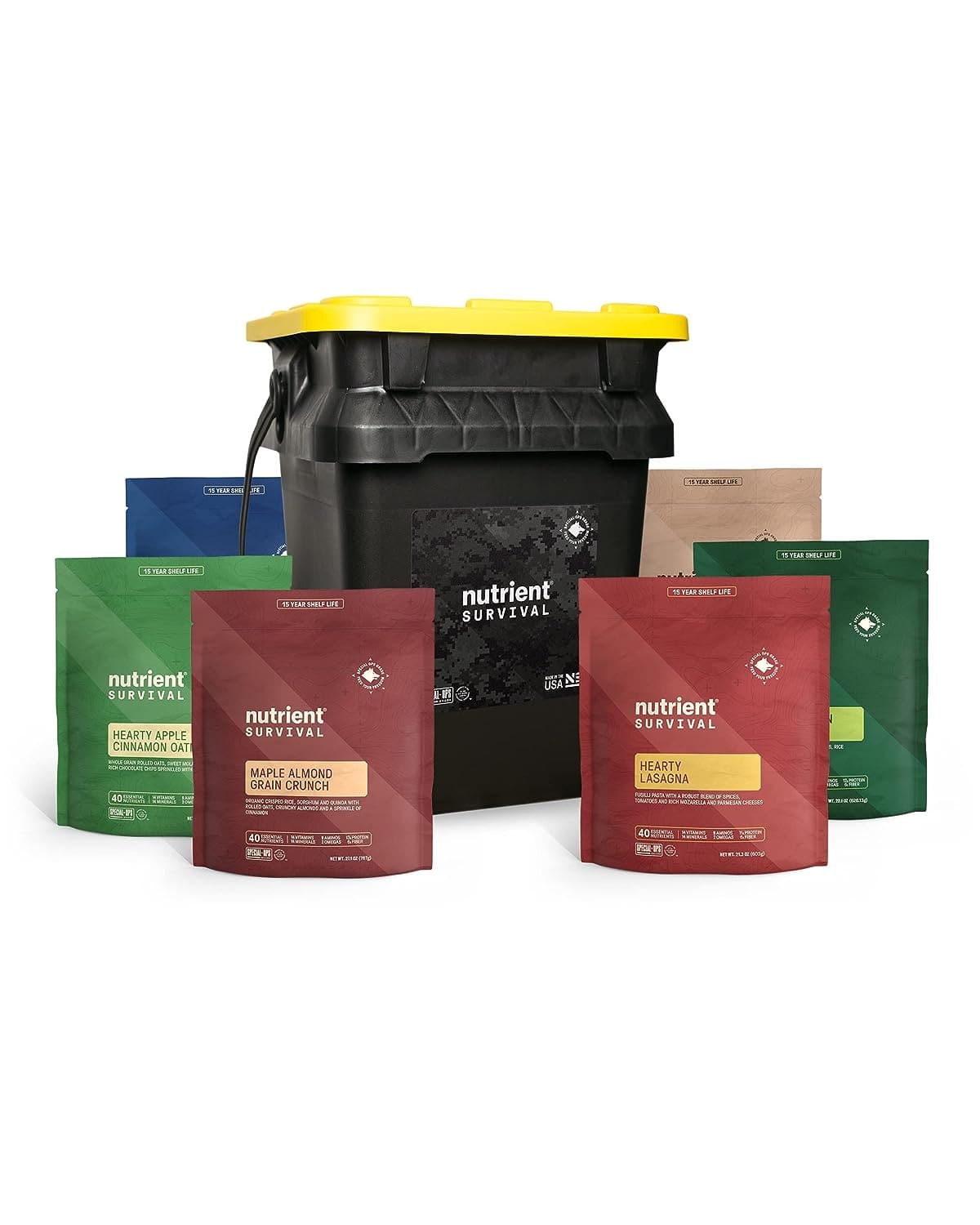 Nutrient Survival: 14 Day Emergency Food Supply
Nutrient Survival: 30-Day (240 Servings) Food Kit
However, in the case of rolling blackouts, the time you'll have to spend without power should be much shorter than three days. If you already have an emergency food stockpile, separate out what can be made without power. Or, if you lose power, you can prepare foods on a grill that is propane or wood powered.
Knowing what you can cook without access to power before a blackout happens will make things much easier if you get stuck in a blackout during dinner. If you're the chef at your house, your family will thank you.
How to Keep Cool
Power outages never seem to happen on a beautiful 70-degree day; they happen in extreme cold or extreme heat, both of which can be fatal. That's why we recommend you prepare for extreme heat waves. Some of those tools can help when the temperature drops as well.
Tip #3: Use a Portable Air Conditioning Unit Powered by a Generator
If you are looking to cover all your bases in case of an emergency, our experts suggest purchasing both a space heater and a portable air conditioner. This will ensure that you'll be comfortable no matter the season. Remember, you need a generator to operate both of these appliances. For heat waves, having a solar or gas powered generator will help you run important appliances such as that portable air conditioner and your refrigerator so that your food is less likely to spoil.
Our experts chose the Mideo Duo Quiet Portable Air Conditioning Unit as the top performing portable air conditioner. Most portable ACs are pretty similar, but the Midea model delivers better cooling performance than other models while using less energy and making less noise. There are more affordable models to choose from, but they will be noisier and less efficient.
If you choose a solar generator, make sure the generator's battery is full and that you have a designated space to charge it where the panels will receive direct sunlight. If you go with a gas powered generator, make sure you top off the gas before the heat wave. You don't want to be caught in a blackout with an empty tank.
Tip #4: Below are some
additional expert tips for staying cool when the power is out:
Close all window blinds, shades, and curtains.

Turn on ceiling fans in rooms that you are in. You don't need to run them in unoccupied rooms, as fans don't actually cool the temperature of the room, just the feel of the air temperature on your skin.

Keep drinks cold and easily available in an ice-filled cooler. You'll want to limit how often you're opening and closing the fridge while the power is out, so put cold beverages in a cooler instead.

When using a portable air conditioner, choose a size that is appropriate for the space you'll be using it in. Don't choose a 200-square-foot model for a 450-square-foot bedroom. Close all doors in the room while the AC is running to keep the cool air in that space.

Limit outside exposure. Kids and pets may still want to play outside, but when the temperature reaches triple digits, heat exhaustion and sun sickness can happen quickly. And when the power isn't on in the house, it will take longer to cool down. Focus on indoor activities that aren't too physical.

If staying cool becomes a life-threatening issue, relocate to somewhere cooler. Whether that is a friend or family's house that isn't impacted by the blackout or

looking up a Cooling Center near you

, do the research in advance to create a plan, just in case it becomes unsafe to stay where you are while temperatures are high.
Preparation is the Key to Managing Discomfort
Heat waves and rolling blackouts may be annoyances to some people, but they can be life-threatening events for others. People with physical disabilities, impacted immune systems, or weaker constitutions (babies and the elderly, for example) are especially vulnerable in a heat wave. However, even these groups can survive a heat wave induced blackout with ease by following the preparation advice of our experts. Having access to air conditioning via a generator, along with food and water, will make these temporary power outages mild events instead of full-blown catastrophes. Knowing that you can prepare for extreme heat waves and rolling blackouts will keep you cool and calm during the summer.
Don't stop at only preparing for heat waves this summer. Be prepared for natural disasters and power outages of all kinds with expert tips in our Resource blog, then make the supply purchases that best fit your needs in our Marketplace. All of the items in the marketplace were chosen by our Batten experts, so you can have peace of mind knowing that each purchase will benefit you and your loved ones when you need it most.