Florida is a haven for many families, and it's not hard to see why: It's easy to find comfort in palm trees swaying in the warm breeze, white beaches with turquoise waves stretching as far as the eye can see, and vibrant communities that welcome new faces.
Although Florida is filled with theme parks, stunning landscapes, and thriving cultural scenes, we know that the importance of home lies in how safe you feel. When choosing the right place to settle down we have to take into account crime rates, which is why we've delved deep into the data and compiled a list of the safest cities in Florida for families.
The Sunshine State has been host to many growing kids and expanding families, so let's dive deeper and discover the safest cities in Florida for families.
Key Takeaways
Florida boasts some very safe and welcoming cities for young couples and families looking to settle down.
Weston, Parkland, and Coral Springs are some of the highest-ranked Florida cities on safety.
Florida has managed to lower crime by 10% over the past few years.
Families are concerned with gun violence, violent crime, property crime, package theft, and cybercrime across the nation.
10 Safest Cities in Florida for 2023
Weston
Nestled on the outskirts of Fort Lauderdale, Weston has a good reputation for being a safe city known for lush landscapes, top-notch schools for the little ones, and many family-oriented activities and active communities. With a 77% lower crime rate than the national average, Weston is a bubble of communities that offers a secure environment without sacrificing a vibrant social scene.
Weston's crime rate is significantly lower than the national average, with violent crimes rare. According to recent statistics, Weston's violent crime rate is about 85% lower than the national average, and property crime is about 52% lower. The city's design promotes safety with plenty of open spaces and well-lit streets, while the Broward County Sheriff's Office provides comprehensive law enforcement services. Community programs and active neighborhood watch groups also contribute to deterring crime. These factors combined make Weston an exemplar of public safety.
Parkland
Parkland has a thing for parks – hence the name. This suburban dreamland might have been witness to an awful crime a few years ago – but this has made for a tight-knit community where safety is the priority and everyone's got their well-practiced, friendly neighborhood greeting. There's a patch of grass for every activity you can think of, along with great schools and unforgettable sunsets you can enjoy with the fam, as well as low crime rates and a pretty decent chance you won't be affected by property and other crime.
Coral Springs
Coral Springs is a cozy hideaway that prides itself on safety and a vibrant community that connects through many playgrounds, parks, cultural events, and high-spirited nightlife without sacrificing security. This sunny city is filled with A-grade schools and low crime rates that keep families safe and sound all year round. Plus, over 70% of the neighbors agree that they generally feel safe and believe law enforcement is effective in protecting them.
Crime Rate: Coral Springs has a lower crime rate compared to national averages, with a rate of 16 per 1,000 residents. The likelihood of being a victim of crime in North Coral Springs is as low as 1 in 110, indicating a high level of safety.
Family Security: The city's neighborhoods, such as Cypress Glen, Oakwood, Turtle Run, and Westchester, are ranked among the safest, contributing to a secure environment for families. The community places a strong emphasis on security and family-oriented living.
Public Safety Services: Coral Springs is served by a professional police department and has various community programs aimed at maintaining safety and security, including crime prevention, neighborhood watch programs, and safety awareness campaigns.
School Safety: The schools within the Broward County Public School system, which serves Coral Springs, have safety protocols and emergency preparedness plans to ensure the security of students and staff.
Recreational Safety: Parks and recreational facilities in Coral Springs are designed with safety in mind, featuring well-maintained equipment, proper lighting, and regular patrols.
Naples
If what you're after is the beauty of coastal living, Naples might just be the ideal place to settle down with your family (add in a lower crime rate than the national average and you've got a double win). With tons of beaches begging for family picnics and a safe environment where young and old can run around and have fun, Naples's laid-back elegance is a sight to behold.
Palm Beach Gardens
Safer than over a quarter of cities in the U.S., Palm Beach Gardens stands out as a safe haven for families looking to resettle. While a laid-back atmosphere is great for some families, others may be looking for a Florida city that combines sophistication with safety. Palm Beach Gardens stands out as a place where palm trees, peace, and shopping sprees come together to provide a lively atmosphere for families of all types.
Palm Beach Gardens, Florida, stands out for its safety and family-friendly atmosphere. The city boasts a violent crime rate that is significantly lower than the national average, with a figure of 9.9 compared to the US average of 22.7. This lower incidence of violent crime contributes to a sense of well-being and security for families and residents.
In terms of property crime, Palm Beach Gardens also reports lower rates than the national average. The presence of a home security system can further decrease the chances of property-related offenses, enhancing the security of residential areas.
The overall crime rates in Palm Beach Gardens are 23% lower than the national figures, with violent crimes being 71% lower. This substantial difference underscores the city's appeal as a secure environment for raising a family.
Educational institutions in the area, such as The Benjamin School, prioritize student safety with gated campuses and strict visitor protocols, ensuring a protected learning environment. Additionally, the city's inclusion in lists of Florida's safest cities by organizations like SafeWise, which assess FBI crime data, speaks to its reputation for safety.
The local police department's commitment to community policing and safety initiatives further strengthens the city's security. These concerted efforts by law enforcement and community leaders help maintain Palm Beach Gardens as a desirable destination for families seeking a secure and peaceful lifestyle.
Wellington
Suburban charm and the peace of the great outdoors come together in Wellington, an equestrian community that's perfect if any of your little ones dream of the Wild West. With an A Overall Crime Grade in violent crime, it's also a safe space for you and your family to enjoy. With stunning landscapes, top-notch schools, and crime rates that are on vacation, this cozy city stands out as a safe and valuable option for young families to settle into.
Wellington, Florida, is characterized by its safe neighborhoods and low crime rates, which are appealing for families and residents prioritizing security. The total crime index for Wellington is safer than 54% of U.S. neighborhoods. The annual crime figures show a low number of violent crimes at 73 incidents, translating to a rate of 1.19 per 1,000 residents. This rate is significantly lower than both the Florida and national medians, indicating a lower chance of becoming a victim of violent crime in Wellington.
The property crime rate in Wellington is also favorable, with 477 incidents reported, or 7.76 per 1,000 residents. This is substantially lower than the state and national medians. The likelihood of becoming a victim of property crime in Wellington is lower compared to the rest of Florida.
Wellington's neighborhoods, such as Paddock Park, Isles at Wellington, and Wellington Green, are known for their safety and community engagement. The local law enforcement's commitment to safety is reflected in the low crime rates and the community's overall sense of security. These factors contribute to Wellington's reputation as a secure and family-friendly city.
Aventura
Miami has its reputation, and although it's a fun place, it might not be on the top of your list if you're thinking of moving your family to Florida. Aventura is the family-friendly alternative to Miami – all the style, fun, sun, and craziness, but with added safety and a tight-knit community that lets you soak up city vibes without worrying about city problems. Its crime rates are below the national average, which should give you peace of mind.
ventura, Florida, is proactive in maintaining safety and security for its residents and visitors. The Aventura Police Department provides yearly crime statistics, reflecting the city's commitment to transparency and crime prevention. They offer security surveys and educational seminars to raise awareness and enhance community safety.
The community's concern for safety is also evident in initiatives like petitions for increased security at places like the Aventura Mall, indicating an active public interest in maintaining a secure environment.
Furthermore, significant investments have been made in safety initiatives, including $159 million for improving road safety for families and visitors, and $46.6 million for bike and pedestrian trails, which not only promote a healthy lifestyle but also ensure safer pedestrian and cycling routes.
Facilities like Regents Park at Aventura prioritize safety and security, ensuring peace of mind for residents and their families. The city's land development regulations also reflect a focus on safe and secure residential developments.
For those who frequent the Aventura Mall, the management has put in place stringent health and safety guidelines to ensure the well-being of all guests.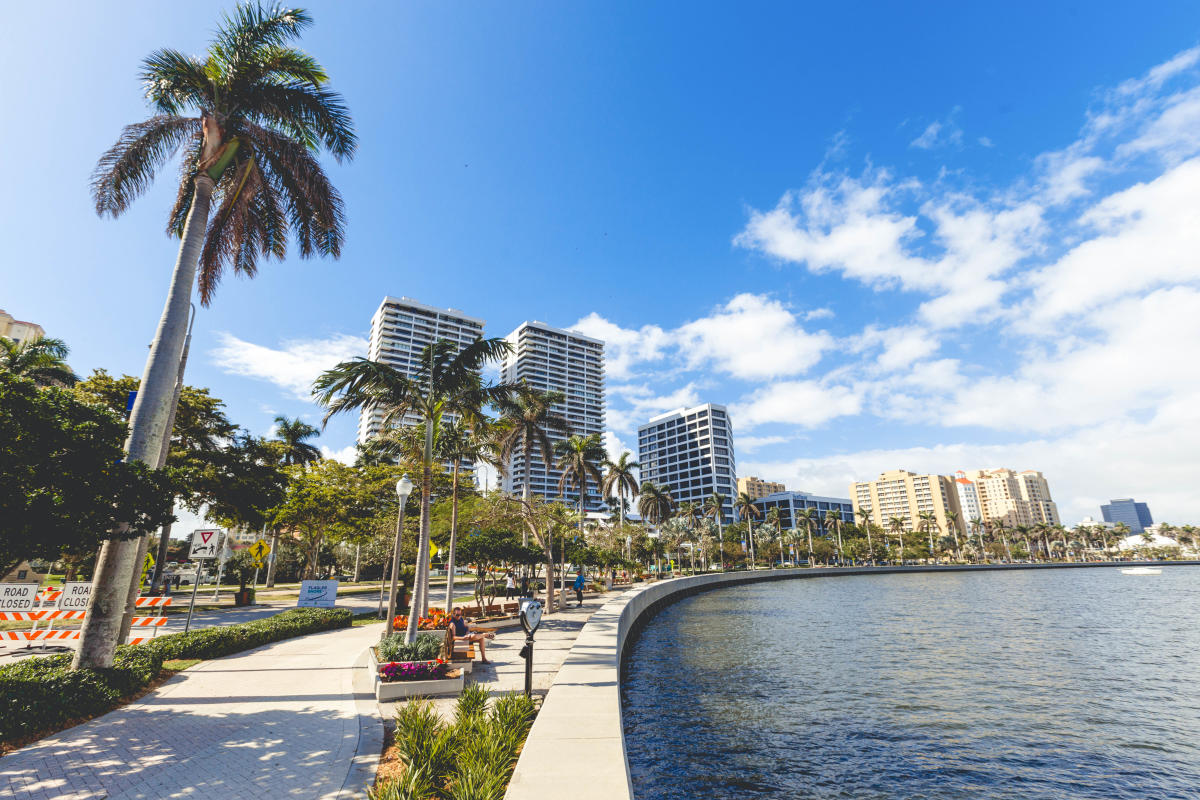 West Palm Beach
West Palm Beach is another coastal option that would have you and your family soaking up the sun without worry on a snow-white sandy beach. It's got all the allure of more urban areas, but with low crime rates and lots of natural space, it just feels like a place where the beach day never ends.
West Palm Beach, Florida, has made significant strides in reducing crime and enhancing safety. The crime rate has seen a dramatic drop since the mid-1990s, and the city is no longer listed among the most dangerous in Florida. Most violent crime is concentrated in a specific area, with the majority of residents feeling safe, even at night. The city offers historic and safe neighborhoods for living, working, and relaxation.
The West Palm Beach crime rate, based on 2019 FBI statistics, includes 4,724 total crimes per 100,000 people, with 3,805 property crimes and 919 violent crimes per 100,000 residents. This translates to a 1 in 21 chance of being a victim of any crime. The violent crime rate is notably higher than the national average, with a murder rate nearly five times higher than the national average.
Property crime in 2019 included 3,290 larcenies or thefts, 578 burglaries, 381 car thefts, and 20 arsons. Violent crimes included 568 aggravated assaults, 354 robberies, 77 rapes, and 27 homicides. The city has taken steps to combat crime, especially in high-risk areas, with targeted police patrols and community engagement.
While most of West Palm Beach is safe, some areas, particularly in the Northwest, have higher crime rates and should be approached with caution. Safe neighborhoods include El Cid, Flamingo Parks, Prospect Park, and Southend, which offer a high quality of life with lower crime rates.
For those considering a move or visit to West Palm Beach, it's advisable to stay informed about the areas you plan to frequent and take standard safety precautions, such as being aware of your surroundings, especially at night, and securing your property. The West Palm Beach Police Department employs technology and community policing to further reduce crime and improve safety throughout the city.
Doral
With Miami nearby, Doral is a haven from the city that keeps you in the urban loop with added safety and a sense of community. Doral is the land of opportunities – so if you're an entrepreneur looking to relocate your family, it's worth a look. With crime rates well below the national average, the city takes pride in keeping its residents safe. It's all about safety, community, creativity, and business, so if that's your thing, take a trip down to this charming city.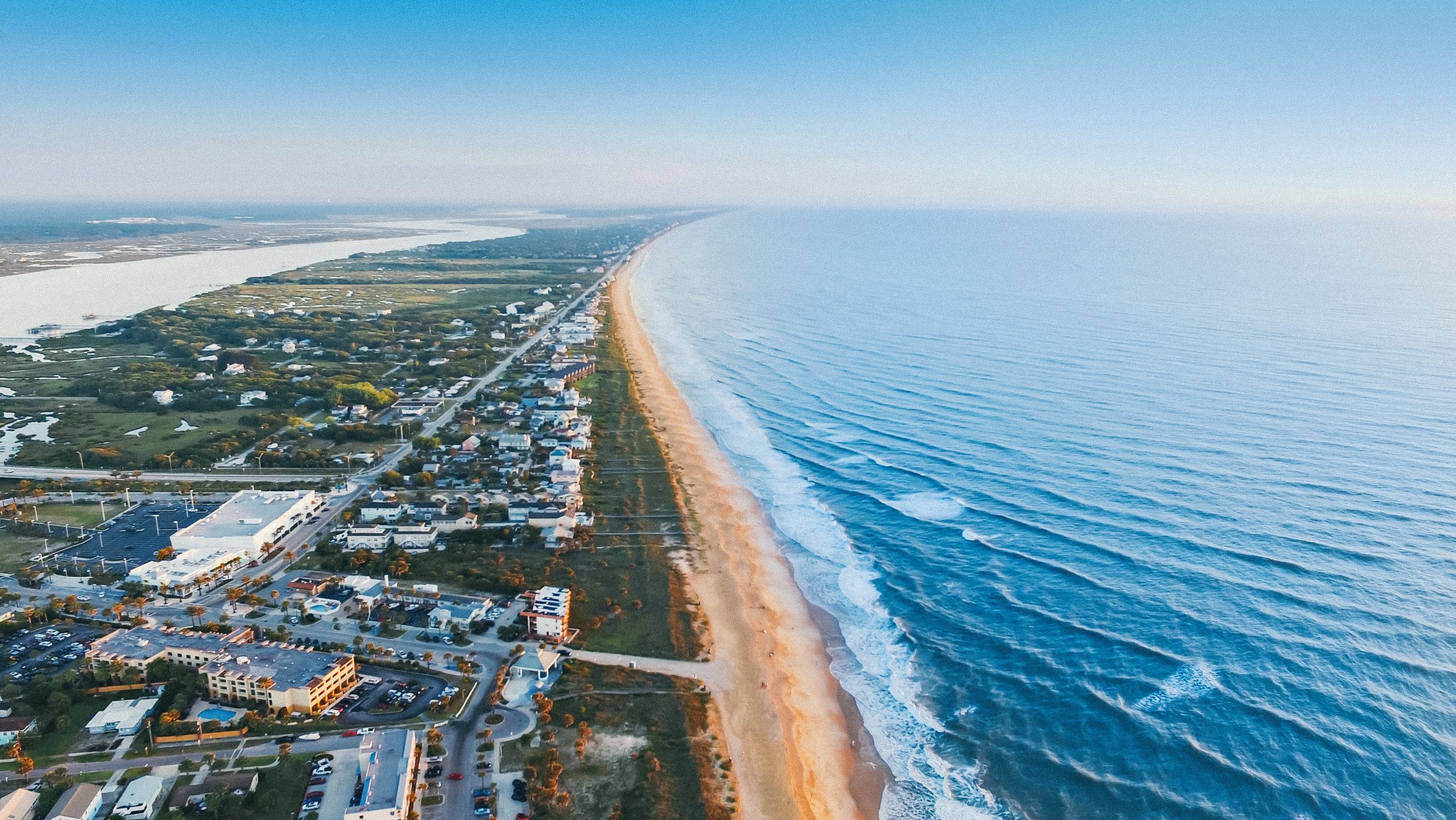 Port St. Lucie
Last, but certainly not least, Port St. Lucie is an attractive option for families who want low crime rates and a sun that's always shining. Safer than over half of cities in the country, Port St. Lucies filled with affordable homes and family-friendly vibes, with lots of good schools and plenty of spacious parks. Port St. Lucie is filled with artful community events, so it's a great option for the creative family.
2023 Florida Crime Rates
Florida brings tourists and potential homeowners from all around, thanks to golden beaches, lively attractions, and the sea breeze, becoming a reassuring option for those in search of security and community. Florida has multiple cities ranking among the safest in the entire nation, with the state renowned for its high spot on the top-tier states for security.
In past years, crime rates have dipped, thanks to Florida's commitment to keeping the state a safe place for people of all ages and places. It's seen an almost 10% decrease, with violent and property crimes rapidly descending.
Florida's Level of Concern and Experience with Crime
In any state, crime is a concern because it's proven impossible to live completely crime-free. However, Florida has managed to make safety a priority. Concerns about property and violent crimes are a concern, but safe cities and robust security measures make for many family-friendly places to call home.
Experience with crime has caused communities to come together and rally for more security measures, an impact that is seen as fruitful through lowering crime rates. Collective efforts mean that personal vigilance, community engagement, and modern security tools keep Floridians safe and sound, ensuring everyone can enjoy the beauty of the state.
Florida's Crime Concerns
Gun Violence
Gun violence is a worry in every part of the nation, and Florida's gun laws might make you wonder if your family is safe. However, Florida's efforts are apparent in its comparative statistics, with many cities (including the ones we've mentioned) boasting gun violence rates far lower than the national average.
Violent Crime
Violent crime is the heavyweight of criminal offenses, and it can be a concern for families looking to steer clear of assault, robbery, and murder. Florida's commitment to security is visible here too, with decreasing violent crime rates and active commitment to maintaining secure communities and diminishing violence.
Property Crime
Property crime is another concern for homeowners and can disrupt lives in the blink of an eye. Thankfully, the cities in our list extend Florida's commitment to safety in homes too, with a reported rate of 17 property crimes per 1,000 residents – under the national average.
The state is doing its part to keep residents safe, but you can also add extra layers of security for your own peace of mind. Adding an alarm, like GE's Personal Window and Door Security Alarm, can keep your mind at ease and help ward off any potential intruder. Think of it like having your own personal vigilant assistant who's always on the lookout, alerting you to any suspicious activity or letting you know when the Girl Scout Cookies roll around.
Package Theft
If you're prone to ordering Amazon packages, you might be worried about package theft. While the security and safety of nice neighborhoods are usually enough to ward off naughty hands, you can also introduce your own allies in the battle against package pilfering.
Investing in a security system like the Blink Mini Smart Indoor Security Camera can help ensure your cherished packages remain on the doorstep until you have a chance to grab them. With day and night monitoring capabilities and two-way audio that keeps you present even when you're not home, your packages will be safe and sound.
Safeguarding Your Home
You and your family deserve a home that is more than just a place to lay your head down at the end of the day – it should be your sanctuary and deserves only the best protection. With Florida's laws and commitment to safety setting the stage, we've come up with a trio of innovative guardians that can help elevate security and give you peace of mind.
Blink Mini Smart Indoor Security Camera
For a hands-on approach to what's going on at home, we suggest getting a camera like the Blink Mini Smart Indoor Security Camera. This diligent sentry is a compact way to have 1080P video and motion detection at your fingertips, whether you install it inside or on the porch.
GE Personal Window and Doors Security Alarm
With an alarm system like the GE Personal Window and Door Security Alarm, you can embrace safety and security without sacrificing simplicity. This device seems unassuming, but the potent 120-decibel alarm screams at the slightest intrusion, deterring criminals and alerting you to any suspicious activity.
Schlage Encode Smart Wi-Fi Deadbolt
If you've ever wanted to be able to control your door from your phone, the Schlage Encode Smart Wi-Fi Deadbolt is perfect for you. Using Wi-Fi, you can lock and unlock from anywhere and create access codes for family and trusted friends, keeping a watchful eye on who can get inside, even when you're not around.
Safety in Florida: Frequently Asked Questions
What is the Number One Crime in Florida?
Property crime is one of the top concerns for crime in the state of Florida.
Where is the Safest Place to Live in Florida?
Some of the safest cities to live in Florida include Weston, Parkland, and Coral Springs.
What Are Violent Crimes in Florida?
Violent crimes in Florida can be considered assault, robbery, murder, and other crimes that attempt against someone's physical safety.
Where is the Safest Place to Live in the US?
Cities in Florida like Naples and Port St. Lucie are considered some of the safest cities in the U.S.