When it comes to Halloween, some people turn off all the lights in their house, scaring away children who might ask for candy. For others, you would rather host a spooky dinner party or binge-watch scary movies. Either way, if you are accepting trick-or-treaters, it can feel like a free for all for people entering your home.
While we'd like to think that nothing can go wrong during a holiday of such frivolity. That's why it's important to protect your home, to avoid the chance of your home becoming a target for those looking to spread more tricks than treats.
Prepare today for peace of mind tomorrow.
Get occasional tips about keeping your family and home safe — delivered to your inbox.
Why Choose a Smart Video Doorbell
Smart video doorbells are somewhat of a novelty. Most people are familiar with the Ring video doorbell as they were one of the first companies to offer a standalone video doorbell as its own self-contained security system, without additional cameras, detectors, and other doohickeys. However, after the popularity of standalone video doorbells took off, other companies began offering their own take on the video doorbell or included a version of it that worked in tandem with a full suite of other smart home devices.
Today, video doorbells are affordable and renter-friendly home security options, whether you are considering a more robust security system or not. With options ranging in price, wired versus wireless, and a range of installation options from peel and stick to screw plates, there's nearly a video doorbell option for every type of housing situation. You can even use them in a mobile home or RV!
The simplest reason to choose a smart video doorbell is that it's the first line of defense when it comes to your home's security. With a view that often captures your front yard, driveway, or walk-up to an apartment, you can keep a thorough eye on who is passing by or coming to your front door. Depending on your doorbell's functionality and the notification settings you enable, your phone will alert you when someone is making a package or food delivery.
With choices between local storage and cloud storage, you can also choose how long you have access to security clips, and if they are stored on your device or accessible via the app. Cloud storage is a great option if you like to hold on to the storage longer. Sometimes free cloud storage is even included for free. If that isn't a top priority, local storage will work just fine for you. And if your home doesn't have a doorbell currently installed, a video doorbell camera often comes with electronic chime speakers that can be placed inside the house, so you'll know when someone rings the doorbell.
On Halloween, you can actively greet party guests as they arrive with motion detection notifications to your phone or hand out candy to trick-or-treaters. If your neighborhood is known for tricksters on this night of mischief, you'll have video evidence if anyone does anything naughty.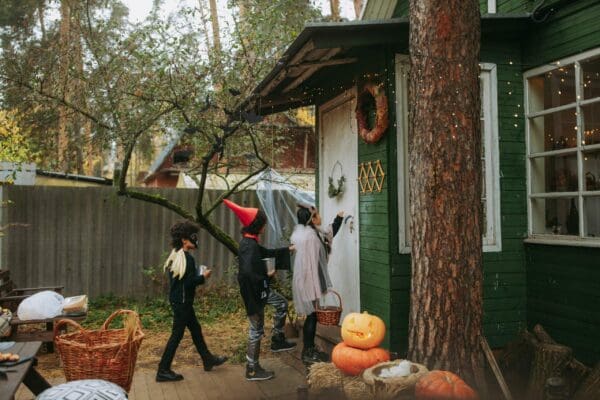 What's the Best Video Doorbell Camera?
We're going to walk through our top three favorite video doorbells that you can easily install before Halloween comes around and that will protect you and your home through the rest of the holiday season and well into the new year.
Kangaroo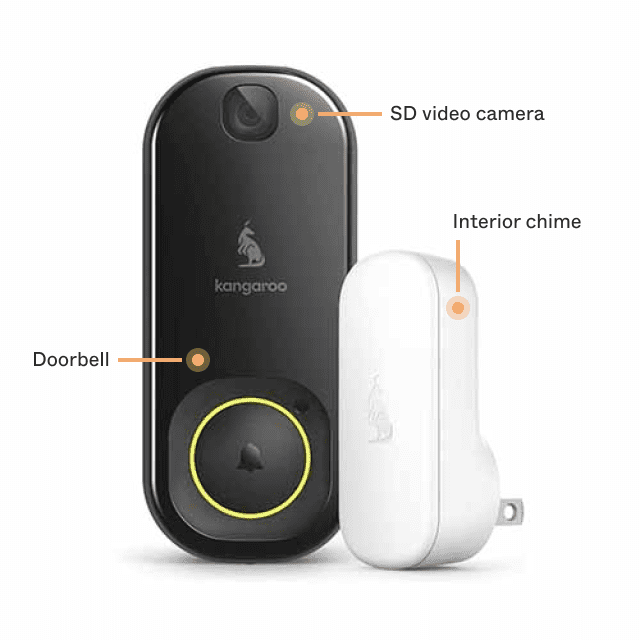 While the name may not evoke home security cameras, Kangaroo's line of video doorbells keep things simple and easy to use. Our experts at Batten highly recommend the Kangaroo Smart Photo Doorbell + Indoor Chime. This video doorbell is an excellent choice for novice DIYers, spouses who are being voluntold to install any kind of security camera out by the front door, and everyone with a house old enough to not have a wired doorbell system.
If power tools make you a little nervous, Kangaroo has made installing the Smart Photo Doorbell + Indoor Chime a breezy afternoon project. You can choose two methods for mounting: Peel and Stick or Screw Mount (with the backing included). Depending on your motivation and/or confidence level, you can make your Kangaroo install as temporary or permanent as you want. And since it's powered by two AA batteries, you don't have to worry about electrocuting yourself while trying to wire your new doorbell camera into your home's electrical grid. So for anyone with a 100-year-old bungalow dealing with the "charm" of age-old wiring, you'll appreciate the battery-powered functionality.
Did we mention it's also one of the most affordable of all the video doorbells currently on the market? At under $50, it's currently holding the crown for the top-budget video doorbell.
Eufy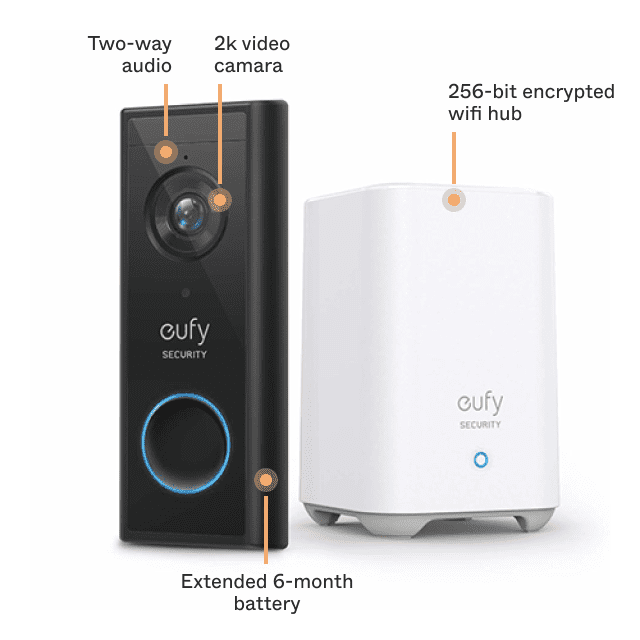 Eufy: Wireless 2k Video Doorbell
If you've heard of a Eufy video doorbell, you've probably looked into security camera options that don't require hardwiring or long-term contracts. Eufy accomplishes both those things, as well as providing the option for self-monitoring instead of professional monitoring through your video doorbell.
We specifically like the Eufy: Wireless 2k Video Doorbell because of its:
reasonable cost
excellent video quality (including night vision)
best-in-class battery life
and easy-to-use mobile app
If all that doesn't get your attention, maybe this will: with their proprietary next-level detection, you have total control over what is detected through the use of the motion sensor, smart human detection, and activity zones. Using their mobile app, you can receive real-time alerts when anyone approaches so that you never miss a delivery or keep guests waiting. Which sounds like the perfect solution for anticipating Halloween guests or trick-or-treaters at the door.
Arlo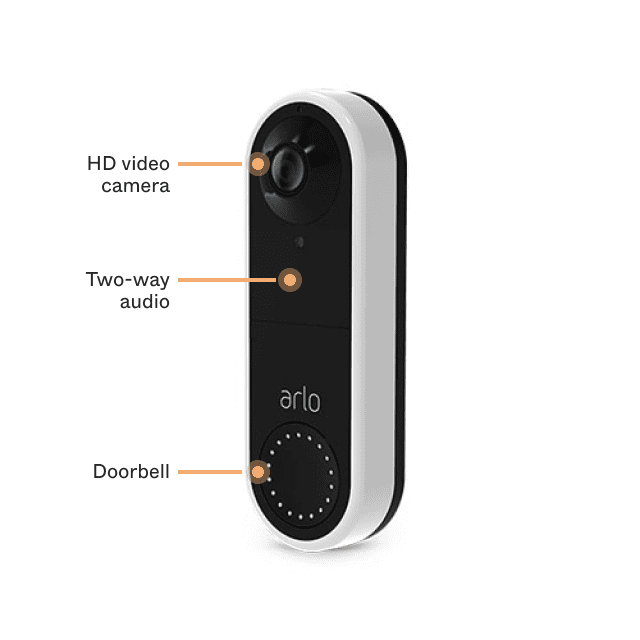 Arlo: Wireless HD Video Doorbell
Are you tired of getting security alerts because your dogs have the zoomies in the living room? With Arlo's AI software in their video doorbells, those days are long gone. Our experts also like the sleek and functional design that allows for two-way audio communication. So if there's someone who looks suspicious at the front door long after any appropriate time to ask for candy on Halloween night, you can politely tell them to leave right from the safety of your phone. We also like the Arlo video doorbell because you can customize the detection zones within view of the camera on the doorbell. The Arlo video doorbell is a great option because of their customizable motion zones and two-way audio communication.
Another plus? They offer two options for the same quality video doorbell: a wired and wireless video doorbell. If you already have existing doorbell wiring, you can easily replace it with this video option. And if not, the battery-powered doorbell camera offers the same exact features and functionality.
There's Still Time to Install a Smart Doorbell Camera
With Halloween just around the corner (at time of publishing), installing video doorbell cameras is actually a feasible task. Especially if you go with one of the wireless installation options for your doorbell video cameras, all you need are to peel and stick to install and ensure the batteries are charged and ready to go. Install the app on your phone, connect to your device, and get to customizing your notification preferences. You'll be ready for trick-or-treaters, party guests, and tricksters on Halloween night alike!
Don't know where to start when it comes to video doorbell options? View all of our expert-vetted home security solutions in our Marketplace. You'll find the best and easiest-to-use options chosen by our home security advisers directly.