Adding a video doorbell system is a great way to protect your home. Video doorbells can help give you additional peace of mind when you are away by acting as a deterrent to burglars, as well as being able to quickly alert you to damage to your home. 
Deciding that you need a video doorbell camera is only the first step. Two of the best, in our opinion, are Arlo and Eufy. 
Read on for more information about both Arlo and Eufy. We will compare features and explore the benefits of choosing each system, so you can make the right decision for your home. Read why we have selected Eufy and Arlo as our favorite video doorbell cameras out of all the market options.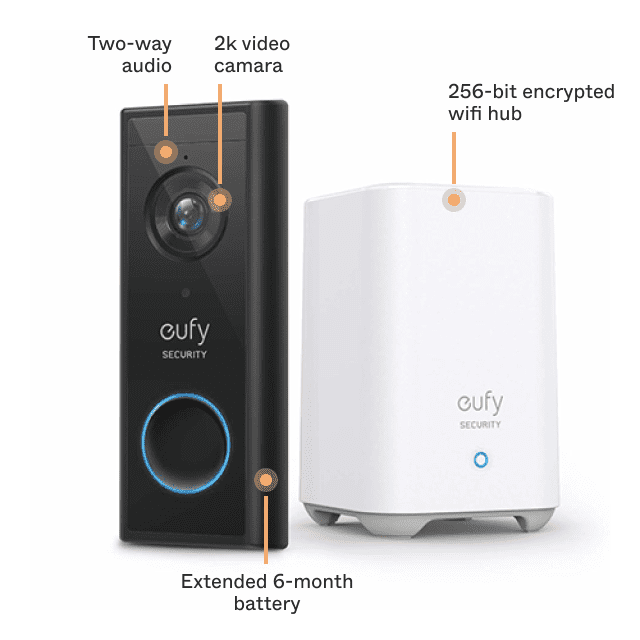 Eufy: Wireless 2k Video Doorbell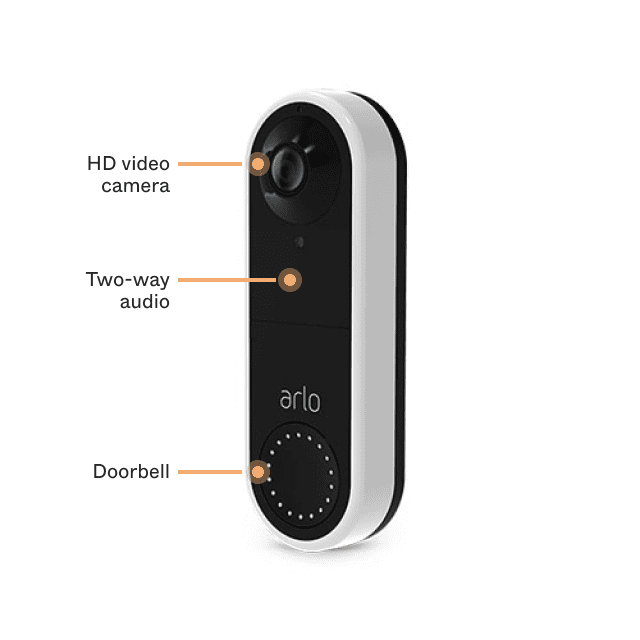 Arlo: Wireless HD Video Doorbell
Eufy v. Arlo: A Quick Summary
The features we are considering when comparing these two companies are:
Installation & Usability

Monitoring 

Models & Equipment

Features

Pricing

Customer Service
By comparing and evaluating what each company offers for these factors, you should get all the information you need to make an educated decision. 
Eufy v. Arlo: Monitoring
Video doorbells can be monitored or unmonitored. A monitored system is actively monitored by the home security company. In the event that the system goes off, due to an emergency situation, the security team is alerted. The security team then takes steps to address the problem and notify you. 
If the security system is unmonitored, it means there is no one actively monitoring it. You may be able to view the footage back or watch it, but there are no professionals ready to address problems as they arise. 
There are pros and cons to both methods. Monitored systems respond more quickly to issues, but unmonitored systems are more cost-effective. 
Eufy Monitoring
Eufy's video doorbell system doesn't offer an option for monitoring. However, they do have storage to keep video clips so you can watch the footage as necessary. The lack of monitoring means no subscription fee is required. Once you buy your cameras, you are ready to go. 
Arlo Monitoring
If you choose to go with an Arlo video doorbell system, be prepared to subscribe to their monthly monitoring plan. The monthly plan gives you the ability to record any footage and watch it at a later date, as well as gives you more power over the number and type of notifications you receive. 
You can get an Arlo system without the subscription, but you'll only have access to your live feed and you'll receive a notification every time any motion is detected by one of your cameras. 
Arlo offers different plans, starting at $2.99 per month, per camera. At the time of writing, purchasing an Arlo system also comes with a free trial of their subscription service, so you can try before you fully commit. 
Eufy v. Arlo: Models & Equipment
Video doorbell systems are a lot more than cameras! Different companies may offer doorbell cameras, motion detectors, glass break detectors, and more, in addition to traditional security cameras. 
In many cases, security cameras are not just cameras anymore! The cameras themselves may vary in range, night vision, spotlights, video and audio capture, and special features like motion detection. 
Eufy and Arlo are evenly matched when it comes to general video and audio capture. 
Eufy Models & Equipment
Pros
Floodlight cameras

Color footage

Good general Video and audio capture
Cons
No 4K camera option

Narrow field of vision

Bulky design
Arlo Models & Equipment
Pros
Floodlight cameras

Color footage

Good general video and audio capture

Sleek design

4K camera option

Wide field of vision
Cons
Eufy v. Arlo: Features
Features can take your home security to the next level. From apps to compatibility with other technologies, these features can help make your decision easier. 
Eufy Features
Battery-powered 

Weatherproof 

Easy-to-use app

Integrate with Alexa or Google Home
Arlo Features
Integrate with Apple HomeKit, Alexa, or Google Home

Geofencing

Scheduling

Notification options

Easy-to-use app
Eufy v. Arlo: Pricing
Comparing pricing between Eufy and Arlo means comparing value. Eufy is more cost-effective, with no subscription or monitoring fee required to watch back footage. Arlo offers higher resolution video, and to get the most out of an Arlo security set-up, you really should consider getting a monthly subscription. 
With a Eufy system, you get lower pricing overall. Arlo gives you more bang for your buck. You can get a Eufy video doorbell system for $169 and an Arlo video doorbell system for $179. 
Eufy v. Arlo: Installation & Usability
Both systems require a base system to be set up in your house, but both systems have battery-operated equipment to choose from. 
Eufy Installation & Usability
While Eufy is widely considered to be simple to use, you will have to get it set up by yourself. There are a lot of resources available to do this, but troubleshooting can be tricky!
Arlo Installation & Usability
Arlo partners with OnTech for its installation. Set up an appointment through Arlo's website, and the technician will arrive at your house and install. There is a fee for this installation, and an additional one if you need the technician to return to your house for any reason. 
Arlo's app and integrations make the system easy to use once it's set up, and the on-site technician can help answer any questions while they get you set up. 
Eufy v. Arlo: Customer Service
Eufy Customer Service
The Eufy website has a robust support page, with video, community message boards, and FAQs. The page is divided up by product, so identify the product before you get there. 
Customer service is available via email, online chat, or phone call. 
Arlo Customer Service 
The Arlo website features a support section with videos and articles that can answer questions or help with troubleshooting. If you're really stuck in a bind, you can always pay for OnTech to help you with any technical problems you might be having or ask on Arlo's community boards. 
Support is also available via email, chat, and directly from the app. 
Who is the Arlo System Best for?
The Arlo system is best for tech-savvy early adopters who want the latest and greatest and don't mind paying for it. Arlo has more advanced cameras and features, integration with Apple HomeKit, and monitoring. 
Who is the Eufy System Best for?
The Eufy system is best for anyone who wants to set their security cameras up, and never worry about them again. Eufy's equipment is simple as is using the system.
Choosing Your Video Doorbell System
Once you are ready to choose your own home security camera system, check out the selection of Video Doorbell Systems on the Batten Marketplace!