Why You Need to Know About Identity Theft
Twenty years ago, the thought of providing your address, credit card information, birthdate, or social security number over the internet was the ultimate fear of parents whose children were coming of age at the dawn of the new internet era. Now, in 2022, we don't think twice about applying for a mortgage online or buying frivolous products through social media. And all of that personal information is kept on the web.
As our collective acceptance of sharing personal information via the internet has grown, so too has the rate of identity theft and fraud.
As the Federal Trade Commission reported, from 2019 to 2020, the number of fraud reports increased 21% from 1.9 to 2.3 million.
It seems that while many of us were quarantining and spending more time online, cybercriminals were taking advantage of that.
Identity theft can have a huge impact on an individual's personal life, taking a toll on their finances, credit, and quality of life. Understanding what identity theft is, how to prevent it, and what to do if you are a victim of identity theft will be covered in this article.
Prepare today for peace of mind tomorrow.
Get occasional tips about keeping your family and home safe — delivered to your inbox.
Understanding Identity Theft
Identity theft is the theft of someone's identity information for fraudulent or nefarious purposes. People who steal your identity info can use that to apply for credit card applications, tax returns, medical care, and more. These actions can damage your credit rating, on top of the financial damage of having accounts opened in your name that you did not request. It can take a significant amount of time, and sometimes money, to restore access to your accounts and improve your credit rating.
How Identity Theft Happens
Knowing how identity theft occurs is a great first step in your personal information security journey. Often times, identity theft victims don't even know that they are a victim because they don't know how their personal information was stolen.
Here are the top ways that identity theft occurs so that you can take the necessary steps to prevent it from happening to you:
Trash diving: Exactly what it sounds like. Someone goes through your trash to find documents or discarded mail that have your personal information on it.
Mail theft: Similar to trash rummaging, identity thieves take your mail that has pertinent info on it for their own use. Credit card statements, mortgage bills, bank statements, medical bills, and more all have sensitive information on them.
Eavesdropping and Peeking: When someone listens in on your phone calls or looks over your shoulder while you are using your computer or cell phone to steal your info.
Phishing schemes: When criminals impersonate someone else, a business, or a government entity over the phone, trying to swindle you into sharing important information.
Credit/debit card theft: Either physically stealing or copying your card info to use online.
If you remain vigilant about who you share your personal information with and only do so when absolutely necessary, and not over the phone, through sketchy emails, or on questionable websites, you can make it more difficult for would-be cybercriminals.

How to Spot and Check for Identity Theft
Knowing how to spot identity theft can prevent additional heartache than when left unchecked. Stopping an identity thief before they can do real damage to your personal information and credit score is the best you can hope for once your personal information has been stolen and/or compromised.
When it comes to monitoring for identity theft, there are several things to look for:
You get a credit or debit card alert for a purchase that you didn't make.
There's been a change to your credit score (more than just a couple of points) even when you haven't made any inquiries or opened/closed any accounts.
When you apply for a loan or credit application, you are denied unexpectedly.
You get a notification that your information was involved in data breaches.
A new account that you didn't open appears on your credit report.
You start receiving mail at your address under someone else's name.
A tax return was filed under your name before you did your annual filing.
You get notifications for your passwords changing on shopping websites as well as banking profiles. Passwords that you didn't change.
All of these instances have the potential to be instances of identity theft. The key is to take into account any additional context. Did you move recently? The instance of mail at your address on someone else's name could simply be a lack of a mail forwarding by the previous occupants. Do you have another authorized user on your credit card? See if they made that purchase you didn't recognize.
However, if any of these things happen and there isn't an immediate logical explanation, dig deeper. Detecting instances of identity theft early can mitigate the potential impact for future damage to your financial accounts and credit score. Your top priority will be to prevent identity thieves from doing any more damage.
Harm Identity Theft Can Cause
Identity theft has the potential to cause long term harm to your finances and credit score. When cybercriminals take your information to open new accounts, make purchases without your consent, or even pay for medical bills unrelated to you, they are not only stealing from you. They are also hurting your credit score and financial reputation.
Financial Impact
There's a reason why common financial advice is to never pay for gas at the gas pump with a debit card: it's all too easy to steal your information and gain access to your bank account. While having your credit card information stolen is also a major problem, once an identity thief gains access to your debit card and bank account, it is much longer, timelier process to stop errant purchases and have that money returned to you, if it even happens at all. Financial identity theft is a major crime that unfortunately is all too common.
Credit Score Impact
If you use a credit score tracking service through one of the major credit bureaus or via your credit card provider, you may receive updates when your credit score changes. This is a great tool to keep an eye out for if your identity information has been stolen and put to nefarious uses. When cybercriminals use your personal information to apply for credit cards, mortgages, loans, tax returns, and anything else they don't want to pay for themselves, it's YOUR credit score that takes a hit. We've even seen medical identity theft happen and that can be even more difficult to untangle than simple financial identity theft.
Your credit score is impacted by how many credit inquiries you have within a given time frame (usually a year), the number of accounts you have open, if you have any late payments, and more. If someone opens an account in your name that you don't know about, and you don't make payments on it, your credit score will take a hit. That's why it's so important to keep tabs on your credit report and what accounts are on it. Sign up to get regular credit report updates from the three major credit bureaus.
What should I do if I'm a victim of ID theft?
If you believe or have concrete evidence that you've been a victim of identity theft, the important thing is to act quickly. Here are a series of steps that you can take to lock down your personal identity information and prevent the cybercriminals from doing any more damage. You'll want to report identity theft to any business where you suspect that there has been fraudulent activity.
Review your credit reports. Determine what accounts and/or purchases were not made by you so that you can report them. You can report these to the appropriate businesses as fraud so that they can take action to prevent identity thieves from doing any more damage.
Freeze any credit accounts. Most major credit card companies offer a Freeze feature, which locks down your card. This is a great tool to use whether you misplace your wallet, your credit card gets stolen, or you think your information is the result of identity theft.
Freeze your credit reports. This will prevent anyone from opening any new accounts that require your credit information.
Update your login information for your financial accounts. Ensure that your login details haven't been updated (address, email, password, username, etc.) and if they haven't, immediately update them to a stronger password and enable 2-factor authentication. This is a great time to invest in a password manager so that you can start using very strong passwords without needing to write them down somewhere or attempt to memorize them.
If you suspect tax fraud, contact the Internal Revenue Service (IRS) to report it.
If you've lost your wallet, including your ID and credit cards, contact your local law enforcement agency. You'll want to file a police report so that there is a record of your information being stolen.
How to Protect Yourself From Identity Theft
While it can feel like simply heading out into the world or using the internet opens you up to the possibilities of identity theft, there are ways that you can protected your personal information. First we'll discuss our top tips and tricks for keeping your information away from prying eyes and cybercriminals. Then we'll share our top choices for identity theft protection services that actually will help keep your financial information away from identity thieves.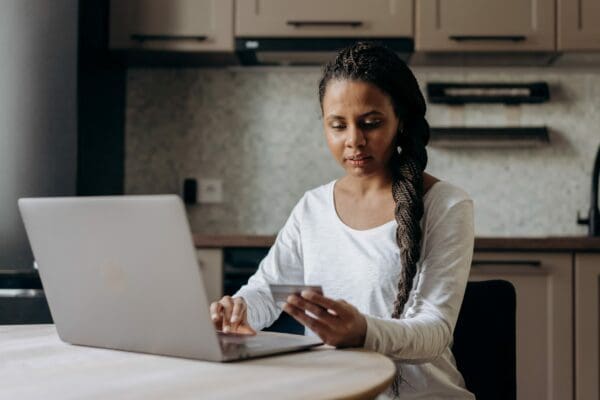 Tips and Tricks for Keeping Your Information Safe
Sign up for regular credit reports. The three major credit bureaus offer tools and services to keep track of how your credit information is being used.
Consistently review your credit card statements. Do you recognize every purchase on them? Or are there small unauthorized transactions that you can't recall making?
Do not carry your social security card around with you. Memorize the number and leave the card in a locked box or safe at home.
Don't use your debit card at gas stations. Gas pumps are notorious for being hacked with tools that criminals can use to steal your bank account information.
Don't text or email secure personal information. If a business needs payment or social security number, offer to call and give them the information over the phone. It's one easy way to keep your private info from floating around the internet.
Only provide payment information on secured websites. Most web browsers alert you now if you try to access a website without additional security. The difference between the http: and https: prefix on a website URL is that the ones with the "s" have those extra security protocols. Those will help keep your information safer and the website will have a harder time getting hacked.
Use a password manager to lock down your online accounts. If you are still using the same password for all of your online accounts, you're just waiting to get hacked. Unfortunately, cybercriminals have the means and the tools to commit identity theft very easily when it comes to guessing simple passwords. Make it more difficult for them (or downright impossible) by using randomized alphanumeric passwords that are kept in a safe and secure password manager tool. To learn more about password managers, click here to read what our expert advisors recommend.
You can learn more steps for protecting yourself from identity theft here.
Identity Theft Protection Services
Investing in the proper tools and services to protect yourself from identity theft should be one part of your identity theft security plan. While there are many businesses out there that claim to offer complete identity theft protection services, our expert advisors at Batten did the hard work of determining which services are actually worth your time, energy, and money. We reviewed credit monitoring services, identity theft tools, and identity theft insurance that offer more bells and whistles.
The top three services that our experts recommend for protection from identity theft include:
Aura: A total all-in-one solution not just for identity theft but protection forma ll threats while using the internet, all of us here at Batten are big fans of Aura. Aura's intuitive UI makes signing up and accessing the home dashboard simple. You can use a password manager, VPN, ID protection, and antivirus with one subscription. There are no term limits, so you can try Aura risk-free. Aura is best for anyone who is comfortable using standard software tools and browser extensions.


Identity Guard: For total identity theft protection, Identity Guard offers the best bang for your buck. With two different tiers for accommodating different security levels and budgets, you should be able to find a plan that fits your lifestyle best. Our experts chose Identity Guard because it has comprehensive coverage that monitors your online information on the dark web, alerts you to fraud threats, helps you recover your assets, and includes a $1M identity theft insurance policy. They also liked that its intuitive setup process allows you to sign up and start protecting your online identity in minutes. Additionally, it has 24/7 US-based customer support.


Identity Guard - Total Plan

TDS: If all of this sounds great, but the thought of implementing your own cybersecurity protocols and software feels like more than you can handle, what you need is a cybersecurity concierge service. With Total Digital Security, you have access to professional cybersecurity advisors. You are assigned a personal specialist who is dedicated to working with you over the phone and available for consultation whenever you need. It offers a free, no-obligation assessment of your cybersecurity needs. All plans are personalized to you and your family. Our experts agree that TDS is best for those who are not tech-savvy and want a low-effort digital security solution.
Time to Protect Yourself Online
Now that you have a strong foundation about identity theft, you can take action on preventing and protecting against identity fraud. Prevention and protection will keep you from becoming an identity theft victim since you now know how to keep your personal or financial information locked down.
As you start your personal security journey, Batten's Resources blog offers expert advise and recommendations on how to keep yourself safe online, at home, and in an emergency. And when you're ready to purchase the solutions and services that can best keep you safe, our Marketplace is where you can go to find only the top best-in-class, expert-recommended solutions that will keep you and your family safe.