What Millennials Want (Hint: It's All-In-One Security Solutions)
What do houses and avocados have in common? According to some people, avocado toast is to blame for why millennials aren't keeping pace with previous generations in settling down and buying houses.
There are some stark differences between the buying habits of millennials and previous generations. Millennials and Gen Z both choose to shop online more than in physical stores, especially after the pandemic. Millennials prefer experiences over ownership and quickly adopt subscription-based models of shopping. And despite slowly entering the housing market, millennials move more frequently than the generations before them did at the same point in their lives.
All of these factors paint a vivid picture of how millennials shop and choose to purchase. When it comes to home security, whether they rent or own, all-in-one security solutions comfortably fit into millennials' shopping preferences. They make it easy to shop and compare online, opt in and out of subscriptions as their needs change, and adapt to different life scenarios as they move in and out of homes and apartments. For these reasons, all-in-one security solutions are the best choice for millennials. Let's dive into that a little deeper.
Prepare today for peace of mind tomorrow.
Get occasional tips about keeping your family and home safe — delivered to your inbox.
Convenience and Comparisons
If there are two words to describe why millennials prefer online retail to brick-and-mortar stores, they're convenience and comparisons. They greatly value the convenience of shopping online and the ability to compare prices, rather than buying in stores and speaking to salespeople.
Unlike the generations before them, millennials fully embrace the power of the Internet when it comes to choosing the perfect product. A study found that 30% of Gen Z and 36% of millennials plan to shop in physical stores less than before (Internet Retailing).
Subscriptions as Non-Commitment
One of the biggest characteristics that differentiates Gen X and millennials from previous generations is the lack of importance they place on ownership. Instead of buying CDs, millennials learned how to download albums on Limewire, then purchase digital albums on iTunes. Now, music is streamed digitally far more than physical albums are purchased.
It all comes down to a shift in what people believe is worth their money. Millennials prefer experiences to owning products and are more likely to opt in to a subscription-based model than ownership (Possible Finance).
This may be a result of two trends of the late 2000s: the rise of the sharing economy and the social media takeover. The 2008 recession impacted many facets of American life, but one important change was the rise of the sharing economy. Why own a car when you can hail an Uber? Who needs to fly commercial when you can subscribe to an app that lets you book a private jet? Why invest in a timeshare when you have access to an endless list of vacation homes through AirBnB?
Everything from apps and software services to cars and homes have been impacted by the subscription model. For decades, Adobe sold its Photoshop software with updated annual editions. But with the launch of Adobe Creative Cloud, now they can charge customers monthly and for each individual program. The subscription model is far more profitable for businesses, and it provides flexibility for customers who can pick and choose what services they have access to and only keep them as long as they need them.
The other major generational change? Social media. Millennials came of age just as Facebook began to dominate social life beyond college campuses. With the rise of photo-based social media sites like Instagram, Snapchat, and TikTok, exploring beautiful locals and insta-worthy locations to share with your followers became not just an obsession, but a career for many people.
Home Sweet Home… For Now
If the 2008 recession wasn't enough to rock many millennials' life paths, the impact of COVID-19 on the housing market in 2021 and 2022 definitely was. Long considered the standard big step towards building wealth, buying your first home is no longer within reach for many millennials and Gen Z.
As home prices have grown faster than inflation and incomes, home sweet home might be a rental for many families. The share of young adults who have lived in their current home for less than two years is nearly 12% higher than in 1960, according to a new Zillow® analysis. The rising cost of home ownership has also led many young people to consider mobile living, bringing trends like #vanlife to the forefront of popular culture.
If where you call home is a rental, you aren't going to invest in a high-value, permanent installation home security system. You need flexibility both in the placement of the security hardware (cameras, doorbells, window sensors, etc.) and in updating your home address on file and turning security on and off. Some people with highly mobile careers, such as travel nurses or consultants, may use short-term rentals as their home because their careers dictate where they live throughout the year. For those people, having a security system that's easy to pack up and move, install in a new location, and update is important.
Our Expert-Recommended All-in-One Security Solutions
Based on the factors that we've outlined in detail above, our home security expert advisors recommend a few choices for a home security system. Thinking about your current living situation, how mobile you are, and other lifestyle factors can help you narrow down this selection to the best choice for you. All of these selections are more than just a camera or an alarm; they are an all-in-one security solutions!
SimpliSafe: The Essentials Kit
SimpliSafe might be the most recognizable name on this list, and its popularity is well-deserved. It was an early competitor in democratizing home security, so everyone could have access to personal security, not just the 1%.
There are a few things we love about SimpliSafe that apply to what millennials are looking for in all-in-one security systems:
You can install the system in minutes without any tools.
Flexible, no-commitment professional or self-monitoring plans are available.
It's easily customizable.
The camera's motion sensors aren't triggered by pets.
SimpliSafe includes cameras, doorbells, sensors, smoke detectors, and even thermometers that can be connected to the main security hub. You can build the perfect system for your living arrangements without having to worry about signing a contract for home monitoring.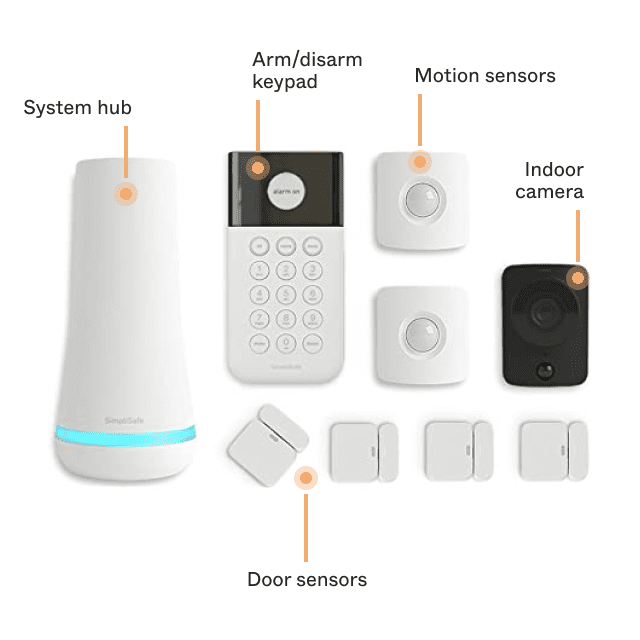 SimpliSafe: The Essentials kit 12 Piece System
Abode: iota Security System
While less well-known than SimpliSafe, there's a lot to like about Adobe's iota Security System:
You can set it up in under 30 minutes.
They offer affordable monitoring options and are the only company that offers on-demand monitoring, which allows you to turn on professional monitoring for just 3–5 days while you're traveling.
It has a built-in video camera and motion sensor in the hub for interior monitoring.
The base system has a higher price than competitors, but its professional monitoring options are very affordable. We recommend this security system for people living in small homes who expect to move, as it's easy to relocate.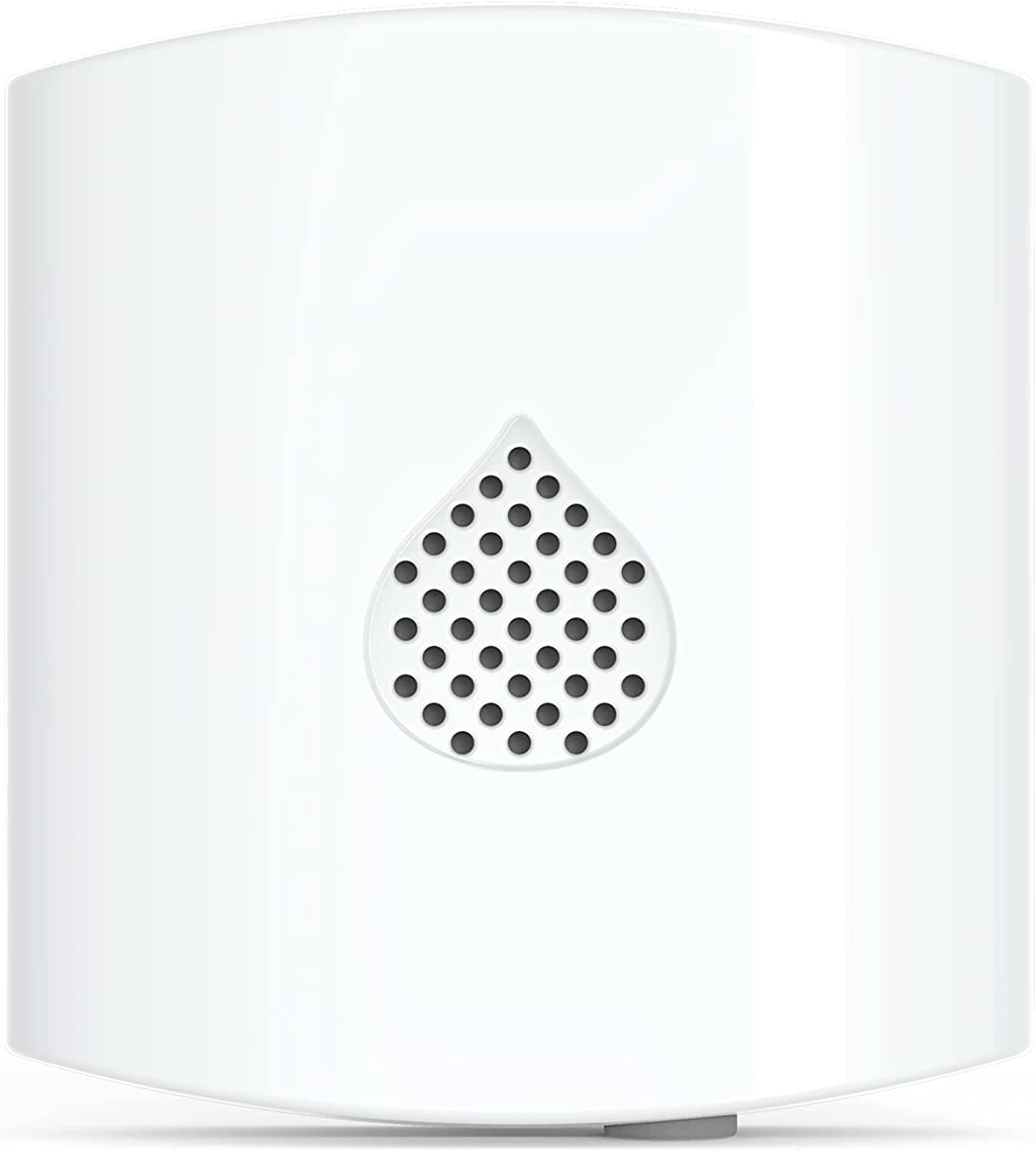 Abode - Water Leak Sensor
Scout Security Packs
Founded in 2013, Scout has been around for nearly a decade. Born from the founder's frustration when trying to find an affordable security system with up-to-date technology, Scout's Security Packs were initially crowdfunded but are now sold directly from their website.
What our experts liked about Scout's offerings are:
There are no contract obligations, just month-to-month monitoring plans.
It has a fantastic user experience and allows you to set event-based alerts.
Flexible packages allow you to build the right solution for any home.
The equipment has an aesthetically modern design.
What differentiates Scout from Adobe and SimpliSafe are its monitoring and cloud storage plans. 24/7 professional monitoring and cloud storage for video are only available with the Always On+ plan for $19.99. However, Scout owners have the flexibility to turn this on and off from month to month.
Our experts recommend Scout Security Packs for people looking for flexible terms.

Scout - Video Door Camera
Choosing the Best Security System for You
If you still are unsure about which security system to go with, our Resource blog offers a full library of expert-led discussions about how to choose the best security solutions for your lifestyle. Here are some blog articles to start with:
Or maybe you feel confident in choosing one of the systems recommended above. If so, head over to the Batten Marketplace for more details and to make your purchase. You'll love the peace of mind that comes from having an all-in-one security system, no matter where you call home.