Many companies we feature and review may compensate us, but it does not impact our recommendation and guidance. We strive to get customers the lowest price on the market and in many cases we have discounts through our partners.

Batten is a mission driven organization and part of that is giving back, this year we are partnering with the Honor Foundation and will give back 1% of profits.
Kangaroo Doorbell Camera
$29.99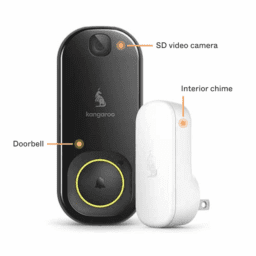 Most Affordable
Why We Recommend It
It is one of the most affordable and easy-to-install video doorbell cameras on the market.
You can view up to 24 hours of image recordings in the cloud for free through the included Kangaroo app.
Its mobile app is great for keeping an eye on food delivery arrivals.
THINGS TO BE AWARE OF
The low price point means the camera quality and durability are below average.
Strong cybersecurity protocols are not a company focus
BEST FOR
Young renters on a budget who want to prevent porch-pirate package theft.
Learn More
Additional Details:
Kangaroo provides $800 of package theft reimbursement as part of your service
Receive motion sensor alerts, and capture images through phone
4 motion sensors to use throughout your home for added security
Optional additional monitoring with no contract requirements
doorbell chime to alert you of visitors entering your home
"It's perfect — a decent enough camera to keep watch over your home and a doorbell that notifies you via both a chime and an app when someone is at the door."

Eufy: Wireless 2k Video Doorbell
$199.99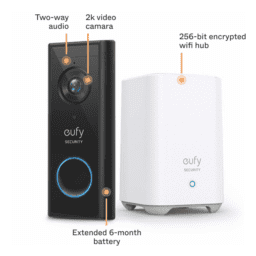 Longest Battery Life
Why We Recommend It
Eufy is our favorite doorbell camera for its picture quality, battery life, mobile app UX, and customizable features.
No monthly subscription plan is needed to enjoy all its features.
Battery operated, meaning no hard-wiring is required.
Exceptional, best-in-class battery life.
Things to be aware of
You'll need to connect the small hub to your wifi router.
BEST FOR
Parents and homeowners of all types looking for a great view of the activity outside their front door.
Learn More
Additional Details:
Set custom zones so you only get alerts when a specific area is triggered
Enhanced AI human detection to prevent dogs from triggering alerts
Record videos and photos to capture specific moments while you are away
One charge provides half a year's worth of battery life
No hardwiring required
"If you don't like the idea of a monthly fee, or you have privacy concerns about your video being stored in the cloud, then Eufy's 2K Video Doorbell could be what you're looking for."

Marc h 3, 2021
Arlo: Wireless HD Video Doorbell
$199.99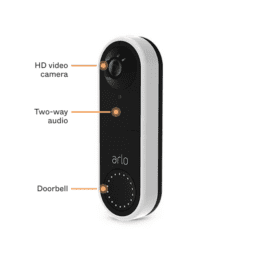 Best Looking Design
Why We Recommend It
Sleek design meets function with the Arlo.
Enhanced AI human detection to prevent dogs from triggering alerts to your mobile.
Offers customized detection zones and 2-way voice.
No hardwiring or hubs.
BEST FOR
Using in a baby's bedroom as it has a way better video quality than the average baby monitor.
Learn More
Additional Details:
The 180-day battery life is not as good as advertised
Requires a subscription plan for full feature functionality
Optional angled mount for customizable camera view
"Reviewers recommend Arlo's cameras for their stellar video quality and ease of installation, as all but the indoor camera are completely wire-free."

Oct 13, 2021