Outdoor security cameras are a key component of your overall home security. There are several choices and options for choosing outdoor security cameras. Which are the best? We broke down five top contenders so you can decide which outdoor security camera is right for your home and family.
How We Selected the Best Outdoor Camera Systems
The top four outdoor home security cameras made the final cut based on Batten's expert-recommended, user-vetted criteria:
Cost:

Which cameras offer the most value and features for the money?

Quality:

Who has the highest resolution, dependable hardware, and top-rated apps?

Security:

Which cameras rate highest for reliability, range of vision,  and catching triggers from a distance?

Battery Life:

Battery life estimates are fickle. Which cameras stacked up when tested head to head?

Image:

Not all 1080p cameras are created alike. While high-resolution video is great, we also looked at image color, blocking, and clarity.
Best Outdoor Security Cameras for 2022
Eufy Cam2 Pro ($249.99; 2 cameras and hub)
The Eufy Cam2 Pro is our top pick camera. It replaces the Cam2 1080p with 2K coverage that outstrips other competitors in both video and sound quality. It's got a 135-degree field of view and storage that'll outlast the other options—and save you money, too—it doesn't require a monthly subscription to use.
Who Is This Best For?
This best-overall camera is great for households that don't want the hassle of wired set-up but do want the highest quality they can get out of a battery option. Did we mention there's no subscription? Eufy's product offers truly stellar access to a working security system out of the box, with no ongoing costs. That is great news for young families that want a stellar system they can use, even if they move houses, for years to come.
Pros
Video recording

through a local storage card that keeps cloud costs. There's an upcoming USB dongle option to add even more storage

Motion detection

detects human motion or all motion, and you can adjust the sensitivity

Best battery life

that solidly outlasts its competition like Arlo's, even using higher video quality.

Exceptional sound

quality

Simple and easy

set up through the app 

Snooze your alarm and motion sensors

when you're out pruning trees so you won't record unnecessary footage or drain your battery

Record and check your event footag

e for three months in the app

Outstanding night footage

that catches more movement at a distance
Cons
Needs the HomeBase 2 hub

for full functionality 

No way to notify you of human visitors at night

, resulting in event recording when animals cross the camera's path, and you might even turn off camera notifications to avoid false alarms. 

Limited to rectangular activity zones

, which might still lead to false alarms 

Built-in storage,

so you can't expand it with your own SD card (but who actually does that??) 

Small spotlight

that doesn't make an expansive area visible like a floodlight does
Prepare today for peace of mind tomorrow.
Get occasional tips about keeping your family and home safe — delivered to your inbox.
Arlo Pro 4 ($199.99)
The Arlo Pro 4 is steeply-priced among these competitors at $199. But it comes with the best quality video. Recording 1440p (2K) video with a 160-degree depth of vision and 12x zoom, you'll simply see a lot more with the Pro 4 than the other choices.
Who Is This Best For?
People who want to pay for superior camera specs, value ease of use, and don't mind an ongoing subscription to access most features. Also for those who want the sleekest visually designed camera. 
Pros
Built-in siren and two-way audio

for better alerting and communication

Wireless,

so it doesn't

need the ethernet hub standard on previous models; all you need is the camera.

Color night vision

that switches to black and white in dimly-lit spaces

Works with many voice assistants

such as Alexa, Siri, Google Assistant, Homekit, Samsung SmartThings, IFTTT, and many third-party options

An affordable $3 per month subscription

, making the Pro 4 less expensive than the $6-per-month Nest over time. You'll be able to access 30 days of video history and get notifications for smoke and CO2 detection. You'll also get person, animal, package delivery, and car detection. For $9.99 per month, you can connect up to five cameras

Smart Activity Zones for recording

, just drag the customizable shape to the size you need. Arlo won't show you activity outside that zone (like a nearby street)
Cons
Most features need an Arlo Smart Subscription

, like smart alerts and event history

Limited to 1080p resolution recording

and storage without a Smart Subscription. There's no SD slot on the camera to record locally, either

No mechanical pan or tilt

, so you need to be intentional about where to place your camera

Magnetic mounts

make Arlo easy to steal. You'll want to mount it high, or you will have to buy screw-in mounts at an extra cost.

Need the SmartHub

to use Apple Homekit. While the SmartHub is not discontinued, it may be challenging to find.
Wyze Cam v3 ($49.99)
Wyze stormed the market with its low price and feature-packed Cam v3. It's adorable, versatile, and powerful. Recording 1080p with an upgraded night vision sensor, its camera plays on the same field as expensive competitors.
Who Is This Best For?
Budget-conscious homeowners or apartment dwellers. Want to move your cameras one day? Wyze is the ideal choice. It's also the best option for people who aren't looking for a subscription service but want a functional camera.
Pros
AI person detection and full-length motion recording

with package, animal, and car detection coming soon.

High connectivity and fast internet

since the WiFi connects via ethernet straight to your router

Fun features

like time-lapse, so you can paint a picture or take it on a car trip.

Night vision

even beats better cameras, capturing movement up to 25 feet away.

Livestream video

that you can check anytime, including sound. Press record, and you'll save the video to your phone.

Twelve-second event recordings

work without a subscription or a micro SD card.

You can set alerts to record based on motion, sound, or both

. You can adjust the sensitivity, too.

A panning and tilting base

can mount with a magnet, screws, or via tripod, so you can clamp it anywhere.
Cons
Only a few days of continuous recording

due to low storage

Limited motion detection zones

that are limited to four corners. You won't be able to adjust them precisely. 

Low field of view

and average video quality.

Minimal 24/7 recording

, and there's no web or desktop app to monitor it.

Challenging to scroll through the playback viewer

to find an event.

Built for lots of tiny cameras

, but its base can only accommodate four. This may change in the future.

It's battery-powered.

You can record 24/7 to your SD card and still get event notifications, but your battery life will suffer. Most users want event recording only.
Nest Cam ($179.99)
The wireless Nest camera sits between Arlo's high-quality video and Wyze's small hardware. You'll get more features than Wyze. You'll also get a more robust package as you record at 1080p with 30 frames per second, 6x zoom, and a 130-degree view. But you'll also have to consider the cost of your camera and subscription as you ask yourself, "Is it worth it?"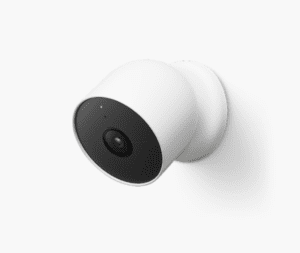 Who Is This Best For?
Google Home fans who want their device to fit right in on their Google Home app. Shoppers who wish for more free features without a subscription.
Pros
There's a floodlight version

of the Nest Cam

It's wireless.

You won't need a base station or an ethernet cord

Its heavy and rugged design

feels substantial

The High Dynamic Range (HDR)

can display more in the shadows than Ring when it's at its best. This makes the night vision in 1080p great quality. It also has better AI and can detect people, animals, and cars

The Familiar Face feature

is groundbreaking, but the camera struggles to identify people when mounted up high. Consider low-mounting with an anti-theft mount.

Attaches any way you like

to the recessed magnet mount. You'll get a wide range of angles. It also has a screw mount for standard tripods

You'll get a smorgasbord of features without a subscription

. That includes facial recognition

View many camera streams

at the same time
Cons
The camera runs using the Google Home app

, not the renowned Nest app. Google's app has poor reviews on the Apple App Store. That makes sense. The Google camera is more at home with Google devices on your Google phone

Constant recording eats data and reduces battery life

, using 300GB of internet data monthly and reducing your battery life to 1.5 months. That said, it only records events, not 24/7

Nest Aware is expensive compared to the competition

. It offers 24/7 recording for a 60-day lookback for $12 per month on unlimited cameras. There's a 30-day recording plan for $6 per month.
Ring Floodlight Camera
$249.99 (Floodlight Cam Wired Pro)
$269.98 (Floodlight Cam Pro Plug-In)
$179.99 (Floodlight Cam Wired Plus)
$199.98 (Floodlight Cam Plus Plug-In)
In this case, Ring's "wired" design is about power rather than communication. This is a WiFi camera with hefty floodlights to plug into an outlet or secure to a junction box. All versions communicate over WiFi.
The Plus models have a 1080p camera with a 140-degree range. Pro models add HDR but don't offer more video resolution. What does that mean? You'll be able to see more shadows, highlights, and colors on HDR if your screen can display them. For other features, the different models have comparable specs.
Who Is This Best For?
Traditionalists looking to connect to their home's electricity. You won't have to fuss with plugs or battery life, which frees you to record more. Homeowners who want a hefty, not hidden, unit to deter crime. Anyone looking to upgrade an old-school floodlight when they already have Ring products.
Pros
Smooth video.

While the frames per second are higher for the Pro models, both offer smooth video. The high-definition video is bright and clear in night vision mode

Precise 4D radar-based motion detection

so you can identify who (or what) is in your field of view

Activated floodlights when motion is detected

in a massive 270-degree field of vision. The camera, however, has a smaller area of vision. Your lights will come on before the camera starts recording.

Multi-point smart area

where you can limit action/event alerts. You can also adjust sensitivity for the best accuracy.

Two-way talk and a 110-decibel alarm

for optimal communication and notification
Cons
No playback of any recorded video

without paying $3 a month or $30 per year. The price jumps to $10 ($100 per year) for unlimited cameras. Without a subscription, you can watch live, and lights will still be triggered by motion. You'll get alerts that the camera detected activity, but you won't be able to see that video

Only with Alexa and Google Home and IFTTT

. But Amazon owns Ring, so you won't get voice control on Siri or Google Assistant

You can't replace the lightbulbs

, which makes it difficult when one goes out  
Conclusion: No Matter Your Needs, There is an Outdoor Camera Out There For You
The top-rated cameras are made to tackle most home security tasks. Based on your needs and existing IoT devices, one solution may stand out. Whichever you choose, these powerhouse cameras can help you feel safer. They can all alert you to motion and sound and let you watch your home while you're away. They can identify movement and people on your property. To get started, head to the Batten Home Marketplace.