When people search for the best home security system, their ultimate goal is similar. Homeowners want an alarm system that keeps their families, their property, or themselves safe from criminal elements and danger. While an outstanding number of professional monitoring devices exist that are connected to security companies that require contracts for their services, many people today are wary of signing up for subscription-based services. But what about "no contract" models, ones that don't require a contract to use?
Can I Purchase a Home Security System Without a Contract? 
Short answer: Yes. 
A no-contract home security system is a must-have for those wary of being tied to a long-term contract. Many people experience hassles and fees when they try to end a contract and move. When customers go to cancel the contract, people can be charged fees and fined. Some of these costs can be upwards of a hundred dollars for canceling the contract early. If someone cannot afford the fees or disputes them, then negative information is reported to the credit agencies.
Since the invention of home security systems, there's been consumer demand for a device that didn't come with a contract. Consequently, we are happy to showcase companies that don't require said contracts and review them. 
We took a deep dive into companies that do not force users to sign a contract and evaluated them. We found the best self-monitoring system through the rigorous testing of DIY home security systems, researching them, and evaluating their respective technological perks. Our decision to pick the top four home security systems is largely based upon the strength of their equipment packages, the quality of customer service even without subscription-based packages, and feedback from other users trying to keep their home and/ or property safe. 
SimpliSafe: The Essentials Kit
Who is this best for? 
SimpliSafe is an ideal starting point for people who don't want a long-term contract and are looking to purchase a cost-friendly base system to monitor their home. Most basic systems offer camera networks, and doorbell surveillance, and sync up with other systems like Alexa or smart home devices to present a way for people to monitor their own systems. SimpliSafe itself has a base, entry sensors, motion detectors, and a wireless keypad. With more expensive upgrades, its users also have access to cameras, panic buttons, temperature sensors, water sensors, and additional detection devices. 
Although there is no lengthy contract, there is a period of 60 days for returning faulty equipment and a three-year warranty for said technology is available.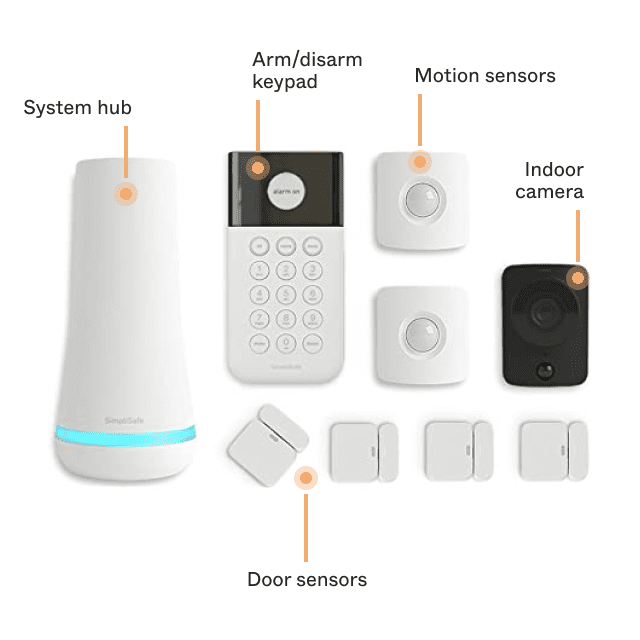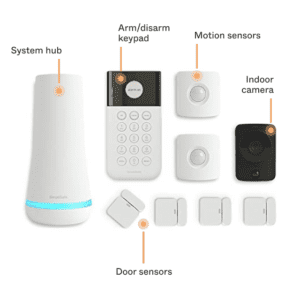 Pros 
The most basic kit comes in at a price point of $229 and is considered relatively straightforward since it can connect over WiFi and to cellular data. Customers can personalize their system and account for more wants with the various packages available on upgrade. Users can even have up to 10 cameras as well as high-tech features like a panic button. SimpliSafe offers its customers the ability to have their site professionally monitored 24/7, or monitor it oneself through a smartphone app. 
Cons 
While SimpliSafe offers the ability to have professionals monitor one's property or to do it oneself, neither of these options is free. Basically, customers have to pay monthly fees for this, whether it be to the company, or for one's own iCloud storage. Many people looking to avoid security systems without contracts are not excited to hear about the average of $14.99 in fees to monitor the equipment each month.
Lastly, many home security specialists complain about the quality of the video in the SimpliSafe equipment. There is also no outdoor camera offered with SimpliSafe packages and only a weatherproofing kit that people can use in an attempt to modify indoor cameras. This can lead to quality issues with outside detection for cameras that must be outdoors. In summary, this package is not ideal for those who expect top-notch equipment and motion sensors at an affordable price. 
Prepare today for peace of mind tomorrow.
Get occasional tips about keeping your family and home safe — delivered to your inbox.
Abode iota 
Who is this best for? 
Abode is similar to SimpliSafe in terms of the cost for a base model and is another monitoring service that doesn't require users to sign a long-term contract. This system is more geared toward those who want to integrate their current smart home devices with their security system. Abode is capable of pairing with Apple HomeKit, Alexa, Google Assistant, Z-Wave, etc., which is more than most home security systems can do. The iota system is perfect for the more those who want an easy DIY system.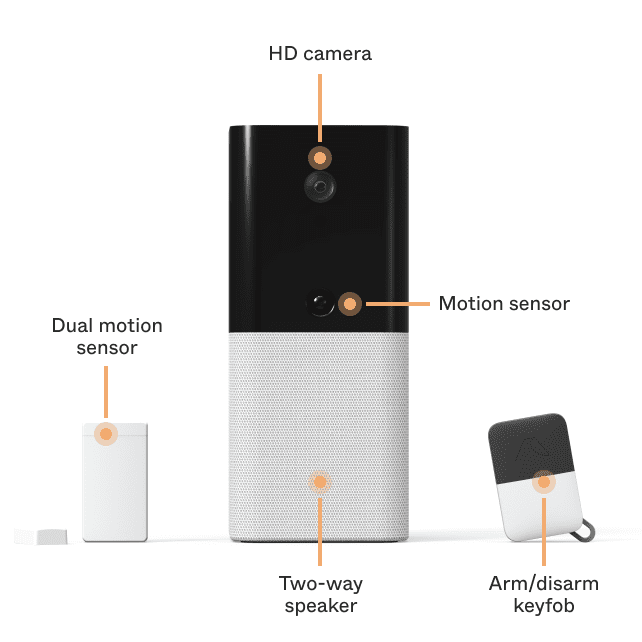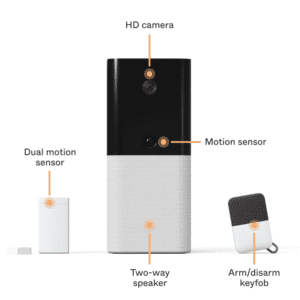 Pros 
Abode has low fees for its monthly services that are very affordable and come in at less than $7.00 per month. It also offers a fee of $21 for professional monitoring services, but the basic fee for monthly service is one of the lowest out there. Abode has two different packages to offer the public. One is for apartments and the other is suitable for homeowners. Abode's apartment monitoring system is a huge relief for those who care about their rental unit and find most home security devices only work for homes, but this is no longer the case since Abode entered the market. 
Cons
Abode can seem a little complicated when it comes to ordering more parts. While users have access to better equipment, this comes at a higher cost. Its packages contain working outdoors cameras, unlike some other alarm systems, but this can cost around $259. You can purchase extra door/window sensors, panic buttons, and more to outfit your home.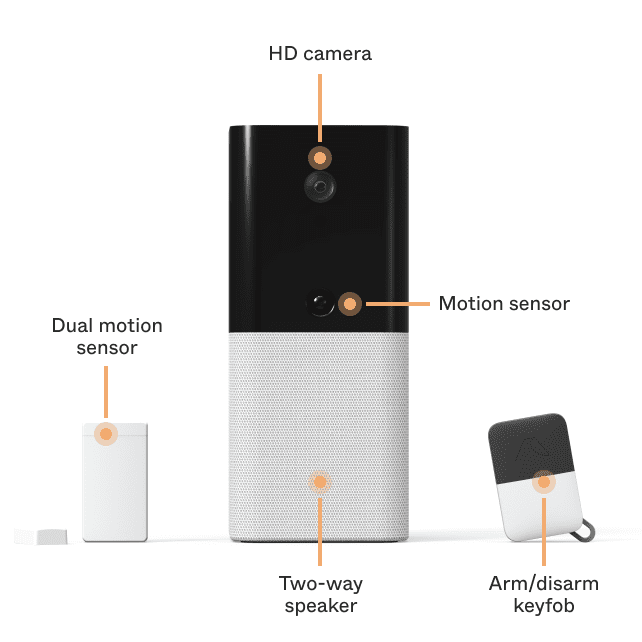 Abode: Iota DIY Security System

buy on abode
Cove
Who is this best for? 
Cove is best for people who work in health care, education, and the military since the company is one that offers a discount for people employed in these professions. It also offers a unique way to design and personalize your security system so you can choose your features. Secondly, this company offers professional installation for those who would otherwise struggle with setting up a home security system. 
 Pros
Cove devices connect to a touch screen hub that's linked to a larger grid and connected to professional monitoring. This grid is connected to RapidSOS and text messaging devices, as well as the option to contact emergency personnel. That said, it can bypass this connection in the event of an emergency. As a result, first responders can access the feed directly and this could save time in an emergency. 
Cove offers a lifetime equipment warranty and a rate-lock guarantee on the cost of its home monitoring services. The equipment involved in home security systems can be initially expensive while onboarding and costly to replace. Cove's warranty can truly help. Consumers and subscribers are also given a $5 monthly equipment credit for new products. 
Cons
Cove is one of the few security systems that have no doorbell camera, as popularized by Ring home security devices. Users cannot self-monitor their own feeds and must rely on the company's security network.
Cove has a variety of add-ons to its security package, including fantastic inventions like a glass-break detector. However, these add-ons cost extra. It has some of the most expansive hardware options for the security base but creating a fully equipped base adds up.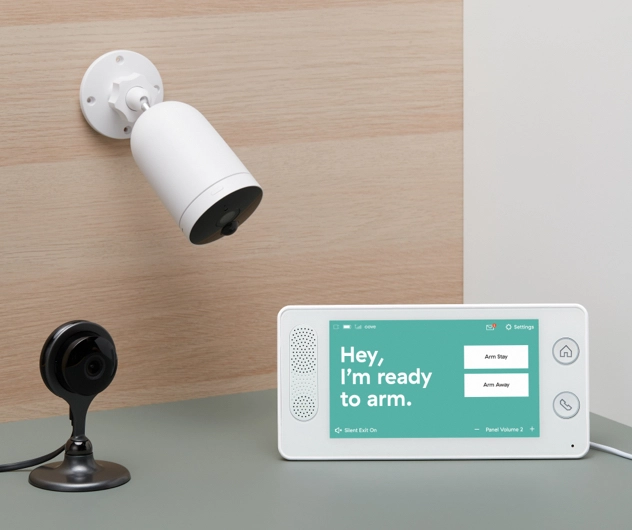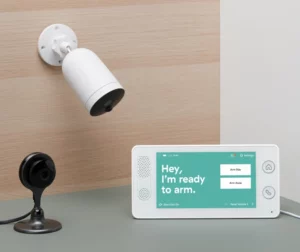 Shop Batten's Marketplace for all these top-rated no-contract home security systems.