Home Security Includes Pet Safety
Keeping your pampered pooch safe while you're away from home doesn't have to be difficult. It all starts with understanding the basics when it comes to dog owner home safety security tips. While crate training and children's gates are both proper precautions that can work for some dogs, others will tear and claw their way out for full reign of the house. There's also more to keeping dogs safe than only having them in a crate. Threats to your home's safety could be safety hazards to them as well. Did they break into the pet food cabinet? What if your pet escapes?
That's why we're starting a new series called "Pet Owner Safety Tips" to help pet owners navigate home and pet safety risks. In this first article, we're going to focus on the best security cameras for dogs to keep your pet safe. Why security cameras? As more people head back to the office and dogs are left home during work hours again, both pets and owners may experience separation anxiety. Security cameras can help everyone feel safer when dogs are home alone, whether it's for a quick trip to the supermarket or for a full workday. Security cameras can help pet-proof a home and let your furry friend live a safe, healthy life.
Prepare today for peace of mind tomorrow.
Get occasional tips about keeping your family and home safe — delivered to your inbox.
Indoor Cameras
For Extra Peace of Mind
When you're training a young pet or concerned that a rambunctious dog may be getting into trouble, an indoor camera can help keep pets safe and pet owners from worrying. Today's indoor cameras, especially those designed with pet owners in mind, can help with training, containing the damage, and preventing injuries.
While our top recommendation for indoor cameras, in general, is the Eufy Solo IndoorCam P24, dog owners have another fantastic option for monitoring and interacting with their pups. Furbo is one of the most trusted and well-known providers of pet-centric household tech. With their Furbo 360 Degree Dog Camera, you can:
check in on your pet from your mobile app
get alerted when your dog barks
communicate through the app to the camera and speaker
remotely control the device and toss your pet a treat
This checks a lot of boxes for worried pet parents who leave their furry friends at home. The best part is that this high-tech camera is a cinch to install. Simply plug into a wall outlet, download the app, and connect the camera and app to your wi-fi.
With either the Eufy or Furbo option, you'll be equipped with a reliable way to check in on your pet when you're away from home. Depending on how much interaction and supervision your pet needs, you can choose which camera works best for your lifestyle.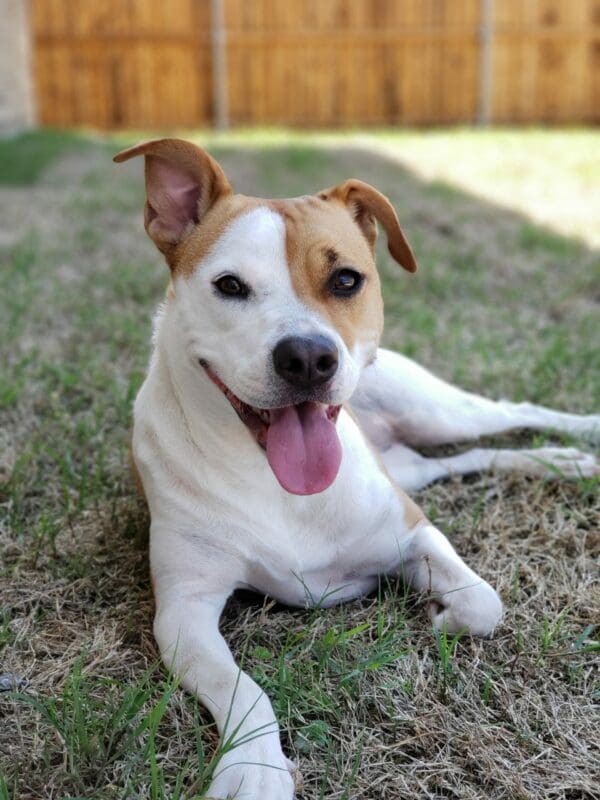 Outdoor Cameras
Ensure That You Have Your House Covered
Some people bring dogs home to act as a security system. Burglars are less likely to target homes with dogs. However, not every dog has the ability or will want to fight off an intruder. That's why our experts recommend shoring up your home's security and keeping pets safe with outdoor cameras.
If your home already has a home security system, invest in the outdoor cameras that work with your system. It's much easier to work within a system you already have so that all the components function in harmony. The most popular DIY and professionally installed security systems all include exterior/outdoor cameras that you can place in the most strategic places around your home's exterior.
If you don't currently have a home security system but are interested in choosing outdoor cameras, our experts have several recommendations, particularly when it comes to considering a dog's safety as well. If you have a fenced backyard and/or dog doors to consider, outdoor cameras can be especially helpful. Bonus points: they can help you keep an eye on your house in case of extreme weather!
SimpliSafe
For the person looking for an easy system to protect their home is safe while their pet is inside, we recommend SimpliSafe. It is one of the best DIY systems on the market right now, putting the power of personalization in your hands. If you want to go with a full system, you can start with the Essentials Kit which includes an indoor camera. However, SimpliSafe also offers the capability to buy one-off equipment or add on to your system later. Their Wireless Outdoor Security Camera offers:
1080p HD video
A 140° ultra-wide field of view
Digital zoom
and full-color vision at night
Pet owners can rest easy knowing that their cameras won't be grainy blurry images at night. They'll actually be able to see what's going on around their homes when they want to check in.
Abode
For the owner who wants a less involved system, we recommend Abode. Another DIY solution but with on-demand monitoring options, you won't need to worry about getting stuck in a contract. When it comes to dogs, the Abode Cam 2 is the way to go. It can be used inside or outside your home, giving you the flexibility to change where you are putting your cameras depending on your pet's needs. For example, if Fido has a penchant for getting his head stuck in the dog door, you could put the Abode Cam 2 inside near your front door or outside facing the front of your house. They are also launching a video doorbell option in the near future, meaning that you can add it to your bundle. The video doorbell function will allow you to identify and speak with dog walkers, pet sitters, or delivery people near your front door. The best part? The Abode Cam 2 doesn't require the full Abode system to work. So if you are looking for a low-investment, low-cost way to keep an eye on your home and pets, Abode has the cameras for you.
While we don't recommend it, you can also go a low-tech route and only install cameras without any additional infrastructure. We don't recommend this because without an app, alarms, sensors, and more, your camera(s) is just a bird's eye view of the action. You won't be alerted to suspicious activity and no one will call the police or fire department on your behalf as soon as the smoke detector goes off or a glass sensor hears the sound of broken windows. This is not the strongest option when you want to protect your pets.
Additional Security System Components to Consider for Your Dog
Whip Your Home into Shape to Keep Them Safe
Yes, this article is all about security cameras. But as you look at the cameras we recommended, you'll be met with a flurry of other security system components to consider. Here, we recommend the most pet-friendly attachments to include if you want to give your cameras a helping hand in keeping your pets safe:
Motion Sensors: You might think that motion sensors would be a poor mix with pets, but today's sensors are much smarter than you'd think. SimpliSafe's motion sensors, for example, can be turned upside down, so that they aren't triggered by a pet walking across the living room floor.
Temperature Sensors: Ensure that your home is at a comfortable temperature while you're out with temperature sensors that connect to your security camera/system's app. If you don't have a wi-fi-enabled thermostat this is a simple way to be alerted if the house gets too warm in the summer or too cold in the winter.
Smoke Detectors: Many of today's alarm systems come with smoke detectors that are remotely connected to your mobile app. This can provide peace of mind to pet owners who are constantly worried they left their hair straightener plugged in or the oven on.
There are many other devices and monitors to consider when purchasing an alarm system. However, these three offer helpful features when trying to keep your pet safe.
Cameras Are Just the Start
In future articles, we'll focus on the best tools for cat owners, basic safety and security tips for pet owners, and more. Because if there's one thing that unites everyone across the country, it's that the family dog isn't just a pet, but part of the family itself. So do your due diligence and keep your home and furry friend safe, whether you're home or not.
Looking to learn more about protecting your home? Read our Home Security Resource Blog. It's full of dozens of articles with expert-driven research to ensure that you are well-prepared with the knowledge and the tools you need to stay safe at home.