These days, getting an alarm system for your home is a no-brainer. The FBI's latest stats indicated that in 2019, property crimes resulted in losses of $15.8 billion dollars, and other studies have shown that security cameras do deter burglars. This leaves those looking to purchase home security systems with an important question: Do you want to self-monitor or invest in professional monitoring?
At first glance, a self-monitored home security system seems like the obvious choice. Self-monitored systems are cheaper across the board. They often seem simpler to use and more accessible to someone new to the system. Most self-monitored home security systems connect directly to your phone, which seems like an obvious benefit. 
If you are new to the home security space, getting a self-monitored home security system feels like the easiest choice. The benefits seem to outweigh the costs, but do they? While there are a number of benefits, there are just as many shortfalls that might have you rethink whether or not self-monitoring is the right solution for you.
The Reality of Self Monitoring
Home security expert Kirk MacDowell gives a realistic picture of using a self-monitoring home security system:
Although self-monitoring may seem like a good idea you have to imagine that your phone is on silent or you were busy at the beach and can't hear the phone and lastly we are all back flying again and at 35,000 feet you can't monitor your house yourself and you can't call anyone to check out if an alarm occurred.
As Kirk MacDowell so succinctly put it, while you may think that you are glued to your phone, there are plenty of reasons you might miss a notification. For instance, you could be asleep, at a child's dance recital, or on a plane and you won't know about the break-in in your home until you check your phone. The police won't know until you call and tell them yourself. With a self-monitoring security system, you won't have help in an emergency until you manually ask for it. 
Shortfalls of Self-Monitoring Home Security Systems
A self-monitoring home security system relies on you to monitor and respond to any system alerts. When your motion or contact sensors detect something, an alarm goes off. And that's it. In other words, it is up to you to take any necessary action, like calling emergency services. 
When you think about getting an alarm system, you probably imagine the police showing up to support you if someone breaks into your house. However, with a self-monitored system, you will be made aware of the intruder and are responsible for contacting the authorities. 
Most self-monitoring home security systems rely on your WiFi connection and connect directly to your phone. While some self-monitored home security systems have the ability to store video footage, many do not. If your WiFi fails, so does your security system. If you do not have access to your phone because your phone is dead, on silent, or without service, your house alarm will go off and no one will respond to the alert. 
Benefits of Professional Monitoring
Unlike self-monitored home security systems, systems that utilize a professional monitoring system will call emergency services on your behalf when an alert is made. Even when you are busy or out of town, professionally monitored systems ensure that your home is safe, and threats are being handled. Getting a security system that includes professional monitoring is usually more expensive than utilizing a self-monitored home security system. That slightly higher price tag comes with a lot of benefits including:
Quick response from emergency personnel 

24/7, 365 protection

Some insurance companies offer a discount for professionally monitored homes

Additional protection for your home and family
A professionally monitored home security system means someone else is looking out for you and your family at all hours. In other words, you can be away from home and have peace of mind knowing that when something happens, help will be on the way without having to lift a finger.
Why Should I Professionally Monitor My Home Security System?
You should consider professional monitoring because of the more robust protection it offers you. A self-monitored home security system places an additional responsibility on you that can quickly become a burden. In contrast, professionally monitored home security systems take care of emergencies and threats quickly and efficiently. 
Consider professional monitoring for greater protection and more peace of mind. Head to our Marketplace to find the right home security solution for you. 
Prepare today for peace of mind tomorrow.
Get occasional tips about keeping your family and home safe — delivered to your inbox.
Batten's Top Professionally Monitored Security Systems
If you are looking for a professionally monitored security system, you can do your shopping on the Batten Marketplace. We'll break down our two favorite options so you can make the right decision for yourself and your family. Either system makes for a great gift this holiday season. 
Abode: iota Security System
The Abode iota Security System is a great choice for a monitored system. It has one of the cheapest monthly monitoring fees (around $7 per month for self-monitoring, and around $20 for professional monitoring) and is compatible with Amazon Alexa, Google Home, and the Apple Home kit. This system is a DIY setup, and was rated the best DIY Security System for 2021 by PC Mag! The initial kit comes stacked with hardware, and you can buy additional pieces as needed. 
Anyone looking for a great DIY system with professional monitoring on a budget will find what they're looking for in Abode. Still not interested in having a constantly monitored system (and paying for it!)? Abode offers an on-demand monitoring option for 3 or 7 days of coverage with no other commitments or strings attached. On-demand monitoring gives you the option of professional monitoring when you need it—for just $15. Read more about how the Abode home security system compares to others on the market.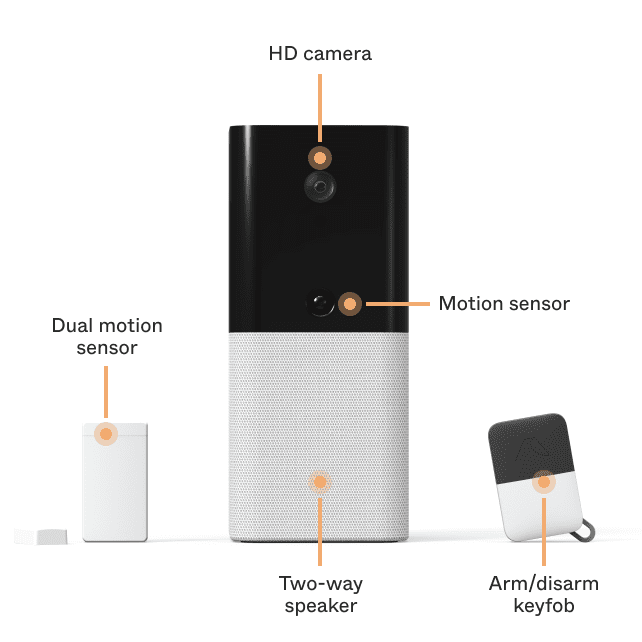 Abode: Iota DIY Security System

buy on abode
Frontpoint: The Safehouse System
Frontpoint has a security system that anyone can appreciate, its Safehouse System. Your initial investment of $99 is extremely affordable given it comes with a hub, two entry point sensors, one motion sensor, a video doorbell camera, and a home defense kit. Additional pieces to completely outfit your home are available and easily customizable. Installation is easy with the help of the Frontpoint app and its on-demand security experts. Professional monitoring for Frontpoint starts at $1.64 per day; however, keep in mind that after your 30-day free trial, you are automatically locked into a three-year contract. 
If you like the idea that you can control your home from your smartphone, but still want all the benefits of professional monitoring, Frontpoint is the system for you. Keep your eye on your home, but let the professionals handle the emergencies with the Frontpoint system.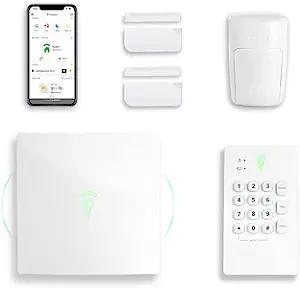 Frontpoint: The Safehouse System

buy on Amazon
Conclusion: Professional Monitoring is Worth the Investment
All in all, professional monitoring costs more than monitoring your security system yourself. But, for that extra cash investment, you get more protection and less stress on your end. Self-monitoring leaves you glued to your phone and on the first line of defense for your home. 
You can leave all of that to the professionals with a monitored security system. Shop the Batten Marketplace for a professional monitoring system that fits your needs.