Quick Hits: 
Personal: $2.99 per month
Families: $4.99 per month
Business: $7.99 per month 
Teams: $19.95 per month
Best For: Individuals or businesses looking for a pure password manager with a few extra capabilities
Not Recommended For: Individuals who want their password manager to do more than manage passwords
1Password is another expert-recommended, user-vetted password manager available on the Batten Marketplace. It has all the features you'd want in a password manager at a great price. For example, you can keep all of your passwords in one place but separate them based on different use cases and assess them based on their overall strength. Users can also set up a private email and remove their vaults from their traveling devices. All in all, 1Password is a great tool to use if you are looking for an entry point into the world of password managers.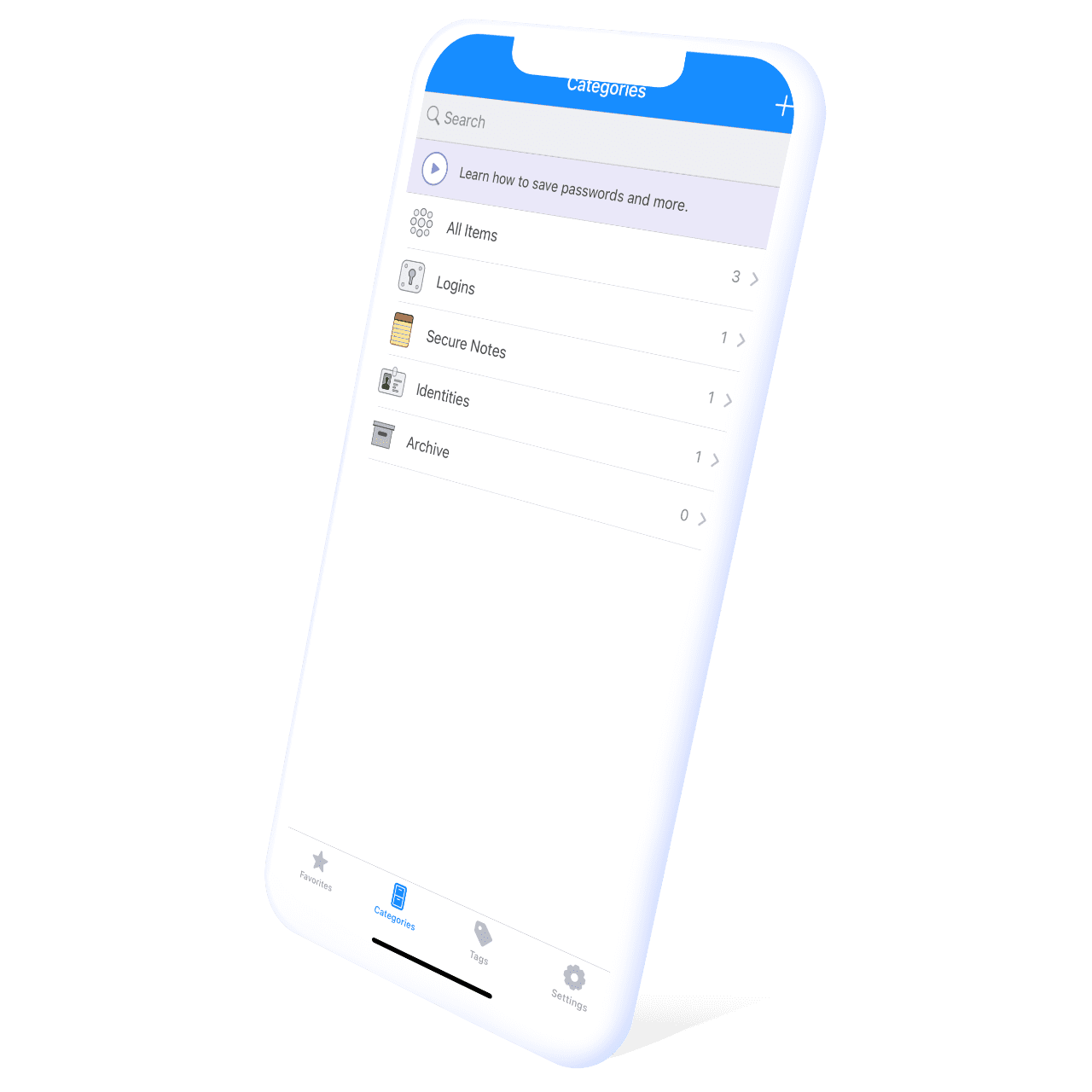 1Password: Password Manager
What We Like About 1Password
Free 14-day trial for all subscription tiers.

You get a chance to try any of the plans before you buy. You are also reminded of your account and via email how many days you have left in your trial.

"Watchtower" for each of your vaults that analyzes the overall strength of your passwords.

You can access a list of compromised websites, reused passwords, weak passwords, unsecured passwords, sites requiring 2FA, breached passwords, and expiring passwords. You can perform this on your passwords across all your vaults or just one vault. 

Auto-lock on your password vault.

If you're inactive on your browser or your app, your vault will automatically lock, requiring you to enter your secret key and master password to log back in. 

Fast and easy set up

to get up and running in your vault within five minutes. 
What We Don't Like About 1Password
You can't share passwords or your vault without upgrading to the Family plan.

While 1Password does mention sharing, the only way you can do so is by upgrading to the Family plan. 

Limited customer support options.

1Password only offers customer service support via email, Twitter, or its community. There isn't a live chat or phone number you can call if you need help with your account. 

It can be glitchy when adding a new login.

When you're looking to save a new password, 1Password adds it to your vault after entering the username, not the complete set of credentials, which can be inconvenient.
Unique Features of 1Password
Different vaults for different passwords:

With 1Password, you can create various vaults for different sets of passwords, such as one for your work logins and one for your logins. This feature is excellent if you want some separation for your passwords. 

Masked email:

Keep your email address private or use it to sign up for services with a custom masked email from 1Password. Perfect if you don't want annoying promotional emails or spam to come to your inbox.

Travel Mode

: 1Password's Travel Mode makes it easy to remove your vaults from your devices when turned on. This feature is excellent if you are an avid traveler and don't want to risk compromising your data when you cross borders.  

Downloadable "Emergency Kit" PDF:

A one-page document that keeps essential login information for your vaults in one place, so you never have to go searching for all that again. 

Getting Started
Signing Up & Security
1Password makes it very easy to sign up and get started. It offers a 14-day free trial without needing to enter credit card information. Signing up for an account takes minutes, and you get step-by-step instructions every step of the way. We love the downloadable Emergency Kit that you can save to your device and has essential information such as your Secret Key to log in to your vault and a place to put your master password. 1Password also sends you a follow-up email with account details for reference, in addition to videos and other setup tips and tricks. 
Tip: The setup video sent has some tricks for making the most out of your password manager. We recommend watching it as you're setting up your vault. 
Extension & Web Portal
Once you're in your vault, you can import your password data from several sources such as iCloud, Chrome, other password managers, etc. Then, upload a CSV file, and they automatically add them to your vault. One of the unique features that 1Password offers is that you can create separate vaults for your passwords, so you don't have to use different password managers for both work and personal logins; create another vault to keep your passwords separated. Additionally, you can create custom integrations for 1Password, so it integrates with other tools that you use the most.
Web Capture & Autofill
In the next step of the login instructions, 1Password has you download and set up the browser extension. The design of the browser extension is clean, which makes it very easy to search and find the password you're looking for. 1Password also offers a password generator, making it very easy to generate a new, strong password on the fly. As recommended before, we advise turning off password autofill on your browser so your password manager can work seamlessly. 
Mobile App
In your Emergency Kit, it has a QR code, which makes it easy to download the mobile app on your phone or tablet. The mobile app has a very intuitive and seamless user interface. It's easy to find your information, such as your vaults, favorited passwords, billing, any integrations you have set up, etc. For example, you can set up FaceID, enable password autofill for your device, and add it to Safari and the Apple Watch for easy access. 
Features 
Travel Mode:

Worried about threats accessing your vault when you cross borders? Don't be with 1Password's Travel Mode, which temporarily removes your locker from your devices when enabled. Turn it off, and your vault returns to your devices instantly. 

Auto-Lock:

Your password vault automatically locks after 10 minutes of inactivity. Additionally, you can lock your vault to prevent changes from being made from right within the browser extension. 

Masked Email:

If you're tired of getting spam emails in your primary inbox, consider 1Password's Masked Email features, where you create an email you can use to keep your email address private from spammers and marketers alike. 

Watchtower:

Wonder how strong your passwords are? Run an analysis through Watchtower. This gives you a sense of how strong your passwords are overall. It also tells you which ones need to be changed, have been compromised, and more. You can also perform this function on each vault you have set up.

More Than One Vault:

1Password allows you to set up separate vaults for your passwords, which is excellent if you want all your like passwords to stay together. You can have one for work and one for personal. All your passwords can stay in one place but can still be separated based on function.

2FA:

You can enable 2FA to access your vault or will allow it for individual passwords. Just go to that password entry in your vault to access it. 
Getting the Most Out of 1Password
Here's what we recommend to get the most out of 1Password as a password manager:
Set up separate vaults for your passwords.

Keep your passwords separated with different vaults. This feature is handy if you are self-employed and use your computer for work and personal tasks. 

Perform a Watchtower analysis and change any weak passwords

. Signing up for a password manager is a great time to change weak or breached passwords. Run the analysis and change any passwords that aren't up to par. 

Leverage the masked email to privatize your email.

Don't let spam or unwanted promotional emails make their way to your inbox.  

Watch the setup video to get to know all of the features of 1Password.

1Password offers more than meets the eye, so make sure you take the time to watch the video to learn about the different features and how to leverage them to get the most out of the tool. 
Plans & Pricing 
1Password offers several different plans for both business and personal use:
Personal: $2.99 per month, billed annually

Families: $4.99 per month for five family members, billed annually

Business: $7.99 per month 

Teams Starter Pack: $19.95 per month for up to 10 team members
Final Thoughts 
1Password was built for consumers. The user interface is excellent, and it gives people the features they want in a password manager and then some. In addition, the price point is perfect for what you get, both personally and for businesses. Overall, 1Password is an excellent tool if you want to get started with cybersecurity and a password manager. 
Purchase 1Password on the Batten Marketplace.